Battle of Phils: Ivey vs. Hellmuth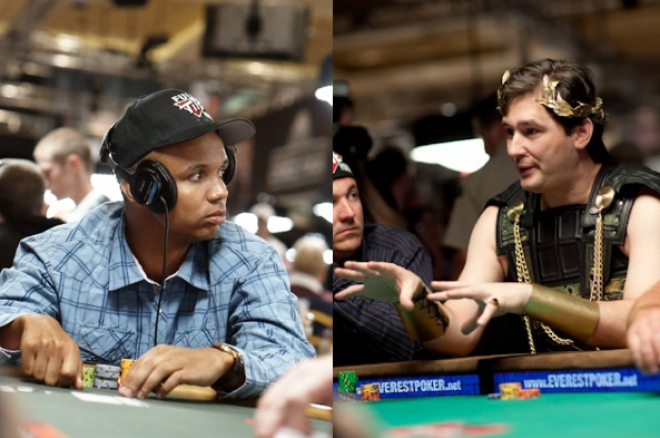 "You must understand that everything comes to records. The record is everything! It might be Ivey overtakes me, but it should certainly not be until I have 17 or 18 WSOP bracelets. This is a race to 20!"
Those were the words of Phil Hellmuth when asked about Phil Ivey breaking his bracelet record. As it stands right now, Hellmuth holds 11 World Series of Poker gold bracelets. Ivey, well, he's got his hands on eight. Ivey is also about 12 years younger than Hellmuth, putting him on a much faster pace. Who's the better of these two Phils? Well, we'll let the stats decide.
The first number, and probably the most important one, is the amount of money earned by each player. We're talking tournaments here, and Ivey is number one on the all-time money list, raking in $13,642,275. Hellmuth isn't far behind, but he's been playing poker for longer. Even with about 12 years on his counterpart, Hellmuth has roughly $2.2 million less in total winnings, coming in at $11,440,927. That puts him fourth on the all-time money list.
As mentioned before, Hellmuth does hold the edge in WSOP gold bracelets, winning three more than Ivey. In his bracelet wins, Ivey has conquered an average field of 220 players. Hellmuth's average field size in his bracelet wins is 488, more than double Ivey. Does that alone mean Hellmuth is better? Maybe, but you need to look a little bit beyond the numbers first. All of Ivey's bracelets have come in games other than hold'em. You name it, 7-card stud, pot-limit Omaha, 2-7 draw lowball, H.O.R.S.E., Ivey's got a bracelet in it. Hellmuth, on the other hand, has all 11 bracelets in hold'em events. This is the main reason Ivey's average field size is less than half of Hellmuth's for bracelet wins. Simply put, many, many more players know how to play hold'em and show up for these events. Often in the mixed games, the fields are smaller, but they're also a bit tougher with a more select field of players.
It's also important to point out that since Ivey won his first bracelet in 2000, he's won seven more, which means he's winning gold bracelets at a rate of .73 bracelets per year. Hellmuth scored his first bracelet in 1989, 22 years ago. He now has 11 bracelets, winning them at a rate of .5 bracelets per year. Hellmuth hasn't had a bracelet win since 2007, though.
Even when they don't win a bracelet at the WSOP, both of these players perform very well. Ivey has 22 WSOP final tables and Hellmuth has 41. Hellmuth also holds more cashes on the WSOP felt, with 79 to Ivey's 42. Seeing as how Hellmuth is about 12 years older than Ivey, this could easily change with time, especially at the rate Ivey's going at. It's also interesting to look at the final table win percentage. Out of Ivey's 22 WSOP final tables, he's won the event eight times for a win percentage of 36.36 percent. Hellmuth has won 11 of 41 for 26.83 percent, and that makes Ivey the go-to pitcher with two outs in the bottom of the ninth and the pennant on the line.
You also can't forget to mention maybe the more important WSOP stat and that's the Main Event. Ivey made the final table in 2009, but he has never won the big one. Hellmuth has; he beat Johnny Chan in 1989 for $755,000. The field size was 178 players the year Hellmuth won the event. Ivey's Main Event Final Table isn't something to bat an eye at though. He did only place seventh when he made the final table in 2009, but the field size was a massive 6,494 players, meaning that he beat 6,310 more players than Hellmuth did when comparing the two runs. Ivey also won more money, taking home $1,404,014, about double Hellmuth's victory prize money. Of course, the fields were a lot tougher back when Hellmuth won it, concentrated with more talent as compared to present day when the Main Event field is made up of thousands of amateurs, online qualifiers and hobby seekers.
You can't just compare two players just in the WSOP realm; you have to branch outside of that and look at everything. The next biggest thing to the WSOP is the World Poker Tour, and it's pretty clear that Ivey has the edge there.
On the WPT circuit, Ivey has 12 cashes, one behind Hellmuth's 13. Although Hellmuth has one more cash, he only has four final tables to Ivey's nine. Yes, 75 percent of the time Ivey cashes he makes the final table. He also has one WPT title under his belt, something Hellmuth has yet to do.
Away from tournaments, there's no doubt that Ivey takes the cake by far. He regularly plays the largest cash games in the world, winning millions year after year. Hellmuth doesn't dare go near the stakes Ivey does and when he does take a shot at a big online cash game or on an episode of High Stakes Poker, he always seems to be the fish the other players are gunning for. What also makes Ivey so great in cash games is that he does it both live and online, making him one of the few players able to bridge the gap between the two and win in the biggest games in both.
In the end, it looks like Ivey is the one to choose here. Hellmuth may have the lead in WSOP bracelets, but every other category goes Ivey's way. Taking into account that Hellmuth has nearly 12 years on Ivey, you can almost guarantee that Ivey will someday surpass Hellmuth in gold bracelets, especially if the two keep up their current win rate in WSOP events. While Ivey keeps on winning and winning and is often regarded as the greatest player to ever play the game, Hellmuth fails to get himself back to the winner's circle. Only time will tell who will win this race, but right now it looks like Ivey's going to sprint by a dragging Hellmuth in the WSOP record books. Outside of the WSOP, Ivey's already got him.
We know it sounds hard to believe, but you really can get a free poker bankroll without having to deposit or give your bank details. Check out our exclusive $50 Free No Deposit Sign Up Bonus from PartyPoker.