Five Thoughts: A New World Champion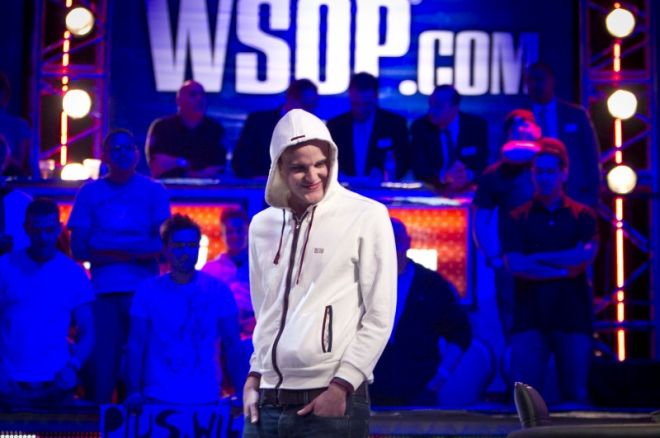 Pius Heinz became the first German to ever win the World Series of Poker Main Event and now has over $8.7 million in his pocket. He leads this week's Five Thoughts, but we're also thinking about Sam Trickett, online poker, and Phil Ivey's bias.
1. Heinz 58
After defeating Martin Staszko in a back-and-forth, 118-hand heads-up battle, Pius Heinz became the 2011 World Series of Poker Main Event champion. The 2011 WSOP Player of the Year, Ben Lamb, bowed out in third place after losing a massive 85.6 million-chip race to Staszko to start the second day. Lamb never recovered and hit the rail. At that point, despite being out-chipped, Heinz was in a great position to win. Staszko is a very passive player — he played incredibly tight, even when he was heads-up — and Heinz had plenty of opportunities to win hands without showdowns.
Heinz was overly aggressive at times, though, and it nearly cost him the tournament. During Hand No. 228, Heinz double-barreled with seven-high on a
board, and on the turn, Staszko check-raised to a hefty 18.5 million. Heinz floated, intending to take the pot away on the river, but Staszko led out for 20.25 million after the
fell. Heinz quickly mucked, and it's a good thing he did because he would've been bluffing into Staszko's
.
The German showed no quit however, and 65 hands later he took the chip lead with a massive double. Heinz's
held against Staszko's
on a
flop, and seven hands later he won the world championship. Staszko open-shoved with
on the button, Heinz called with
, and held as the board ran
.
Heinz's life changed forever with that last hand — the newly signed PokerStars Team Pro is now a world champion whose banner will hang with the other great players who won before him. The best part? According to Russ Fox of Clayton Financial and Tax, Heinz doesn't have to pay any taxes because of the U.S.-Germany Tax Treaty, which states that gambling income earned is "exempt from U.S. taxation." Likewise, Germany does not tax gambling profits, so Heinz gets to keep the whole kit and caboodle.
2. That's the Trickett!
This just in: Sam Trickett is good. The sensational Brit just took down the Partouche Poker Tour Main Event for €1,000,000, and in the past two years, he has recorded nine six-figure cashes, including three seven-figure cashes in 2011 alone. At the Aussie Millions in January, Trickett reached heads-up play in both the $100,000 and the $250,000 high-roller events, finishing first ($1,508,258), and second ($1,384,631) respectively. The Nottingham native now has over $6 million in career tournament earnings, which puts him above players such as [bHumerto Brenes[/b], Kathy Liebert, Chino Rheem, Daniel Alaei, Darvin Moon, and, most notably, his fellow countrymen Roland de Wolfe and David "Devilfish" Ulliot.
Ulliot was previously the biggest winner from the U.K., but for the moment Trickett has snatched that title. There are a handful of younger Brits who could be biting at Trickett's heels in the future including Jake Cody ($2,870,222), Chris Moorman ($2,396,226), and Liv Boeree ($2,107,134). You also can't forget about good friends James Akenhead and Pras Banzi, both of whom are flirting with $3 million in tournament earnings.
The English are a force to be reckoned with in the poker world, and right now, nobody is more dangerous than Sam Trickett.
3. Don't call it a comeback
News broke earlier this week that the Nevada state Gaming Control Board will begin accepting applications in February from companies that want to operate online poker sites. The main factor in the application process is the ability to reject minors — companies must "prove that their technology will be able to limit play to state residents of legal age." Of course, only intrastate licenses can be obtained, which means that only Nevada residents will be able to play. It could also take the board months to investigate each company, forcing us to wait even longer for the actual launch of a site.
To date, SouthPointPoker.com is the only major land-based casino property in the U.S. with an online counterpart, and while these sites are limited in functionality, they are infinite in possibilities. The current situation is dire, so rather than complain about bad software and interstate restrictions, we should rejoice in the fact that better days are on the horizon. Gambling is one of the few things in America that can generate federal, state and local revenue without affecting tax payers, and in a time when Wall Street is being occupied by disgruntled citizens, the decision to legalize it should be a no-brainer.
The fact that the Nevada Gaming Control Board is asking for applications and that casinos are jockeying for position is a great sign for the future. They know more about the inside than we do, and if they're preparing for legalization, which they are, then we should be hopeful that the nuclear poker winter won't last as long as we initially thought.
4. Ivey's Bias
Phil Ivey's ex-wife Luciaetta Ivey recently filed a petition with the Nevada State Supreme Court alleging that Family Court Judge Bill Gonzalez ruled with bias in their 2009 divorce case. Phil donated $5,000 to Gonzalez's re-election campaign after the case was over, and Luciaetta believes this affected his decision.
Despite Ivey's extended absence from the game, this is newsworthy. Like Tiger Woods' split with Elin, Kobe Bryant's Colorado excursion, and Ben Roethlisberger's sexual assault case, this story affects the bigger picture, not just the game he plays. Five Thoughts is far from a moralist piece — we understand that people are human, and that they are prone to make mistakes — so rather than chastising Ivey for his alleged wrongdoings, we'd rather warn those who plan to slip up in the future. When you do shady things (or things that may appear to be shady) don't be surprised when the media, the fans, or your ex-wife come calling.
Poker players are not role models. Unlike professional athletes, they don't play in front of sold-out arenas every week and sell products for millions of dollars. Poker players do need to maintain a good reputation if they ever want to have a big-time sponsorship, however, and most don't have a mystique like Ivey. Be aware of your actions and their potential consequences — like it or not, you are always under a microscope.
5. Jackpot!
Check out this video from Live at the Bike from the Bicycle Casino, and enjoy Bart Hanson's self-described "Bartgasm."
Make sure you follow us on Twitter, and "like us" on Facebook for all of your PokerNews!