Five Thoughts: Grippo's Great Deal, and Enright's Defense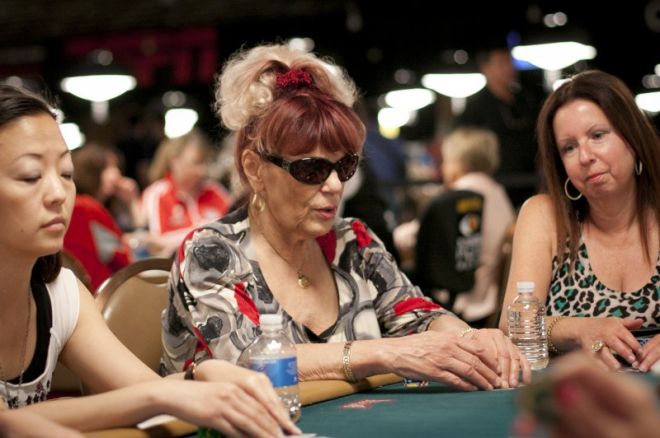 Upon reaching three-handed play in the PokerStars Spring Championship of Online Poker Main Event High, Nick "GripsDsNutz" Grippo didn't just defeat "sosickPL" and "sp00led", he dominated them. It wasn't because of his preflop aggression however, or because of his excellent hand reading skills, rather it was because he dominated the deal-making process.
Deal making is an integral part of multi-table tournament poker — if you don't understand basic equity, or you're just nervous and don't want to lose a flip, then there's a strong chance that you'll undersell yourself. This is no good. You have to remember that the mental game of poker never ends, even when you pause the tournament clock.
1. Grippo dominates
When three-handed play began in the $10,000 SCOOP Main Event, Grippo (3.26 million) out-chipped "sp00led" (1.36 million) by a large margin, but "sosickPL" (3.12 million) was right on his heels. There had been no discussion of a deal up to this point, and Grippo nearly eliminated "sp00led" with a pair of black eights. The
of "sp00led" didn't connect with the flop or turn, but an ace spiked on the river to save him. The three players were dead even at that point, and "sosickPL" suggested that they discuss a deal.
A few hands passed before the tournament clock was paused, and during the last hand, Grippo lost a chunk of his stack to "sp00led." The stacks then looked like this:
| Name | Stack | Percentage of Chips in Play | Equity (minus $50,000 left to play for) |
| --- | --- | --- | --- |
| "sp00led" | 3,193,856 | 41.2 | $900,302.90 |
| "sosickPL" | 2,401,795 | 31 | $677,032.10 |
| "GripDsNutz" | 2,159,349 | 27.8 | $608,689.99 |
Despite being last in chips however, Grippo drove a hard bargain.
GripDsNutz: before we look at numbers, ill take an even chop and nothing else
sosickPL: I agree
sp00led: no
sosickPL: why not?
GripDsNutz: lol
sosickPL: u agreed for that earlier
sp00led: fine lets do it
sosickPL: + dont get me wrong
sosickPL: but you are not a reg ;)
With an even chop, each player would receive $728,675 ($128,000 more than Grippo's equity), and then they would play it out for the remaining $50,000, the honor of being SCOOP Main Event champion, and the watch. It looked like Grippo was going to lock up a dream deal until…
sp00led: backer said no. we have to work a better deal
GripDsNutz: na
sosickPL: LOL what?
sp00led: ilets see the chip equity
sosickPL: u playin or him?
sosickPL: wtf
sosickPL: u wanna flip for 200k?
sosickPL: for sm 1st pplace?
sp00led: how about chop it and play for 100k
GripDsNutz: ill take no deal other than an even chop right now
sosickPL: 75
GripDsNutz: otherwise lets play
sp00led: i will do even chop . but play for 50k more
Grippo wasn't budging — he knew that both players were more interested in actually making a deal than making sure that they got the better of it. Eventually Grippo agreed to an even chop where $80,000 was left in play, guaranteeing each player $718,675. Grippo's bargaining skills earned him another $100,000 in equity, while "sp00led" left nearly $200,000 on the table. To top it all off, Grippo went on to win the tournament, snatching up the extra $80,000, the glory, and the fame.
Deal making is part of the game. On PokerStars' various live tours, they not only allow chops, they encourage and oversee them. Their representatives understand that there's a ton of variance in tournament play, and that deals are going to be made whether they like it or not. Other tours and tournament series' turn a blind eye to deal making, but it still happens, and it always will. Don't put yourself in a situation where you're three-handed in a major tournament and you don't know what to do when a deal is being discussed.
2. Defending Barbara Enright
Speaking of deal making (or lack thereof), TwoPlusTwo user "manzoni" published a thread on News, Views, and Gossip on Monday titled "Barbara Enright refuses to pay bubble." The user writes,
"Interesting, last night at the Bike in their $70 re-entry tournament with a 10K guarantee - 27 out of 250+ runners were going to be paid. At bubble time Hall of Fame poker player Barbara Enright was the lone objector to taking $165 out of the 5K first place prize for the bubble… She didn't have any kind of a chip lead, a middling stack that was vulnerable. At that point we had been playing for over 8 hours. I felt bad for the recreational player across from me who finally busted when his teeny stack was blinded off. He walked away empty handed, clearly rattled that some compensation for his long time at the table had eluded him at what seemed to be a spiteful whim of a bitter old gambler."
Bitter old gambler? You go too far, sir. If the original post is true, and Enright refused to pay 28th place, then there's no issue. She has every right to refuse the deal, and good for her for doing so. We've all been in a situation where we're on the bubble of a smaller, live tournament, and there's one short-stacked player looking to at least get his or her money back. The casino regulars and "live players" tend to defend this person, deciding that everyone should throw in $20 so that everyone will at least get their money back. If you're the chip leader, then why the hell would you give the guy with one big blind $20? Is it a charity event?
However, if you refuse this deal, then you'll be verbally attacked, because you're greedy. And when somebody hits a two outer on you it's, "karma." Which obviously makes a ton of sense.
I say bravo to Enright for staying strong against these "live pros," many of which will do anything in their power to squeeze out every penny they can — even when it doesn't make sense to do so. If anything, these deal makers are the "bitter old gamblers" who are quick to gang up on one person in an attempt to strip them of their rights as a player for just $20. Maybe one day their "karma" will catch up to them as well.
3. Improving the WPT Championship
The $25,000 World Poker Tour World Championship is without a doubt one of the most prestigious stops on the annual poker circuit. However, every year players seem to have more and more issues with the venue. One of the major ones is that the tournament takes place on the casino floor, in a smoky area next to slot machines. If you want to attract the best players in the world, you can't just offer a big buy-in event — you have to cater to your customers as well. The Bellagio has half a dozen ballrooms, including the Grand Ballroom, which is a massive. In this space, you can build a nice feature table set fit for the World Championship and you can segregate your players from the calamity of slot machines.
I really hope the Bellagio gives us the poker room for the $25k instead of the smoke pit. Bellagio may have turned into the WORST WPT venue.

— Matt Waxman (@Matthew_Waxman)
@TexDolly any chance you could put a word in for the players to jack at bellagio? no one wants to be playing in the smoke filled pit for 25k

— g0lfa (@g0lfa)
Another thing players were concerned over was the conflict between the World Championship and the PokerStars SCOOP Main Event. Even if PokerStars was still available in the United States, this would've been a terrible decision. How many players are you going to lose if you move the tournament from Saturday to Monday? A handful? There aren't many weekend warriors that pop into a $25,000 tournament because they don't have work that day. Now, how many players would you have gained had you given them ample time to bust from the SCOOP Main Event, fly back to the United States, and register? A few dozen?

Yes, registration was still open on Monday, and "King" Dan Smith made the trek, but you have to be a really sick individual to bust out of a $10,000 online event and then hop on a plane a few hours later to late register on Day 3 of a $25,000 live event that's taking place thousands of miles away in another country.
This event is important, and it would be a sin to see the buy-in reduced in order to cover up issues that could easily be fixed. With a little bit of effort, the poker community would forget about the issues, and return to this marquee event with open arms.
4. The Obama administration responds
On Friday, our own Matthew Kredell published an article about the Obama administration's response to an online petition to license and regulate Internet poker. Unsurprisingly, Brian Deese, deputy director of the National Economic Council, pointed a finger directly at the Tenth Amendment of the U.S. Constitution, saying,
"The legality of other forms of online gambling is dependent upon the law of the states where the bettor or gambling business is located. It is left to each state to determine whether it wishes to permit such activity between its residents and an online poker business authorized by that state to accept such wagers, but online gambling that is not authorized by state law may also violate federal statutes."
Like driving laws, the lottery, same-sex marriage and the distribution of medicinal marijuana, online gaming is something that will be left to the states to decide. Even if President Obama released a statement tomorrow saying that he misses playing in the Sunday Million, and that every American should be able to play on PokerStars, it doesn't matter. The state of Utah will still have the right to oppose online gaming — and they will, for a very, very long time.
While states like Utah and Washington may never have online gaming, Nevada, New Jersey, and California are ready to roll, and plenty more states will follow. Eventually, there will be a model in place that looks exactly like the Mega Millions Jackpot, where multiple states join together to create bigger player pools and bigger prizes. This will create more tax revenue for the states involved.
However, if you're looking for a federal law that will cover the entire country, then be prepared to wait for very long time. A state's right to choose is very precious, and the Tenth Amendment isn't going anywhere.
5. Six-betting with 9-2 off
Enjoy, as Chris "ImDaNuts" Oliver has a party.
Follow PokerNews on Twitter for up-to-the-minute news.