Black Friday Chronicles: Looking Back One Year Later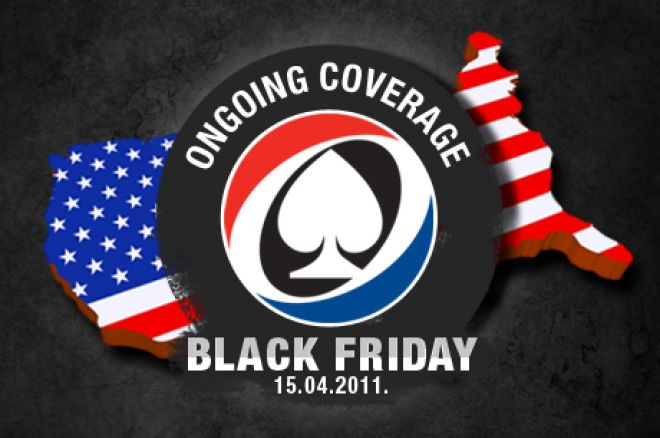 On April 15, 2011, the poker world was turned upside down when the U.S. Department of Justice unsealed indictments charging online poker's big three — PokerStars, Full Tilt Poker and Absolute Poker — with illegal gambling, bank fraud and money laundering. Various bank accounts, including those holding players' funds, were seized, as were the sites' respective Internet domains.
Federal authorities also named 11 defendants the indictment: PokerStars' Isai Scheinberg and Paul Tate; Full Tilt Poker's Raymond Bitar and Nelson Burtnick; Absolute Poker's Scott Tom and Brent Beckley; and payment processors Chad Elie, John Campos, Bradley Franzen, Ira Rubin and Ryan Lang.
The news ruthlessly penetrated the online poker community. Within hours of the initial reports, PokerStars and Full Tilt Poker had blocked all U.S. players from real-money games. Players immediately became concerned about the security of their funds, an issue Full Tilt Poker addressed in a press release:
"Unfortunately, as a result of this action, Full Tilt Poker has decided that it must suspend 'real money' play in the United States until this case is resolved. However, Full Tilt Poker will continue to provide peer-to-peer online poker services outside of the United States." The statement went on to say, "Full Tilt Poker is, and has always been committed to preserving the integrity of the game and abiding by the law."
As it turned out, Full Tilt Poker's statement was filled with hypocrisy. On April 20, FTP and PokerStars reached an agreement with the DOJ that allowed them to regain the use of their respective dot-com sites, a development that was to help facilitate the distribution of players' funds. However, the two sites took different approaches to that responsibility.
PokerStars assured players that their money was safe and ready to be dispersed. As promised, PokerStars began player reimbursement within a week of Black Friday while continuing to offer its services to customers outside the U.S. One month later, PokerStars issued a press release saying it had already returned over $100 million to players in the United States following Black Friday.
Meanwhile, FTP proceeded to release a series of empty and unapologetic statements over the next couple of months. Then, on Sept. 20, the realization of Full Tilt's financial troubles came to light. Federal prosecutors amended their original complaint, showing that FTP owed approximately $390 million to players around the world, with $150 million owed to U.S. players. This was the result of FTP's payment processing channels becoming so disrupted that the company faced increasing difficulty attempting to collect funds from players in the U.S.
Seemingly lost in the growing madness were Absolute Poker and UB, both of which have failed to repay players one year after Black Friday. Last May, Blanca Gaming, the parent company of the embattled poker rooms, announced that it would be filing for bankruptcy, a move that would not only see the release of its entire pro teams, but reduce any hope of players being refunded.
As a result of the chaos, professional poker players were forced to make life-altering decisions. Some were able to move outside the U.S. to continue their poker careers, but others had no choice but to remain in the states and look for "real" jobs during hostile economic times. Players lost sponsorships. Agents lost clients. And media members lost jobs.
French investment firm Groupe Bernard Tapie gave the industry a sign of hope by showing serious interest in Full Tilt Poker late last year. In December, Tapie reportedly agreed to purchase the forfeited FTP assets from the U.S. Department of Justice for $80 million. As part of the agreement, Tapie would repay non-U.S. players, who are owed an estimated $150 million, and the DOJ would be responsible for repaying U.S. players.
However, a series of hurdles has delayed the announcement of an official deal between the two sides, leaving players wondering whether they'll ever recover the funds taken away from them on that fateful Friday.
While most will remember Black Friday as the worst day in poker history, the events of April 15 did trigger a movement to make online poker legal and regulated in the U.S. A handful of federal online poker bills have come and gone, but several states have considered legalizing the activity after a Department of Justice opinion that the Wire Act only applies only to sports betting.
The announcement opened the door for states to introduce an online gambling platform within their respective state. Last December, Nevada became the first state to approve regulations for intrastate online poker and began accepting applications from operators looking to grab a share of the marketplace.
New Jersey and California are also intensifying efforts to legalize online poker. New Jersey Gov. Chris Christie, who vetoed bills to legalize online gambling in 2011, said in January that he intends to make the state an "epicenter" of the online gambling industry. Sen. Ray Lesniak expects online poker to be up and running in New Jersey by the end of this year.
While legalized poker in the U.S. and the sale of Full Tilt Poker would ease some of the pain lingering from April 15, 2011, the lasting effects will no doubt forever leave their mark on the poker world. Regardless, one thing we have learned in the past year is that poker players are nothing short of resilient. The game will go on.
For a full list of events since April 15, 2011, check out our Black Friday Timeline.
Follow PokerNews on Twitter for up-to-the-minute news.
Executive Editor US, PokerNews Podcast co-host & 2013 WSOP Bracelet Winner.