The Black Friday Timeline: One Year Without Online Poker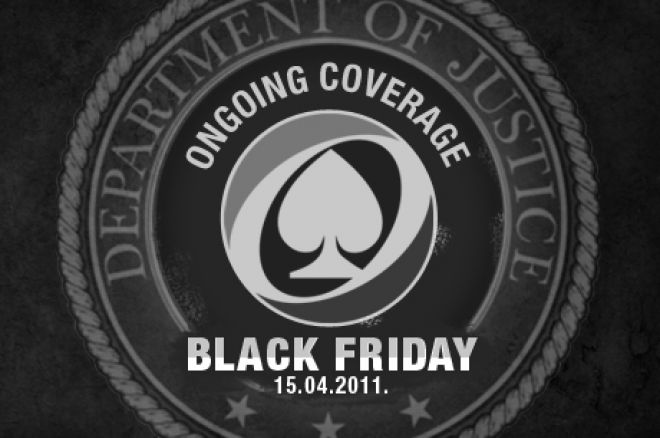 One year ago, on April 15, 2011, the poker world was rocked when federal authorities unsealed an indictment against online poker's big three: PokerStars, Full Tilt Poker and Absolute Poker. The charges were based on the Illegal Gambling Business Act of 1955 and the Unlawful Internet Gambling Enforcement Act of 2006 and alleged that the companies used fraudulent methods to circumvent federal law and trick banks into processing payments.
The indictment named 11 defendants: Isai Scheinberg and Paul Tate, who represented PokerStars; FTP's Raymond Bitar and Nelson Burtnick; Scott Tom and Brent Beckley of Absolute Poker; and Chad Elie, John Campos, Bradley Franzen and Ryan Lang, who ran payment processors. As part of the indictment, restraining orders were issued on 75 bank accounts used by the online poker companies and their payment processors, as well as five Internet domain names.
In a press release regarding the indictment, Manhattan U.S. Attorney Preet Bharara said: "As charged, these defendants concocted an elaborate criminal fraud scheme, alternately tricking some U.S. banks and effectively bribing others to ensure the continued flow of billions in illegal gambling profits. Moreover, as we allege, in their zeal to circumvent the gambling laws, the defendants also engaged in massive money laundering and bank fraud. Foreign firms that choose to operate in the United States are not free to flout the laws they don't like simply because they can't bear to be parted from their profits."
What happened on that fateful day, which has come to be known as Black Friday, set off a chain of events that continues to impact the industry. The whole debacle was intricate and confusing, leaving many unanswered questions. Over the past year, some of those questions have been answered; others remain unanswered.
A lot has happened in a year. Below is a timeline highlighting the important developments from April 15, 2011, to April 15, 2012.
11:00 a.m. PDT: News of the indictment begins to surface.
12:26 p.m. PDT: PokerStars blocks all U.S. players from real-money games.
1:25 p.m. PDT — 2:00 p.m. PDT: Senate Majority Leader Harry Reid and Senator Alfonse D'Amato of the Poker Players Alliance spoke out in support of online poker. Meanwhile, The Courier-Mail newspaper in Australia reported that Daniel Tzvetkoff was assisting federal lawyers in the Southern District of New York.
5:30 p.m. PDT: Fertitta Interactive and the Wynn Resorts pulled out of their planned strategic alliances with FTP and PokerStars respectively.
6:52pm PDT: FTP blocks U.S. players and issues the following statement: "Unfortunately, as a result of this action, Full Tilt Poker has decided that it must suspend 'real money' play in the United States until this case is resolved. However, Full Tilt Poker will continue to provide peer-to-peer online poker services outside of the United States." The statement went on to say, "Full Tilt Poker is, and has always been committed to preserving the integrity of the game and abiding by the law."
9:52 p.m. PDT: PokerStars releases first statement via pop-up on its poker client. "As you may have heard, we have had to suspend real money poker services to people based in the US due to legal developments there. The developments are confined to the US and do not have any impact on your ability to continue using our services. Please be assured player balances are safe. There is no cause for concern. For all customers outside the US it is business as usual."
10:40 a.m. PDT: FTP cancels the Onyx Cup.
11:10 a.m. PDT: ESPN's poker page removed all PokerStars advertising.
2:02 p.m. PDT: Las Vegas Sun reports that former U.S. attorney Greg Brower called for both state and federal probes of PokerStars' political activities.
10:10 a.m. PDT: Defendant Bradley Franzen surrenders to the FBI and pleads not guilty in front of U.S. Magistrate Judge Frank Mass. Franzen was subsequently released on a $200,000 bond.
11:00 a.m. PDT: ESPN removes online poker advertising and programming, though planned broadcasts of the World Series of Poker remained unaffected.
11:05 a.m. PDT: The PokerStars.net Million Dollar Challenge and PokerStars.net Big Game are both cancelled.
On April 20, both FTP and PokerStars reached an agreement with the Department of Justice that allowed them to regain the use of their respective dot-com sites to help facilitate the distribution of players' funds. The online poker companies subsequently released the following statements regarding the agreement and player paybacks.
From Full Tilt Poker:

"In addition, the agreement represents an important first step towards returning funds to U.S. players because it allows Full Tilt Poker to utilize its domain to facilitate the withdrawal of player funds. But, unfortunately, there remain significant practical and legal impediments to returning funds to players in the immediate future. As a result of the recent enforcement action, there exists no authorized U.S. payment channel through which to make refunds; Full Tilt Poker has no accounting of the millions of dollars of player funds that were seized by the government; and the government has not agreed to permit any of the seized player funds to be returned to the players."
From PokerStars:

"Returning US players' funds is a top priority for PokerStars and the company can now start the process of returning money to its former US customers. All PokerStars player deposits are completely safe. The Isle of Man's strict licensing laws (similar to other jurisdictions where PokerStars holds licenses) require all funds to be held in accounts that are segregated from company assets. PokerStars has always complied with this requirement and continues to do so. This money is readily available to meet withdrawal demands, indeed the company continues to comply with withdrawal requests from players based outside the US as normal. Outside the U.S., PokerStars continues to operate business as usual."
Meanwhile, the Alderney Gambling Control Commission (AGCC), which licensed FTP, released a statement regarding its licensee.
The Aftermath
As the one-year anniversary of Black Friday arrives, the world awaits news regarding the potential deal between FTP and Groupe Bernard Tapie. As for the online poker sites and defendants, after numerous extensions, they have until May 14, 2012, to respond to the amended civil complaint.
Get all the latest PokerNews updates on your social media outlets. Follow us on Twitter and like us on Facebook today!
Executive Editor US, PokerNews Podcast co-host & 2013 WSOP Bracelet Winner.