Top 10 Stories of 2011: #2, Full Tilt Poker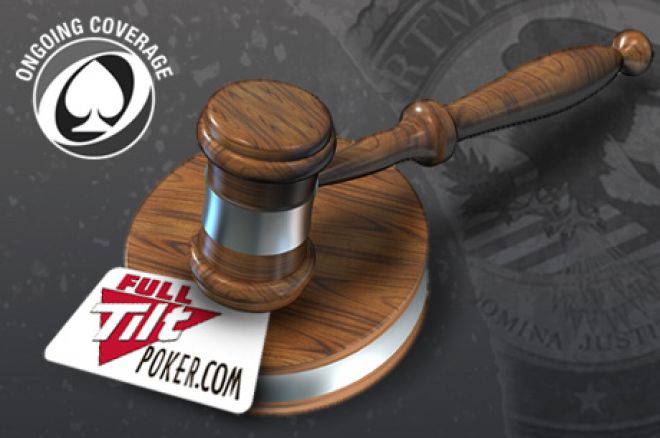 It has been one heck of a year for online poker. Black Friday rocked the poker world and sent players, especially those in the United States, freaking out about the loss of their livelihood. No online poker company had a more drama-filled year than Fill Tilt Poker (FTP) did.
Saying that FTP, along with its former player "faces" as a whole, had a crazy year would be quite the understatement. Our No. 2 story of 2011 is all that encompasses the year FTP had, beginning with the meteor that smashed head on into the poker world — Black Friday.
On Friday, April 15, 2011, the U.S. Department of Justice released an indictment against the founders of online poker's "big three," — PokerStars, Absolute Poker (AP) and FTP. The indictment cited charges of bank fraud, money laundering and illegal gambling. Restraining orders were filed against more than 75 bank accounts used by the online sites and their payment processors.
Just like that, a black cloud darkened the online poker world, and people began to panic. While AP folded, things went rather smoothly for PokerStars. FTP, on the other hand, saw a drama-packed year.
A press release on the indictment named 11 defendants: Isai Scheinberg, Raymond Bitar, Scott Tom, Brent Beckley, Nelson Burtnick, Paul Tate, Ryan Lang, Bradley Franzen, Ira Rubin, Chad Elie and John Campos. Of those named, Bitar of Burtnick represented FTP.
Within hours of the indictment, the sites began to cut service to U.S. players, blocked them from real-money games, terminated alliances with the online sites, and drove online grinders in the U.S. into mass panic. At approximately 12:26 p.m. PDT, PokerStars had stopped serving real-money games to U.S. players. At approximately 5:30 p.m. PDT, Alexandra Berzon, a reporter for the Wall Street Journal, tweeted: "A Fertitta spokeswoman said the partnership with Full Tilt — announced in late March — had 'expired.'"
FTP held back on suspending real-money play of U.S. players until approximately 6:52 p.m. PDT. At that time, a release from FTP said, "Mr. Bitar and Full Tilt Poker believe online poker is legal — a position also taken by some of the best legal minds in the United States. Full Tilt Poker is, and has always been committed to preserving the integrity of the game and abiding by the law."
Ray Bitar, who was listed on the indictment, added, "I am surprised and disappointed by the government's decision to bring these charges. I look forward to Mr. Burtnick's and my exoneration." The following day, FTP cancelled the Onyx Cup poker series that was set to have its debut.
It was later revealed that it was young Australian entrepreneur Daniel Tzvetkoff who had brought the online poker world to its knees. Apparently, Tzvetkoff was the one who had set up the payment-processing schemes used by the major online poker sites. In turn, he was labeled, "The Boy Genius Who Just Took Down the Online Poker Industry."
While all the madness was happening, U.S. players were freaking out. Many took to Twitter while others flooded the TwoPlusTwo forums, setting a record of more than 12,000 people online at the same time. It was during this madness that Team Full Tilt's youngest member, Tom "durrrr" Dwan stepped up as a poker ambassador, attempting to reduce everyone's fears.
On Twitter, Dwan (@Tom_Dwan) stated, "I'd guess FTP/Stars is worth more than 93 cents on the dollar (almost 100% you get paid but could take 2-3 months in worst case more)."
Things were now one big waiting game. PokerStars took proactive steps and released statements as soon as possible. FTP, on the other hand, remained silent and kept everyone wondering what was going on.
On Tuesday, April 19, the Kahnawake Gaming Commission (KGC) and the Isle of Man Supervision Commission released statements regarding the indictments of their licensees, Absolute Poker and PokerStars, respectively.
The poker world awaited word from FTP, which finally came in the following statement:
"The Alderney Gambling Control Commission (AGCC) is aware of proceedings brought against Full Tilt Poker and individuals concerned with its operations by the authorities in New York State."
"AGCC will review the documentation affecting its licensee and to facilitate this, AGCC will undertake its own investigation into these allegations; no further general commentary will be provided pending progress in these matters."
"AGCC notes that its licensee, trading as Full Tilt Poker, denies all of the allegations. Upon the grant of its license, Full Tilt Poker identified that it had obtained specific legal advice relating to its proposed activities. AGCC further notes the current public statements made by Full Tilt Poker to its customers and its recent decision to suspend 'real money' play in the USA. AGCC is concerned that appropriation of Full Tilt Poker's dot-com site is hampering and potentially adversely affecting its lawful operation elsewhere in the world. AGCC remains committed to providing a well-regulated, lawful environment for worldwide eGambling based in Alderney."
On Wednesday, April 20, FTP announced that it had "reached an agreement with the United States Attorney's Office for the Southern District of New York to regain the use of its worldwide domain name, www.fulltiltpoker.com."
The statement also said that "Full Tilt Poker has no accounting of the millions of dollars of player funds that were seized by the government; and the government has not agreed to permit any of the seized player funds to be returned to the players." The statement concluded by saying FTP "is ready to work diligently with the United States Attorney's Office in the Southern District of New York to try and resolve these issues and to get players their money back as soon as possible."
It was widely understood that the statements from FTP and the U.S. Attorney's Office echoed each other in large part, but when FTP said that "Full Tilt Poker has no accounting of the millions of dollars of player funds that were seized by the government," and the U.S. District Attorney's Office claimed that "no individual player accounts were ever frozen or restrained, and each implicated poker company has at all times been free to reimburse any player's deposited funds," things didn't seem to add up.
With confusion at the forefront of the allegations involving FTP and the statements released, PokerStars stepped forward with its own statement saying that, "Returning U.S. players' funds is a top priority for PokerStars and the company can now start the process of returning money to its former U.S. customers. All PokerStars player deposits are completely safe." As many people understood, it seemed as though PokerStars had things organized and that a plan was in effect to return players' funds, while FTP left everyone very uncertain about the issue.
On April 21 at approximately 11:27 p.m. PDT, FTP issued another statement reiterating that player funds were "safe and secure" and that it was working with the U.S. Attorney's Office to return players' money.
About two weeks passed before the next FTP update. First, prosecutors seized four homes owned or connected to Ray Bitar, all in Glendora, California.
Then came an update from FTPDoug on the TwoPlusTwo forums.
In the update, FTPDoug said the site was still working to return players' funds and that doing so remained the site's top priority. He also apologized for the delay in the process; however, nothing in the statement answered questions regarding a timeline for the payouts. U.S. players grew even more uneasy.
Ten days passed with rumors swirling that another update was imminent. On May 15, FTPDoug was back on the TwoPlusTwo forums, but without much to appease players. Instead, the announcement was that an announcement would come later. Again, this didn't sit well with worried U.S. players.
Fast forward 12 days to May 27 when eGaming Review reported that the U.S. DOJ had unfrozen an FTP Bank of Ireland account belonging to Ray Bitar. This action had freed up more than a third of the money belonging to U.S. players, and while it was good news, it was overshadowed by reports that there was still no set date for U.S. players to get their money.
Finally, on May 31, FTP seemed to be owning up to everything with a statement released by FTPDoug on the TwoPlusTwo forums.
"We acknowledge that our lack of communication reflects poorly on us, and rightfully so. We have been too optimistic in estimating how long it would take to sort through the issues we have faced since Black Friday. And as frustrating as the delays have been for us, we recognize that it cannot compare to the frustration you have been feeling."
The statement also included another paragraph discussing speculation on rumors, but in the end it was all deemed "unsubstantiated." There was also no specific time frame given for the return of player funds, but it was stated that the company was not bankrupt.
Also on May 31, the biggest face of the company, Phil Ivey, released a statement on Facebook. He announced his plan to sue FTP and to sit out the entire 2011 World Series of Poker if players' funds weren't repaid.
When Ivey released this statement, people were skeptical as to whether he would actually sit out the entire WSOP if FTP didn't return the money. In response to Ivey's statement, the software and marketing company for FTP, Tiltware, released a statement claiming that "Contrary to his sanctimonious public statements, Phil Ivey's meritless lawsuit is about helping just one player –- himself." The statement went on to accuse Ivey of having taken out loans from the company and that he had not yet repaid them.
While Ivey sat out the WSOP, plenty of FTP's other branded players took to the felt. Some sported the FTP logo in hopes of everything getting worked out; others dropped their branding right away. Some pros even took heat from other players. John Juanda, for example, was verbally attacked by 2010 WSOP Europe Main Event champion James Bord before he was restrained. Going into the summer, WSOP security prepared itself for this kind of behavior and was on hand at all times to protect anyone who encountered blow back from Black Friday events.
On June 29, the AGCC suspended Full Tilt Poker's license, and ordered the site to suspend operations. Games had been halted for U.S. players during the days following Black Friday, but all of a sudden, FTP had come to a worldwide stop.
On June 30, the Los Angeles Times reported that FTP had been sold to "a group of European investors in a deal that could allow U.S. players to recover as much as $150 million," but this deal fell through.
On that same day, a class-action complaint was filed in the U.S. District Court of the Southern District of New York against FTP, demanding the return of players' funds and for subsequent damages purported to be more than $150 million. The class-action complaint was brought on by plaintiffs, Steve Segal, Nick Hammer, Robin Hougdahl and Todd Terry "on behalf of themselves and all others similarly situated."
From there, the AGCC announced that it would hold a public hearing regarding the future of FTP. That hearing was set to take place on July 26 but wound up being cancelled. There was no date or venue set, but it was said to be held no later than Sept. 15. That hearing was later set for Sept. 19, four days after the given deadline.
More time passed without much word from FTP. Rumors swirled about potential investors trying to buy the company, but not much word came from FTP itself. Then, on Aug. 22, FTP gave PokerNews an exclusive press release regarding FTP investors.
"On August 16, Irish based Pocket Kings Ltd., brand executor for the Full Tilt Poker moniker, concluded the exclusivity period of negotiations with their current potential investor. While Pocket Kings Ltd. plans to continue discussions with its current investor, the company has now begun negotiations with additional potential investors to conclude the sale/partnership of the Full Tilt Poker brand and its assets."
In the release, FTP apologized for the lack of communication citing "unexpected and complex legal and financial issues" that arose from Black Friday as the reason.
Still, time passed with no payback and no real explanation by FTP, but on Aug. 31, another statement was released discussing why players had not been paid back yet.
The company mentioned Black Friday, government cash seizures in the two years preceding Black Friday, and a theft from one of its payment processors as the events that had caused the company's financial issues. Little did everyone know that the top was really about to blow off of everything in the weeks that followed.
FTP released another statement on Sept. 14 that touched on the the financial issues the company had been facing and how it was positioning itself to deal with them.
The second paragraph of the statement said: "Pocket Kings Ltd. (provider of marketing and technology services to Full Tilt Poker) has adopted a cost optimization program and estimates that they need to reduce their costs by approximately €12m. This program is intended to streamline the company's operations in order to better position itself for future growth and profitability in Full Tilt Poker's markets outside of the U.S."
To many players and fans in the industry, it seemed like much of the same runaround by FTP. The thought of getting players' money back was once again put off. Everyone anxiously awaited news from FTP, but what came next shocked everyone.
On Sept. 20, U.S. Attorney Preet Bharara announced that prosecutors were amending their original complaint unsealed on Black Friday as part of a money-laundering complaint against some of FTP's biggest names. The amendment alleged that FTP and board members, including CEO Ray Bitar, Howard Lederer, Chris "Jesus" Ferguson and Rafe Furst, defrauded players in what was labeled as a Ponzi scheme.
According to the amendment, "Full Tilt was not a legitimate poker company, but a global Ponzi scheme. Full Tilt insiders lined their own pockets with funds picked from the pockets of their most loyal customers while blithely lying to both players and the public alike about the safety and security of the money deposited."
The complaint spelled out in detail that as of March 21, FTP owed approximately $390 million to players around the world, with $150 million of that owed to U.S. players. With only $60 million on deposit in its bank accounts, FTP thus owed well over $300 million to players worldwide.
It was also mentioned that Lederer and Ferguson, two of the most well-known faces in poker, along with Bitar and Furst, had pocketed approximately $443,860,529.89 of the players' money. A press release regarding the amended complaint claimed that "Bitar received approximately $41 million, Lederer received approximately $42 million, and Furst received approximately $11.7 million. Ferguson was allocated approximately $87,486,182.87 in distributions, and received at least $25 million, with the remaining balance characterized as "owed" to him. Much of the money that was distributed was transferred by the board members and owners to accounts in Switzerland and other overseas locations."
Furthermore, FTP was accused of misleading players. This was shocking and heartbreaking to poker players around the world and especially to the U.S. players.
The next day, Tom Dwan discussed the developments in an interview with PokerNews. In the interview, Dwan talked about his silence over the entire issue, whether or not he actually owned shares in Full Tilt Poker, the possible sale of the company, and his overall thoughts on the entire situation.
Another notable member of FTP's squad of players was Gus Hansen. He and his manager Erik Balck Sørensen had this to say: "Until Black Friday Gus was convinced that he was part of a well-oiled business machine with a professional management team who had a clear separation between the players' money and the operation of the site. The people must believe in it or leave it. Gus has never been anywhere near the leadership of Full Tilt. Perhaps they have filled him and others with falsehoods. It would seem so, but we can not, in any way, say anything concrete about it at this time. Gus is critical of it and is really sad both for the poker site, he has been part of, and the players who have not been paid their money."
On Sept. 30, it was reported that an acquisition agreement had been signed between French investment firm Groupe Bernard Tapie and FTP. The announcement was made by Laurent Tapie, son of French businessman Bernard Tapie.
About a month later, on Nov. 1, Groupe Bernard Tapie and the U.S. Department of Justice reached an agreement that could ultimately allow for repayments of FTP players. The deal was to enable Groupe Bernard Tapie to acquire Full Tilt Poker, pending approval by company shareholders. If the shareholders agreed to the sale of the FTP, the deal would provide payment for all players worldwide.
Before the sale had actually gone through, Ferguson responded to the FTP complaint on Nov. 14. Through his attorney Jonathan Harris, Ferguson filed numerous motions with the U.S. District Court of the Southern District of New York.
On Nov. 17, news broke that a deal had been signed to allow Groupe Bernard Tapie to buy FTP for $80 million. This was the best news to come regarding FTP as players hoped to get their money back.
The U.S. Department of Justice had brokered a deal that saw Full Tilt Poker's assets forfeited to the U.S. Government, and those assets were to be sold to the French investment firm. From there, the newly sold company applied for a Spanish license.
After it was reported that a deal had been reached to sell the company, it was reported that shareholders had ratified the agreement and that the deal would go through. From there, Groupe Bernard Tapie would be responsible for repaying the non-U.S. players, while the Department of Justice would repay the U.S. players.
Despite the constant downward spiral that FTP was in all year, things have recently looked much more positive than negative, highlighted by the sale of the company and the movement toward repaying players. Whether the company will be able to recover from the issues of 2011 remains to be seen, but it is fairly safe to assume that a good amount, if not all, of its previously clientele has been lost.
As always, PokerNews will be staying on top of things to bring you the latest news regarding Full Tilt Poker, so be sure to check back often for updates.
Follow PokerNews on Twitter for up-to-the-minute news.