The Nightly Turbo: Latest Full Tilt Poker Statement, AGCC Hearing Update, and More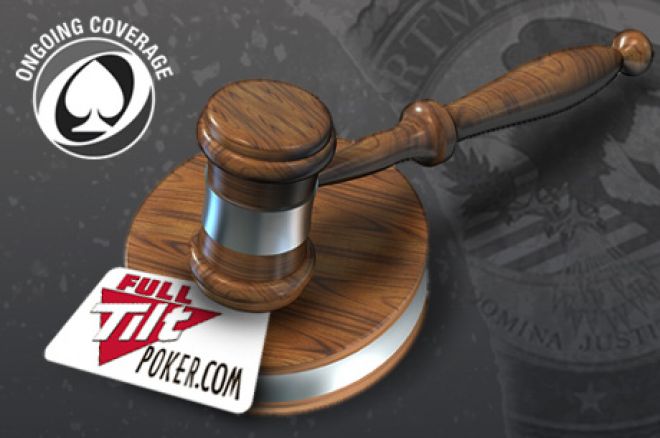 It's Wednesday, and all we can think of is getting to the weekend so we can partake in some good old fashioned pizza eating and football watching. Luckily we're halfway through the week and pretty much through with our work day. Don't worry, we won't leave you before delivering the news. Read on to see what Full Tilt Poker didn't say said in it's latest press release, find out why you won't be happy with the Alderney Gambling Control Commission, and more.
In Case You Missed It
Kristy Arnett, Chad Holloway, and Rich Ryan discuss the Epic Poker League, World Poker Tour, and WCOOP, then they're joined by Michael "Timex" McDonald. What did he have to say? You're going to have to listen to the PokerNews Podcast to find out.
The PokerStars.net Russian Poker Series concluded last weekend. The event attracted 322 entrants and created a prize pool of $718,000. Check out our recap of the RPS event to find out who won.
Three bracelets were awarded on Day 10 of the PokerStars World Championship of Online Poker. We'll tell you that Noah Boeken won one, but two find out who else did, you'll have to read the daily WCOOP recap.
ESPN's coverage of the World Series of Poker continued Tuesday night. Daniel Negreanu, Allen Cunningham, and Jean-Robert Bellande were featured on the Day 5 broadcast.
Casinos in Ecuador have six months to shut their doors, following a law that was passed prohibiting gambling in the country. Inside Gaming has that story and you'll find out how much more Wynn Macau is willing to pay for a lot on the Cotai Strip.
The PokerNews Live Reporting Team is gearing up for the World Series of Poker Europe in Cannes, France. If you are too, then you'll need to check out the PokerNews Jet Set, if you're not, check it out anyway — it'll probably make you book your ticket immediately.
Full Tilt Poker Statement
On Wednesday, Full Tilt Poker released its latest statement to PokerStrategy.com. The statement touches on the the financial issues the company is facing and how it is positioning itself to deal with them. According to the press release, approximately 250 positions at Pocket Kings Ltd. could be affected by the new cost optimization program.
Here is the statement in its entirety:
"On April 15th 2011 the United States Department of Justice unsealed a federal indictment against a number of individuals employed by major online poker operators. After the issuance of that indictment and a related civil case brought by the United States government, Full Tilt Poker withdrew from the US market. Then in a related action, on June 29th, 2011, Full Tilt Poker had its operating licenses suspended by the Alderney Gambling Control Commission."
"As a result, Pocket Kings Ltd. (provider of marketing and technology services to Full Tilt Poker) has adopted a cost optimization program and estimates that they need to reduce their costs by approximately €12m. This program is intended to streamline the company's operations in order to better position itself for future growth and profitability in Full Tilt Poker's markets outside of the U.S."
"If all of the required cost savings were to be achieved through redundancies, approximately 250 positions could be affected; however the exact number cannot be confirmed until the conclusion of a consultation process with its workforce."
"Notwithstanding the foregoing, Pocket Kings firmly believes it has a very strong future in Full Tilt Poker's Non-US Markets, and is fully committed to ensuring Full Tilt Poker restores the site and repay players in full. To this end, Full Tilt Poker has retained Sea Port Group Securities, LLC as its financial advisor with regard to raising capital and/or assisting in securing a strategic partner in order to fund continued operations of Full Tilt Poker's non-U.S. business. The Company is in active discussions with several parties and will provide a further statement in due course."
Behind Closed Doors
The Alderney Gambling Control Commission will hold its hearing regarding Full Tilt Poker on Sept. 19 — four days after its "deadline." The public may have been allowed at the first hearing in July, but there will be no such luck this time around. The AGCC released a statement today announcing that the hearing will take place "in camera" which we guess is a fancy way to say "behind closed doors." We're pretty sure the public is a little fired up about this, but there's also someone else who doesn't agree with this decision, executive director of the AGCC, Andre Wilsenach.
"I am pleased that the FTP hearing will continue as scheduled, as was argued on my behalf. However, I am disappointed with the tribunal's decision that, notwithstanding my arguments to the contrary, the hearing will be held in private. I believe the public has a right to know the reasoning behind the decisions to suspend FTP's licences and call a hearing, and to hear the evidence that will be put forward on my behalf," Wilsenach said in the press release.
"It is my understanding that the tribunal conducted a difficult balancing exercise of the interests of the various parties, taking into account the legal arguments for and against further postponing the hearing, and for and against allowing the public to attend the proceedings."
GamblingControl.org has more.
Partouche Poker Tour Update
Of the 333 players who entered Day 1b of the Partouche Poker Tour, only 182 survived. Chino Rheem, Olivier Busquet, Freddy Deeb, Tobias Reinkemeier, Jason Mercier, Sam Trickett, Antonio Esfandiari, and Daniel Cates were among those who made it to Day 2. Those 182 combined with the Day 1a survivors bring the Day 2 starting field to 322.
Soon after the dinner break on Day 2, Jason Mercier was eliminated when, according to PartouchePokerTour.com, his
failed to get there versus his opponent's nines.
Many of the notables were eliminated on Day 2 of the Main Event, but that didn't stop them from getting in on side-event action. The €1,500 side event attracted a field of 285, including Phil Laak, Vanessa Selbst, Fabrice Soulier, Guillaume Darcourt, Matthew Waxman, and Jennifer Tilly.
Here's an interview with Mercier right before his bust-out.
Check out PartouchePokerTour.com for more.
Poker Traffic Update
It's that time of the week again — you know, when we bring you the latest online poker traffic numbers. According to PokerScout, online poker traffic saw a 1.3 percent increase this week, with seven of the top 10 sites booking increased week-over-week numbers in traffic.
PokerStars, PokerStars.it, and PokerStars.fr were the three sites in the top 10 that saw decreases in traffic. As for the second and third place spots, Both PartyPoker (6 percent gain) and the iPoker Network (3 percent gain) saw solid increases in traffic, but PartyPoker is still sitting in third but is slowly gaining on the iPoker Network.
PokerScout's ACES indicator shows that year-over-year, online poker traffic has decreased 29 percent. Year-over-year gainers include 888poker (118 percent), Bodog (55 percent), and the iPoker Network (21 percent).
Everest Poker, the Microgaming Network, and the Ongame Network have all seen 20 percent decreases in year-over-year traffic.
There is plenty more data where this came from, and you can find it at PokerScout.com.
Another Free-Play Online Poker Site
The Barona Resort and Casino in San Diego announced the launch of its beta free-play online poker site.
"Barona free-play online poker is one more way that we make fun happen for our Barona players," said Rick Salinas, general manager of Barona Resort & Casino. "We are always looking for new and inventive ways to bring excitement to our players and our new free-play site gives us the opportunity to provide more fun for our players while they are at home."
Barona's online poker site is only in beta release but is expected to fully launch in the next few months. The entirely free-play site will allow Club Barona members to play poker for free from their homes with the opportunity to win prizes like accommodations at Barona's hotel, rounds of golf on its championship golf course, gift certificates to the casino's restaurants, and Barona-branded apparel.
Find out more about the launch at MarketWatch.com.
You should be following us on Twitter and liking us on Facebook. There's really no reason not to.