PokerNews Jet Set: Cannes, France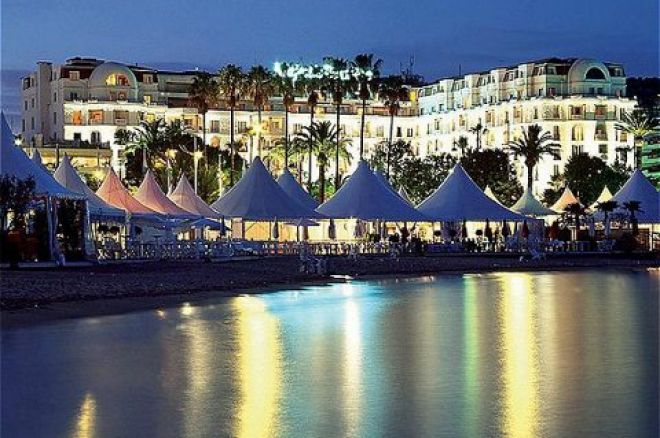 The French Riviera, or Côte d'Azur, is a 560-mile coastline along the southeast border of France. It's one of the most prestigious regions of this wonderful planet we live on, oozing with glamour and sophistication. On Oct. 7, the poker world will descend on the heart of the Riviera when, after four consecutive years in London, the World Series of Poker Europe heads to Cannes.
Cannes' port is lined with yachts owned by the world's most privileged, it's the home to the most famous film festival and the private beaches are regularly graced with bikini-clad Hollywood superstars. Although, all the glamour of Cannes is just scratching the surface when it comes to the offerings of the Côte d'Azur.
The Vitals
Language: French, English is widely spoken
Currency: Euro
Weather: An average high of 20°C/68°F
Taxi: Taxis de Cannes (04) 9299 2727
Tourist Office: 00 33 49299 8422, Palais des Festivals, La Croisette
Getting There
The Nice-Côte d'Azur Airport in Nice, France, just 17 miles up the coast from Cannes, is the main airport servicing all of the French Riviera. Flights from London take approximately two hours. Many major airlines such as British Airways, Aer Lingus and EasyJet fly into Nice. Kayak.com has the easiest way to find the best deals on flights. There's a direct TGV train from Paris to Nice that takes approximately six-hours, or you can hop on one of the many other railways from various French and Italian cities. Once you arrive in Nice, there are a few different options of making your way to Cannes:

Helicopter: Start your trip in fitting style with a six-minute helicopter flight with Azur Helico for around €350. Or perhaps you can save that for the trip back — after you've won the WSOPE Main Event.
Taxi: If keeping it more down-to-earth (literally) is your thing, then a taxi will set you back anywhere between €70 to €90 depending on the time of day, traffic conditions, etc. You'll most likely have a friendly driver who's open to chat about the famous passengers they've driven around town.
Shuttle: The Cannes Express will get you from the airport directly to your Cannes accommodation in 45 minutes for €20 per person. This is definitely my recommended option.
Train: Take the No. 99 shuttle bus from the airport to Nice-Ville station (approx. €4), then, jump on the TER service to Cannes. The trip will take a few minutes and costs €5 to €7, depending on the time of day.
Rental: Legally, you must be at least 21 years of age to rent a car or motorcycle; some companies require you to be at least 25. All of the major rental companies can be found at the airport. Traffic is usually scarce in Cannes, so driving is no problem, except for all the one-way streets. You might just have an ego issue when parking alongside the other cars if you're wheels are worth less than six-figures, and you'll have to pay parking fees that are semi-reflective of that also. But if you're in town for a short while and planning to explore, then it's always handy to have a car. Taking the A8 is the easiest way to get to Cannes from Nice.
Getting Around
Walking: Cannes is a small city of 70,000 residents, so getting around on foot is easy. Everything is within walking distance of wherever you happen to be. Particularly, a visit to the Croisette (keep reading, you'll get to it) is a must on foot and this ensures that you don't miss any hidden gems.
Bicycle: It's easy to ride a bike along the Cannes seafront, but less so in the more hilly regions, although it's a great option if you're looking for a creative way to workout. Holiday Bikes at 44 Boulevard Lorraine, rent out bicycles from €12 per day, or 50cc scooters from €26 a day.
Bus: Bus Azur is the efficient and reliable bus service that takes you all through Cannes and to neighboring cities. Check the timetable online or pick one up at the Tourist Office. Ensure you have some cash with you and then pick up a ticket when you hop on the bus for around €1 per hour of travel. This means that places such as Nice, Monaco, Antibes and the hinterland are all reachable with just one euro each way.
Taxi: These are quite easy to pick up off the street, or you can book one through Taxis de Cannes: (04) 9299 2727.
Motorcyle: Columbus International at 29 boulevard de la Ferrage, offers guided motorcycle tours and rentals. You can tour Cannes and the surrounding region with an English-speaking guide, or of course, take a motorcycle alone and go at your own pace.
Base Yourself
The World Series of Poker Europe will be held at the Casino Barrière de Cannes Croisette and the Hôtel Majestic Barrière. The WSOP staff has doubled 2010's capacity and has planned for 75 poker tables across the two facilities.
For a centrally located place to stay in the heart of Cannes, the Hôtel Majestic Barrière and the Hotel Gray d'Albion are suggested for the WSOPE. These are said to be more than just hotels. They are the hotels that host the prestigious Cannes Film Festival and which will also host the heads of state at the G20 Summit in November. These are destination resorts sought after by people all over Europe and vacationers from elsewhere around the world. There are special hotel rates for WSOP players.
Exploring
Promenade de la Croisette
A walk through Cannes' Promenade de la Croisette (French for "Little Cross Drive") is an eye-opening reality to just how luxuriously some people in our world live. There you'll find some of the fanciest restaurants, hotels and boutique shops, stretched over a mile along the shore of the Mediterranean Sea and lined with parked cars that we could probably only dream of ever affording. Described as "Cannes' catwalk beside the sea," it's the center of tourist activity.
Just beware when heading out to eat here, if you're not decked out in Chanel and Prada, restaurants will reluctantly seat you, and it will be in the most hidden table possible. That's what happened to me and my friends when we went out for breakfast, fresh from the beach. We weren't quite up to the fashion standards of the café owner who snarled up her nose and sat us out the back (literally out the back, not even inside the café) of the completely empty restaurant!
Down La Croisette is Palais des Festivals, where the world-famous Cannes Film Festival is held. Snapping a picture in front of the 22 steps leading up to the entrance is a must!
While walking along La Croisette, not only will you witness some of the most extravagant yachts that you've ever laid eyes on, but you'll also notice that the majority of the beaches are reserved for private use only. Anyone can rent a day bed at most of the private beaches for approximately €30. If you'd rather not pay, then the incredibly crowded public beaches can be found at the very far east and west ends of town.
Le Suquet
Known as "Old Town," Le Suquet is the old quarter of Cannes where you'll get more of a local taste of the town, realizing it's not all just yachts on the harbor. It's one of the nicest places to visit with boutique stores and outdoor cafés perched up on a hill. To get up there, you have to take a five-minute walk up the hill of winding, 400-year-old cobbled lanes, which takes some effort, but is a great way to get some exercise and well worth the experience, and the view. If you go in the morning, check out the Marche Forville market at the bottom of the hill for a spectacular food experience. On the top of the hill is the Provençal Gothic Church, dating back to the 14th century. Be sure to stop in because the inside has been turned into a 19th century gallery.
Îles de Lérins
If you have a free day to explore, the Lérins Islands are definitely worth visiting. They are just a 15-minute ferry ride from the Cannes old port. Ferries depart hourly and cost between €8 to €13 depending on what route you take. The smaller is St Honorat, which has a monastery and ruined castle where the monks sell monastery-made food and drink products — a unique souvenir idea! The larger, busier and more commercial island, with a museum, shops, bars, and restaurants, is Ste Marguerite. It's here that you can visit the cell of The Man in the Iron Mask and perhaps add your name to the hundreds of others that have been written on the walls. The islands are a perfect place to find a quiet cove, some shade from palm trees, and a cheap snorkel around the rocky coves. I suggest having a picnic, because it's the perfect way to embrace the tranquility of the gardens, and the few restaurants on the islands are quite overpriced.
Monaco
Another adventure for your day off is to visit one of the neighboring cities, especially Monaco, the tiny country hanging off of a cliff on the southern coast of France, just 22 miles from Cannes. It's a year-round playground for the world's richest. If you thought Cannes was indulgent, just wait until you see Monaco.
To get there, you can ride cheaply on Bus Azur, but if you want to feel like a real resident in this money-lathered piece of the world, and you can't quite afford the likes of Lamborghini to own, perhaps you can afford one for the day? Cruise your way along the coast of the French Riviera up to the streets of the Grand Prix in Monaco in a luxury set of wheels from the rental agency JKL, which offers cars fit for a star.
Out and About
There are countless bars that will make your jaw drop in Cannes such as Le Baoli or L'Atelier. With the rich and famous regular guests, both will give any club in the world a run for its money. Morrisons Lounge is a nice place for a quiet, laid-back drink early in the night, but it picks up later on once the DJ starts (seven nights a week). Morrisons also has an Irish Pub next door, which is perfect for sports fans since there are games always on the big screen. If hiding away with a glass of wine is more your style, then head to Le Bar a Vin for a selection of over 150 wines.
Cheap Eats
I've gone with specifying the cheap eats, because if you want to find an indulgent meal, then walk into the first restaurant you see, and the odds of it being world-class and burning a hole in the wallet are damn high. It takes a little research to eat cheaply in Cannes. Luckily, right by the Casino is Café Florian for some healthy, local cuisine on a budget.
A little further around the port is L'Assiette d'Provencal which offers a three-course set menu for approximately €22. Or for a Parisian bistro vibe, head to New Monaco in the center of town for some traditional French cuisine that also won't break the bank.
The PokerNews Team will be tableside for the entire World Series of Poker Europe, so follow @PokerNews_Live on Twitter to ensure you don't miss any of our live updates!
*Photo of the Majestic Barrière is courtesy of HotelsoftheRichandFamous.com.