Top 10 Stories of 2011: #1, Black Friday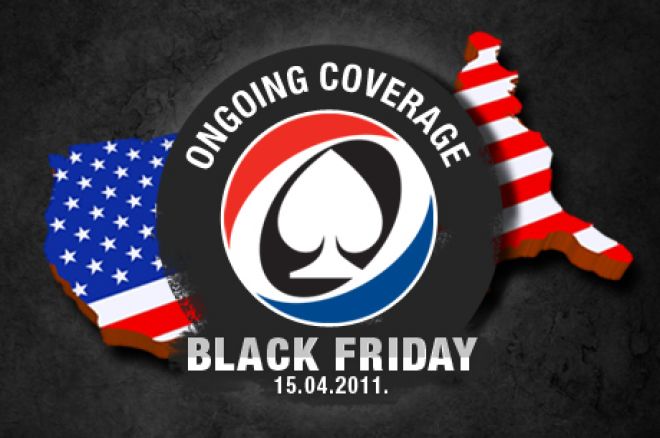 On Friday, April 15, 2011, online poker changed forever.
The U.S. Department of Justice unsealed a complaint against the founders of Full Tilt Poker, PokerStars, and Absolute Poker, alleging bank fraud, money laundering, and illegal gambling. The events of that day, labeled Black Friday, impacted the industry like no others, completely transformed the poker landscape, and continue to have implications for poker.
The Black Friday saga is far from over and will likely dominate the headlines in 2012 as the legal drama plays out and the Full Tilt tale lingers. With this said, it is easy to forget what exactly happened that day, what transpired to throw the industry into turmoil. Perhaps the most infamous day in poker history, Black Friday started out like any other.
On April 15 at approximately 2 p.m. EDT, MarketWatch broke the news that federal authorities had unsealed an indictment against the aforementioned sites. The press release specifically named 11 defendants: Isai Scheinberg, Raymond Bitar, Scott Tom, Brent Beckley, Nelson Burtnick, Paul Tate, Ryan Lang, Bradley Franzen, Ira Rubin, Chad Elie, and John Campos. In addition over 75 bank accounts and five Internet domain names were seized.
The complaint levied charges based on the Illegal Gambling Business Act of 1955 and the Unlawful Internet Gambling Enforcement Act of 2006, contending that the companies used fraudulent methods to circumvent federal law.
"As charged, these defendants concocted an elaborate criminal fraud, alternately tricking some U.S. banks and effectively bribing others to assure the continued flow of billions in illegal gambling profits," said Manhattan U.S. Attorney Preet Bharara. "Moreover, as we allege, in their zeal to circumvent the gambling laws, the defendants also engaged in massive money laundering and bank fraud. Foreign firms that choose to operate in the United States are not free to flout the laws they don't like simply because they can't bear to be parted from their profits."
The indictments seemed to come out of nowhere, but Australia's Courier-Mail suggested that it was young Australian entrepreneur Daniel Tzvetkoff who had brought the online poker world to its knees.
Tzvetkoff, who set up the payment processing schemes used by the poker sites, had a falling out with PokerStars and Full Tilt, each having attempted to sue Tzvetkoff for more than $100 million. Then, in April 2009, Tzvetkoff was arrested in Las Vegas, after the FBI was tipped off to his presence, and he was charged with money laundering, bank fraud, and wire fraud. because he was considered a flight risk, he was denied bail, leading many to believe that he had struck a deal to hand over the major sites to the DOJ.
Meanwhile, on Black Friday, two of the defendants, Campos and Elie, were arrested that morning in Utah and Las Vegas, Nevada, respectively, while the other named defendants, most located outside of the U.S. were not taken into custody.
At 3:26 p.m. EDT, PokerStars blocked U.S. players from real money sites, and a mini-panic ensued. No one seemed to know what it meant or what would come, though all agreed it wouldn't be good.
Even though information was in short supply, it didn't stop players from exploring every possible news source. The popular TwoPlusTwo forum was bum-rushed by over 12,000 users who created a 210-page thread relatively quickly, leading ultimately to the site's crashing.
Poker players took to social media outlets like Twitter and Facebook to voice their thoughts.
Brandon Adams (@badams78): "Alright, I read everything. Prognosis: Unfavorable"
Michael McDonald (@MikeMcDonald89): "Every few months people think the sky is falling in online poker. For the first time ever I'm one of them. WTF"
Jason Senti (@PBJaxx): "Well, on the day I sent the US gov't a LOT of money to finish up 2010 taxes, they shut down my income stream."
Joe Sebok (@joesebok): "obv not a redirect, everyone. just hadn't hit yet. more details to come...? guess we'll see..."
Matt Affleck via Facebook: "Good Game online poker in the United states! Good thing i have been practicing my live poker skillz the last 6 months :D"
Justin Bonomo on Facebook: "I'm usually not one to panic, but this DoJ thing seems really bad for US poker players =( 2+2 so jammed w/ traffic I can't even read about it. V Scary. Anyone have any useful info / informed predictions / relevant links?"
Things looked bleak, and many players attempted to withdraw their funds only to discover things had stalled. Meanwhile, the poker media reached out to various sites without much luck, aside from Bodog stating that it was "business as usual at Bodog for U.S. customers."
Prior to Black Friday, PokerStars and Full Tilt Poker had inked partnership deals with brick-and-mortar casinos Wynn and Station Casinos respectively. After news of the complaint was made public, the fate of these partnerships was unknown.
At 8:30 p.m. EDT, things got even worse when, Alexandra Berzon, a reporter for theWall Street Journal, tweeted: "Fertitta spokeswoman said the partnership with Full Tilt — announced late March — had 'expired.'"
Shortly thereafter, Associated Press reporter Oskar Garcia tweeted: "Wynn pulls out of alliance with PokerStars, while Fertitta says theirs was contingent on Full Tilt getting a gambling license."
Just like that, the excitement about online poker legalization drummed up by these strategic alliances disappeared in a heartbeat.
At 9:52 p.m. PDT, Full Tilt Poker followed suit and shut down its real-money gaming in the U.S., and stated, "Unfortunately, as a result of this action, Full Tilt Poker has decided that it must suspend 'real money' play in the United States until this case is resolved. However, Full Tilt Poker will continue to provide peer-to-peer online poker services outside of the United States."
It was at this time, after a long and strenuous day, that players finally heard from PokerStars and Full Tilt, with the latter stating: "Mr. Bitar and Full Tilt Poker believe online poker is legal –- a position also taken by some of the best legal minds in the United States. Full Tilt Poker is, and has always been committed to preserving the integrity of the game and abiding by the law."
Ray Bitar, Full Tilt's CEO, added: "I am surprised and disappointed by the government's decision to bring these charges. I look forward to Mr. Burtnick's and my exoneration."
A few hours later, PokerStars' released its first statement via a notice that popped up on the poker client: "As you may have heard, we have had to suspend real money poker services to people based in the U.S. due to legal developments there. The developments are confined to the U.S. and do not have any impact on your ability to continue using our services. Please be assured player balances are safe. There is no cause for concern. For all customers outside the U.S. it is business as usual."
It continued, "The PokerStars website has been moved to www.pokerstars.eu and our support email address is now [email protected]. We apologize to our players for any inconvenience caused by this disruption. Please be aware that we are currently experiencing a very high volume of emails, so response times are delayed. We will answer player emails as soon as possible. Thank you for your patience and understanding in this matter."
As Friday drew to a close, the poker world was in a state of shock. No one knew what was going to happen, and in the days following, the dominoes continued to fall as Full Tilt cancelled the highly-anticipated Onyx Cup, the ESPN poker page removed all PokerStars advertising, television shows were pulled, PokerStars' Big Game and Million Dollar Challenge were cancelled, and an investigation into PokerStars' political contributions and activities was called for by Nevada state senator Greg Brower.
Black Friday is well-documented, becoming our biggest story of 2011, but the narrative is far from complete as we ring in the new year.
Don't forget to follow us on Twitter and like us on Facebook.
Executive Editor US, PokerNews Podcast co-host & 2013 WSOP Bracelet Winner.