Top 10 Stories of 2011: #4, Phil Ivey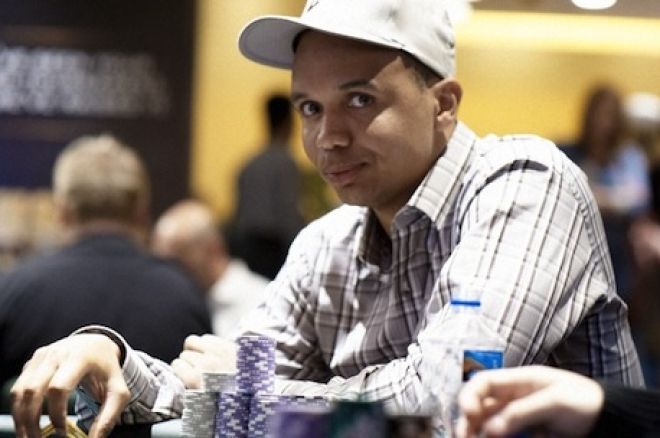 For someone who doesn't worry about the spotlight much, Phil Ivey was sure in it plenty during 2011. His crazy year began way back in January at the Aussie Millions in Melbourne, Australia, and is still continuing to stir up stories as we speak with the latest news regarding his ex-wife suing him. At one point in the year, Ivey seemingly dropped off the face of the poker planet. He was nowhere to be found but was back on the felt by the end of the year. With our No. 4 story of 2011, PokerNews brings you everything Ivey.
Back in January, Ivey was the face plastered on posters that advertised the Aussie Millions and the largest buy-in poker tournament in the world — the $250,000 Super High Roller. He was also the face of the Million Dollar Cash Game, which is held at the series every year. Ivey played in both of these events and they generated huge buzz, so much buzz in fact that Ivey's former sponsor site, Full Tilt Poker (FTP), announced the launching of the Onyx Cup on March 14.
Although plans for the ultra-large buy-in series fell through thanks largely to Black Friday, Ivey, along with Patrik Antonius, Gus Hansen, Erik Seidel and Tom Dwan, was the marketing face associated with the event. The series was set to debut in 2011 with tournaments in the $100,000 to $300,000 but-in range. Five preliminary events were planned, culminating in a $250,000 buy-in Grand Finale that would have a whopping $1 million added to the prize pool.
When speaking about the event, Ivey said, "It's not just about the money in this event. It's more about playing with the caliber of players that we're going to be up against. You know, playing against the best players, and a lot of these guys here at the table are my friends and we're friendly but we're also super competitive against each other. There's going to be a lot of pride that comes along with winning this event."
As mentioned before, the Onyx Cup wound up falling through, but surely it would have been a spectacle. Knowing Ivey's sick tendencies in large buy-in events, we're sure he would have pocketed a lot of money from that series.
On March 23, Ivey's website, www.PhilIvey.com, had his intense stare looking into the eyes of anyone who looked, while some captivating music played in the background. After a fancy graphic of the world spun into the center of the screen, the words, "Now I'm going to teach the whole world to win at poker," popped up. Not much came of the website or of Ivey teaching the world to play poker because of Black Friday, but all of us poker nerds out there were dying to find out and kept checking back daily.
On May 3, the Federated Sports + Gaming's professional poker league announced the lineup for its inaugural season. On the list, Ivey, who was granted a five-year card because he met all the requirements. Although this wasn't huge news as everyone expected Ivey to get the top card available, it was pretty big news (and still is) that Ivey hasn't played in a single event from the league, which was later named the Epic Poker League.
Back in 2010, Ivey's Room opened at Aria in Las Vegas and May 21 marked the one-year anniversary of the room. In celebration, the 2nd Annual Ivey Invitational was held on May 21. The winner would take home $250,000 and then have the chance to play Ivey himself for another $250,000. This was an awesome promotion for Aria and attracted some of the biggest names, faces and wallets in poker and casinos, but we're still unsure whether Ivey has actually taken the time to play in his own room outside of this event. Plenty of the PokerNews staff plays at Aria on a regular basis and high-stakes games are running almost around the clock in Ivey's Room, but none have reported that they've actually seen Ivey playing.
With the anniversary of Ivey's room right around the corner, Ivey himself was nowhere to be found. Speculation on Ivey's whereabouts began at the World Poker Tour $25,000 World Championship. The field was full of the biggest names in poker — with a few exceptions. While some FTP pros like Erik Seidel, Erick Lindgren and Allen Cunningham entered the event, others were suspiciously absent. The absentees included Chris Ferguson, Howard Lederer, Antonius, Dwan and of course, Ivey.
The most plausible explanation for the absences is that the events of online poker's Black Friday and FTPs subsequent delay in paying their customers has inspired these players to avoid the poker spotlight. With the 2011 World Series of Poker just a couple of weeks after, fans couldn't help but wonder whether Ivey's unprecedented hiatus would continue.
On May 31, the WSOP kicked off with a bang, but it was Ivey whose bang was even louder when he dropped a bomb on the poker world. Late that night, Ivey broke his six-week-long silence regarding the events of Black Friday and announced via his Facebook account that he would be boycotting the WSOP and had filed a lawsuit against Tiltware, the software and marketing company for FTP.
According to the complaint, Ivey was suing for injunctive relief, declaratory relief and damages. The first cause of action, injunctive relief, was focused on Ivey's non-compete contract and making it unenforceable. In the second cause of action, breach of contract, the lawsuit said the Plaintiff (Ivey) had been damaged by lost business opportunity, lost income, and damage to his personal and professional reputation all in an amount that exceeds $150 million.
Just one day passed before Tiltware issued a statement regarding the Ivey lawsuit. In the first line of the statement, it read, "Contrary to his sanctimonious public statements, Phil Ivey's meritless lawsuit is about helping just one player — himself." The statement then went on to touch on possible debts that Ivey had to FTP after borrowing "a large sum of money" that he still owed.
Throughout the summer, Ivey held true to his word and didn't play a single WSOP event. In fact, he wasn't even spotted anywhere near the Rio in Las Vegas. He wasn't seen anywhere in cash games, either. Without Ivey and his intense glare at the table, the poker world seemed a bit empty — much like the golf world seemed empty without Tiger Woods.
Because of his long absence from the game, Ivey fell from the Global Poker Index top 300. He also soon fell from ESPN's The Nuts rankings.
The reason?
Well, when you don't play, you can't be ranked. It's as simple as that. Still, what does Ivey care about rankings and where he stands on them? His falling off these two lists wasn't about to make him jump from his chair and get back into the game.
In November, more news surfaced about Ivey, but it wasn't good news. The news involved some new findings in regard to Ivey's 2009 divorce case. The Las Vegas Review-Journal reported Ivey's ex-wife, Luciaetta Ivey, filed a petition with the Nevada Supreme Court claiming that there may have been bias involving the original judgement of the divorce.
Then, just over a week later, Ivey dropped another bomb, but this time it was without any statements whatsoever. On November 23, Ivey made his return to poker at the 2011 PokerStars.net APPT Macau, registering and playing in the Main Event of the series. Just like that, Ivey was back in the game.
It was very interesting that Ivey chose to return in this event held in Macau, but it can surely be understood. The event wasn't a mass-media one like the WSOP is during the summer, and we all know Ivey doesn't like to be hounded by the press. There were only a few outlets at the series, including PokerNews. Also, a lot of players themselves didn't seem to look at or treat Ivey like, well, Ivey, and he was able to easily go about his business of simply playing the tournament.
The APPT Macau Main Event seemed like a little bit of a weak event for Ivey to return to, but soon enough, the real reason why he was in Macau came out — the nosebleed cash games. Rich Ryan said it best in his Five Thoughts: Holy Macau on November 29, "We hope Ivey plays more live tournaments because he is one of the most entertaining players in the game, but he has no incentive to, nor are they as profitable as cash games."
While Ivey was busy raking in ridiculously enormous pots in Macau for much of November and December, more details surfaced on December 19 about his divorce case. In Ivey's response to his ex-wife's petition, Ivey's attorneys let some details of the divorce settlement case be known. For one, it showed that alimony for Luciaetta was taken from money Phil Ivey received from Tiltware. However, if the payments from Tiltware ended, Luciaetta's alimony would cease, according to the response from Phil Ivey's attorneys.
According to Ivey, his ex-wife received a purse collection worth over $1.2 million and jewelry valued at over $1 million, along with her car, her life insurance policy, a down payment for a new residence, and several other assets. Furthermore, as part of the settlement Ivey took on around $170,000 in credit card debt along with a whopping $15.1 million "in gambling and other debt."
Ivey's attorneys stated that, "Luciaetta ended up with no debt, with millions of dollars worth of property, and with specific unambiguous alimony provisions."
From there, Luciaetta went on to file a lawsuit against Ivey and his two attorneys, David Chesnoff and John Spilotro. Spilotro was Luciaetta's former attorney in the case. Luciaetta alleged that he "failed to safeguard the financial interests of his client." It was also added that Ivey, Chesnoff and Spilotro "engaged in a combination and conspiracy" during the couple's 2009 divorce proceedings.
Despite not playing much poker in 2011, Ivey's name has been thrown through the media gauntlet almost weekly. Even during his disappearance from the game, Ivey's whereabouts were constantly in question. Whether Ivey enjoys it or not, the poker world needs him. Attach "Ivey" to any headline in the business and the hits will shoot through the roof.
We're happy he's back playing again and hopefully we get to see him a bit more on the tournament circuit rather than just rumblings coming from the Macau cash games. He's had quite the year as you can tell, and we can expect much more Ivey news as we roll into 2012.
Follow PokerNews on Twitter for up-to-the-minute news.