Five Thoughts: A Bracelet for The Big One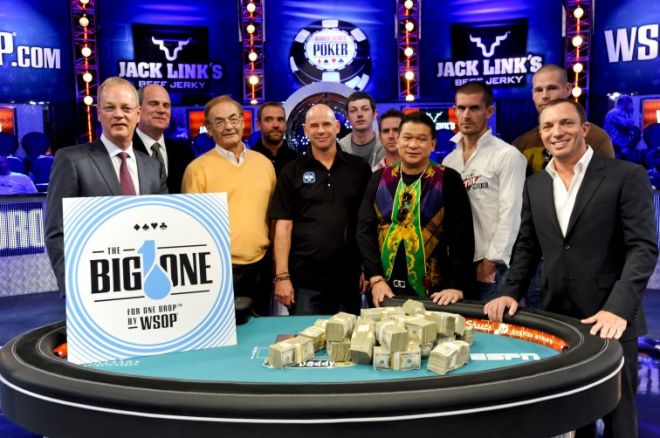 In June, the World Series of Poker announced it would be hosting a $1 million buy-in tournament called the Big One for One Drop. The event will take place during the 2012 WSOP, and $111,111 will be taken from each buy in and donated to Guy Laliberté's foundation; ONE DROP. In order for this to be an official bracelet event 22 players would have to register, and on Monday we learned that the goal has already been met.
1. Off to a great start
On Monday, Caesars Interactive Entertainment issued a press release, announcing that 22 players have already committed to playing the Big One. The press release only listed 14 individuals and three satellite seats though — the other players wanted to remain nameless. Soon after the announcement, Justin "Boosted J" Smith threw his hat in the ring via Twitter, and Caesars anticipates more registrants as we near the summer. A $50,000 deposit is required if you want to have your seat locked up, and the full payment is due two weeks before the event begins on July 1.
When the tournament was first announced, there was some negative feedback regarding the insanely high, seven-figure buy in. Vanessa Selbst called it "ridiculous," adding that, "Everything has gotten out of hand already. I think $100,000 and $200,000 buy-in tournaments are stupid enough.
Liv Boeree agreed. "You are only going to basically get super-high-stakes players and people who set up poker companies like years ago. That is all you are going to get," she told PokerNews.
True, this past year was certainly oversaturated with six-figure buy ins, but this event is unlike anything we've ever seen. It dwarfs previous super high rollers and it will raise a substantial amount of money for charity at the same time. The bigger argument is whether or not this should be a bracelet event.
2. Playing for the bling
Could you argue that the players in this event are "buying a bracelet?" Absolutely. But, without the bracelet, fewer people would be inclined to register. If ONE DROP wasn't involved I would probably agree that this shouldn't be a bracelet event, but seeing that every registrant is donating $111,111 to provide impoverished people with clean, healthy water, I'm all for it. Besides, the gold bracelets have already lost their mystique because nearly 60 are awarded each summer. Everyone is a winner!
It's almost like college football, where if you have a winning record then you play in a bowl game. This year, 70 of the 120 eligible Football Bowl Series (FBS) teams will compete in a bowl — talk about oversaturation. Thanks to the Bowl Championship Series (BCS) there are more important games, including the National Championship, and this helps us determine what we should care about. At the WSOP, we mainly focus on the Main Event and the Poker Player's Championship, and they both offer a trophy/bracelet unique to the others, but perhaps we should have a BCS of our own (minus the stupid computers).
While both are impressive, winning a $1,000 event shouldn't warrant the same praise as winning a $10,000 event, so they should be separated. There should be WSOP-Gold events (anything under $10,000) and WSOP-Platinum events (anything $10,000 and higher). With this system, the weekend one-timers could still compete for the coveted gold bracelet, while the regular, late-afternoon crowd would have something more to compete for.
We'd also need a status for seven figure tournaments. Suggestions are welcomed.
3. The real Beal
A year ago, the line for Andy Beal playing in a WSOP event in his lifetime was probably at a solid +500,000. Now, with a seven-figure buy-in and a chance to exact some revenge on The Corporation, his seat is already locked up for the Big One. If you don't know Beal's story, do yourself a favor and read The Professor, the Banker, and the Suicide King by Michael Craig, or read some of Craig's running diary-like articles.
In brief, Beal is a billionaire businessman who became fascinated with poker and wanted to play heads-up against the best players in the world. In 2001, a group of players known as The Corporation pooled their money together, rotated sessions, and competed against Beal.
The details at the time were hazy, and in 2004 Beal wrote an open letter to CardPlayer, which basically told The Corporation to put up or shut up. The Corporation put up, and thanks to Phil Ivey in particular, they won over $6 million. It will be utterly fascinating to see Beal, a legend, grace the halls of the Rio and sit in the Amazon Room. There have been dozens of amazing moments in that room, even in its brief tenure, and Beal's presence will certainly rank among my top ten.
4. What about Ivey, Team Full Tilt?
Seven months is an eternity. This time last year we were playing online poker in the States, not knowing that five months later we would be barred from doing so. There is an outside chance that, by the middle of June, Team Full Tilt will reenter the poker world. Howard Lederer is indeed the "professor" alluded to in Craig's book about Beal, and it would be captivating to see the two actually seated at a table.
That isn't in defense of Lederer, it's merely the truth.
This event is perfect for Team Full Tilt too — it's the Onyx Cup on steroids. To no one's surprise, Tom Dwan, Gus Hansen, and Patrik Antonius are already confirmed, and with the recent Phil Ivey sighting in Macau, there's a good chance we'll see him too. That's unless he chooses to boycott the WSOP forever.
If for some reason Ivey or anyone else in hiding chooses to avoid the WSOP again, they should at least donate a minimum of $111,111 to ONE DROP. They're the only ones you're hurting by running away from the Rio.
5. The man himself
Over the summer, our own Sarah Grant caught up with Guy Laliberté to discuss the Big One.
To learn more about ONE DROP and their fight to provide clean, healthy water to those in desperate need of it, check out www.onedrop.org.
Follow PokerNews on Twitter for up-to-the-minute news.