The Nightly Turbo: Ivey's Room Anniversary, WSOP Live-Streaming 55 Final Tables, and More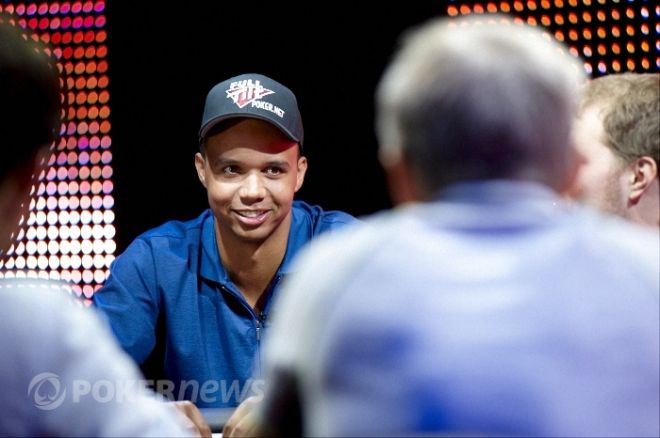 We like parties, so when we found out, Phil Ivey was celebrating, we decided to let you in on it too - the more the merrier! Read on to find out more on the one-year anniversary of Ivey's Room, the newest announcement from the WSOP regarding addition live-streaming coverage, and more.
In Case You Missed It
Wondering what's been going in the gaming industry lately? There's an easy way to find out - Inside Gaming.
The 2011 World Series of Poker is just a few weeks away, and we know you're all gearing up for the big show. If you're headed out to the WSOP for the first time, here is some advice from the pros.
Ty Stewart and Jack Effel hosted the 2011 WSOP preview conference call Wednesday. We live blogged the whole thing, so you can be just as in the know as we are.
The World Series of Poker announced last week that it would be adding 32 hours of coverage, which includes live, unedited hole cards on a 30-minute delay. There has been plenty of discussion on this, and we decided to debate it. Is the WSOP Live-Stream Good or Bad for Players? Read it, and let us know what you think.
Happy One Year!
The traditional gift for a first-year anniversary is paper, and we can't think of a better form of paper than money. And is there anything more fun than playing Phil Ivey heads-up for a lot of money? Well probably playing against a fish and winning, but come on, it's Ivey!
To commemorate the one-year anniversary of Ivey's Room at Aria, the room is playing host to the 2nd Annual Ivey Invitational. The invitation-only poker tournament will be held on May 21 and will be hosted by Shannon Elizabeth.
"We have been extremely pleased with the success of The Ivey Room since its 2010 debut," Bill McBeath, president and chief operating officer of ARIA said. "It has quickly become the foremost room for high-stakes action. We are grateful to have a long-standing relationship with Phil as he remains one of the elite players in the world of poker."
Participants will compete for the $250,000 first-place prize, and the overall winner with play heads-up against Ivey for an additional $250,000.
Haven't made it to the Aria Poker Room? Why not check out the grand opening of Ivey's Room from last year.
More Live Streaming
Last week, the World Series of Poker announced that it was going to offer daily coverage of the 2011 WSOP Main Event. On Wednesday, it announced more coverage.
WSOP.com will be streaming 55 gold-bracelet events live — on a five-minute delay. Jack Link's Beef Jerky will be the presenting sponsor of this coverage, which will include two-camera coverage and audio from the final table's tournament announcer.
"We are proud to provide video of the culminating action to a worldwide audience in real time," WSOP Executive Director Ty Stewart said. "This online initiative will complement our spectacular television package on ESPN and deliver even more of this year's WSOP to fans who want the most immediate coverage possible."
This coverage will not show any hole cards. It's essentially giving viewers at home the same ability to watch the way the spectators do at the event.
If you want to find out the broadcast schedule, head on over to WSOP.com.
How Much?
We all know that Black Friday happened, and we all know how much was in our respective online poker accounts. Some of us have received our cash-outs from PokerStars, but what about the rest of the money that's tied up? How much is still in limbo?
According to a guesstimate from Poker Players Alliance executive director John Pappas, anywhere between $100 million and $500 million. "It would be easy to say that tens of millions, if not hundreds of millions of dollars, have kind of been held up in limbo here because of the DOJ (Department of Justice) action. It's impossible to put an exact number on it. I would estimate at least $100 million if not as much as $500 million," Pappas said in an interview with USA Today.
According to the article, the PPA estimates about 10 million Americans were playing online poker before Black Friday. There are sites that still offer U.S. players the option to play, but "Pappas said his group is urging caution to anybody using those sites because of the 'risks involved.'"
Read the whole article at USAToday.com.
We've Got Some Questions
It's been more than a year since PokerNews Editor-in-Chief Matthew Parvis wrote a blog, so we figured we'd let you know what's on his mind, especially since it pertains to Black Friday and the Big Three.
"I have sent formal emails to PokerStars, Full Tilt Poker and UB/AP requesting a minimum 30 minute voice-to-voice interview to include a mixture of questions from my staff and I, as well reader questions. We've also requested interviews with the KGC, and the Alderney Gaming Commission to see where they stand on what is currently happening with player funds in limbo. Although the requests were only sent through at about 3 p.m. PST, I received a response from Michele Clayborne, the FTP public relations director letting me know that while she could not promise anything, they are open to the idea and that they were interested in what questions would be asked," he wrote on Tuesday.
He then reached out to his followers on Twitter and compiled a list of questions he wanted to ask, and emailed them to Clayborne.
"What are my chances of landing this interview? I'd say at this point I'm a fairly big dog. If I do get the opportunity with the sites, I can tell you I will be extremely diligent with my line of questioning, and follow ups. I will turn to the poker community for assistance on any interview I am granted by the sites, and I will provide an unedited transcript of each interview," he wrote.
Check out the list of questions he asked, and read more about his quest in getting answers in his blog.
SCOOP Update
The PokerStars Spring Championship of Online Poker is in full swing and since there are so many events to recap, we'll get right to it.
Event #3 was a two-day no-limit hold'em six-max rebuy affair. In the Low installment, 17,240 players created a $265,935 prize pool. In the end, it was "MusonToch" who pocketed the $32,350 first-place prize. Its Medium counterpart attracted generated a prize pool of $480,950 and $74,548 of it went to "xandyLx" for the win. The High version of this event boasted a $530 buy-in, which 372 players ponied up. A three-way deal was struck at the final table that saw eventual second-place finisher "BIack88" take home the lion's share of the prize pool — $93,685. First-place finisher "zefir_max" pocketed just over $87,000, and "WhatIsICM" took home $75,515 for third.
Pot-limit five-card draw was on the docket for Event #6 and 3,580 players turned out for the Low buy-in event. "Reddblack" finished in the top spot, good for $4,432. In the Medium variant, a far smaller field turned out — 464 players. "Devsdynamite" bested the field and pocketed $8,978. And in the $1,050 High installment, 61 players took their shots at the $18,300 first-place prize money and SCOOP watch, and in the end, "Supa4real" took home those honors.
Event #7 was a heads-up event for which 10,695 players plunked down the $16.50 for the Low buy-in. A deal was made between the final two players, and "1Cyka" took home $17,597 for his first-place finish against "Khudz." The Medium buy-in event attracted 1,942 players, smashing its $150,000 guarantee. A four-way deal was made in this event and third and fourth, "toddthedon" and "JSMDARKMOS" respectively, pocketed $20,000 each. Second-place, "human," took home $29,781, and "Nzame" in first place added $28,000 to his bankroll, and a Movado SCOOP watch to his wrist. The $1,575 buy-in High version attracted 269 players. The final two, "Big_Nemo" and "Puropoker123", brokered a deal that saw $81,665 go to Big_Nemo in first place and $71,655 to Puropoker123 for second.
Only two installments of Event #8 were complete when we wrote this, the Medium and High. The $109 buy-in no-limit hold'em turbo event attracted 4,803 players and squashed its $150,000 guarantee. In the end, an eight-way deal was struck that left $3,000 for the winner — and the watch, of course. The player to walk away from this final table with the most cash was "Skintz" in third place. "Power_up45" topped the field and took home $23,000. The $1,050 High installment saw 646 entrants, creating a $646,000 prize pool. A three-way deal was struck at the final table that saw "Caber89" take home the biggest portion of the prize pool, $102,452, for second place. "JeankeNissan" won the event, and will receive the Movado SCOOP watch and added $92,417 to his bankroll.
If you didn't get your SCOOP fix above, you can always check out in-depth coverage at the PokerStars Blog.
WAG Diaries
How much do you know about your significant other? We'll let you do your homework for now, but be warned, if you're on the tournament circuit, you're not safe. Sarah Grant caught up with Jason Mercier and his girlfriend Erica Holland and put them to the test. Check out how many answers Mercier got right in the video below.
Are you following us on Twitter yet? You should be. Follow us here, and while you're at it, there's no reason not to like us on Facebook.