The Nightly Turbo: ESPN's The Nuts, PKR Wins Award, and More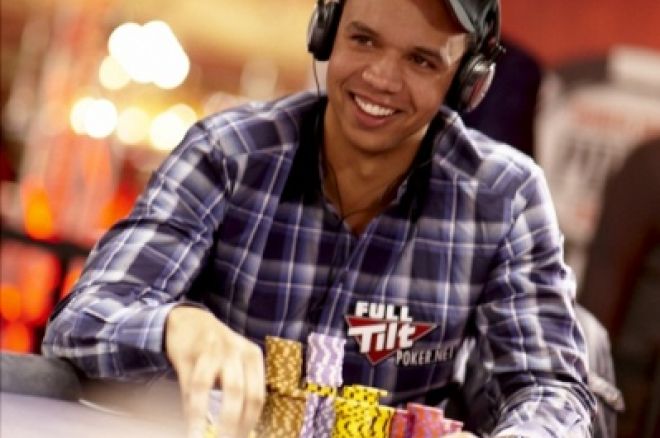 If you're looking for the top poker news stories of the day, you've come to the right place. Today, we'll give you the rundown of ESPN The Nuts' latest poker player rankings (the above picture is a hint at the number one spot, if you even needed it). We're also going to tell you about the award PKR received, and more, so go ahead, read on.
In Case You Missed It
Day 2 of the World Poker Tour Marrakech ended with the unofficial final table of ten players. Find out who's leading the way into Day 3 in our WPT recap.
Are you braving the winter months in the Northeast? Don't stay out in the cold. Put on your hoodie and check out one of the many poker tournaments going on like the Foxwoods Mega Stack, WSOP Circuit, and try to win your seat to PCA at Mohegan Sun. Check out December's Nor'easter of Poker Events for more.
Miss the news on Harrah's Entertainment's rebranding and the status of online poker in New Jersey? Inside Gaming has you covered.
The action at the nosebleeds on Full Tilt Poker didn't waiver this weekend because of all the turkey and shopping, in fact, some of the regulars may have benefited from shopping over playing. Find out more in the Online Railbird.
The Nuts
The latest installment of ESPN's The Nuts is back. The monthly blog post ranks the best players in poker at the moment. The Panel includes PokerNews' Editor-in-ChiefMatthew Parvis, PokerNews' Tournament Reporting Manager Don Peters, ESPN's Andrew Feldman, Gary Wise, and Bernard Lee, Bluff Magazine's Editor-in-ChiefLance Bradley and Bluff Magazine's senior writer Jessica Welman, PokerRoad's Court Harrington, PokerNewsDaily's Dan Cypra and ESPN Deportes poker editor Nahuel Ponce.
It's no surprise who's in the top spot - again. Phil Ivey has been sitting pretty in the number one spot since, well, for a long time, but he's got someone nipping at his heels. This month, Jason Mercier earned three number one votes from the ten panelists. He's sitting in the second spot on the list again. "Not only is he one of the best players in the game at such a young age, but he's also a great ambassador for poker and something that's often overlooked these days," said Donnie Peters.
There's a new face on the list. Vanessa Selbst, who recently won the Partouche Poker Tour, jumped into Patrik Antonius' previous spot - eighth place. Antonius rounds out the list in the tenth spot this month.
We like to keep things short and sweet around here, so you're going to have to head on over to ESPN.com for more.
Winner's Circle
The 2010 E-Gaming Review Awards were held last week in London and PKR took home one of the most sought after awards - Poker Operator of the Year. PartyGaming, 888 and William Hill were all up for the award, but PKR walked away with it. PKR was praised for demonstrating originality and constant innovation.
"The EGR Awards are very important for the online gaming industry and it is a fantastic achievement for PKR to have won this prestigious award. 2010 has been an astounding year for us and we look forward to adding this title to this year's portfolio, which also includes the top spot in the Sunday Times Tech Track 100," PKR CEO Malcolm Graham said.
PKR now holds the EGR Poker Operator of the Year title, as well as the IGA Poker Operator of the Year award, which it won in January.
Check out PKR's innovative software by signing up for an account.
Addicted, or Just Running Bad?
Back in August, we told you about Samuel McMaster, Jr., the New Mexico man who pled guilty to defrauding the elderly and then taking their money to pad his poker bankroll. McMaster struck a plea deal with the court in which he had six months to earn back the money (by playing poker) or be sentenced to prison time.
As part of the plea deal, McMaster was allowed to leave the state for poker tournaments. On Monday, that all changed. Judge Ross Sanchez ordered that McMaster could not leave the state without permission. It was determined that McMaster had not paid the victims any restitution thus far, so he is now awaiting sentencing and must be evaluated for a gambling addiction.
KRQE.com has more.
Congratulations Gloria!
Bluff Magazine's 6th Annual Reader's Choice Awards are coming up. The Awards give poker fans the chance to voice their opinions on what they like in the poker world. There are 14 categories and Bluff will be releasing the nominations to all 14 categories leading up to December 6 - the day voting opens.
Favorite Poker Hostess nominations were released to day, and we're proud to say that our own Gloria Balding has been nominated in this category.
"From Las Vegas to Paris to Macau and back again, Balding has become one of the best interviewers in the poker world. The only nominee not on a televised poker show. Yet."
Also nominated for the award is Lacey Jones, Kimberly Lansing, Amanda Leatherman, and Kara Scott.
Remember, voting opens December 6, so don't forget to vote! Find out more at BluffMagazine.com.
Oooops!
Gloria Balding's videos seem seamless when you view them, but how many takes does she actually need to get it right? We don't know, but our camera man does. Check out this blooper reel he put together of some of Gloria's finer moments.
Like us on Facebook, and follow us on Twitter for up-to-the-minute news.
For a limited time only you can get 30% back up to €10 on your first MoneyBooker's Deposit, exclusive to Club PokerNews. But Hurry, only the first 250 sign-ups will get in on this great promotion.