Top 10 Stories of 2011: #10, The Big One for One Drop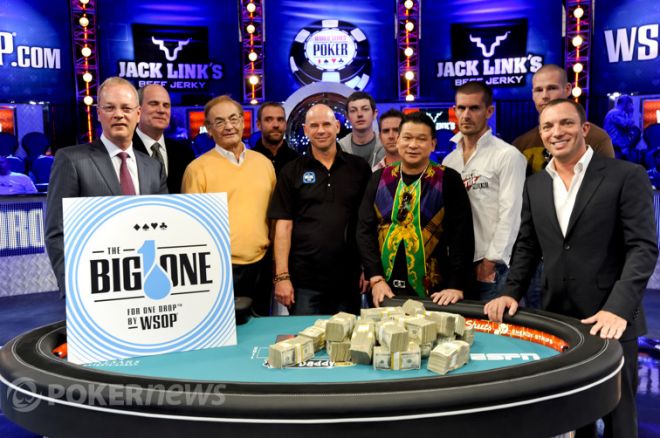 On June 2, 2011, the World Series of Poker announced a $1 million buy-in tournament slated for the 2012 WSOP. Designed to help raise money for One Drop, a charity started by Cirque Du Soleil's Guy Laliberté, the event was titled The Big One for One Drop and is billed as the largest buy-in in poker history.
"We are proud to align the planet's premiere poker event with the foundation created by one of our generation's most creative entrepreneurs, Guy Laliberté, to help make the world a healthier place," Caesar Entertainment Corporation chairman, president, and CEO Gary Loveman said during the initial announcement.
The tournament will take place from July 1 through 3, 2012, and 11.11 percent of each buy-in, or $111,111, will go to the charity.
"One Drop is an extremely intelligent, important charity organization, and I'm honored to play a part in giving back. This is a perfect partnership for the WSOP and for poker in general," Tony G, one of the event's confirmed participants, said of the the announcement.
One Drop is "a public charity that undertakes innovative activities in which water plays a central role as a creative force in generating positive, sustainable change worldwide. More specifically, One Drop is involved in raising awareness among individuals and communities on water-related issues to convince them of the need to mobilize for universal access to water and urges them to adopt sound habits for managing this precious resource for future generations."
The tournament garnered immediate commitments from players like Laliberté, Tony G, Bobby Baldwin, Phil Ruffin, Andy Beal, and Patrik Antonius, but not everyone was excited about the tournament, especially since The Big One for One Drop was designed to be a bracelet event if at least 22 players signed up.
"I think it is ridiculous, it completely destroys the sanctity of the bracelets," Team PokerStars Pro Vanessa Selbst said of the event. "It completely ruins the idea of poker stats. Everything has gotten out of hand already. I think $100k and $250k buy-in tournaments are stupid enough. High-roller tournaments are $25k, that's enough, that's what people can afford to play and that's a high-roller event. The other events, if you want to buy in for higher than that, you can go do it on your own time, that's fine, but not when it includes all the different stats and tracking and all that stuff. It really completely destroys the idea. It is ridiculous."
Likewise, Liv Boeree wasn't thrilled at the idea of a million-dollar tournament: "It is not like you can even satellite into the million-dollar tournament. There is no way you can satellite in; it is never going to happen. So you are only going to basically get super high-stakes players and people who set up poker companies years ago. That is all you are going to get. It is going to be the same damn players and it is going to be like watching another episode of Poker After Dark. You are going to have one person who is going to have the biggest cash ever for winning one tournament and well done because you're a billionaire anyway. The higher buy-in tournaments are just a bad idea because they are smaller tournaments and you don't have to be that good to win."
Both Selbst and Boeree weren't on board, but the general consensus was that The Big One for One Drop was a good idea. "I wanna play it, but I'm not going to be able to because it's a lot of money," former WSOP Player of the Year Jeff Madsen said. "I mean the WSOP keeps stepping it up. I'm going to predict it's going to get 51 people exactly."
Jonathan Duhamel, 2010 WSOP Main Event Champion, was someone else who thought it was a good idea. "I know Guy and he is a really nice guy," he said. "I know his foundation also, One Drop, so it's a very good occasion to raise a lot of funds. It is going to be like 10 percent going to charity, so that's really nice. He said it is capped at 48 players and I think he is going to get all his players because there is one year for all the players to find the money from somewhere to have the million. It is just going to be a nice tournament. It is going to be all the best pros in the world and a couple of big business men, as well, so I think it is going to be a very nice dynamic and it's a very nice cause."
Duhamel ended up committing to the tournament, as did several others. In fact, on Dec. 5, Caesars Interactive Entertainment announced that 22 players were confirmed for the event. That meant a bracelet, the first one ever made of platinum, would be awarded to the winner.
"I am absolutely thrilled to participate in the biggest poker event ever organized," said Duhamel after his commitment. "One million dollars is a lot of money but my participation comes naturally, being a spokesperson for One Drop and because of my attachment to such a great cause. Life starts with water and because of its uneven distribution, a person dies every 20 seconds. As for me, I personally commit to give 5 percent of my winnings from this tournament to One Drop."
The identities of all 22 players have not been revealed (some wish to remain anonymous), but some have been willing to publicly declare their participation. Here is a look at the players who've committed to the event thus far:
Guy Laliberté
Bobby Baldwin
Phil Ruffin
Andy Beal
Patrik Antonius
Gus Hansen
Daniel Negreanu
Johnny Chan
Tom Dwan
Tony Guoga
Jonathan Duhamel
Bertrand "ElkY" Grospellier
Sean O'Donnell
Dan Shak
The tournament, which will give each player three million in chips, play 60-minute levels, and pay out 20 percent of the field, will be capped at 48 players, meaning there is still room for 26 more entrants. For those interested in playing, a $50,000 deposit is required to reserve a spot with the entire buy in due two weeks before the event begins.
Stay tuned each day for our remaining top stories of 2011, and get all the latest PokerNews updates on your social media outlets. Follow us on Twitter and like us on Facebook today!