Top 10 Stories of 2011: #6, Ben Lamb Makes His Mark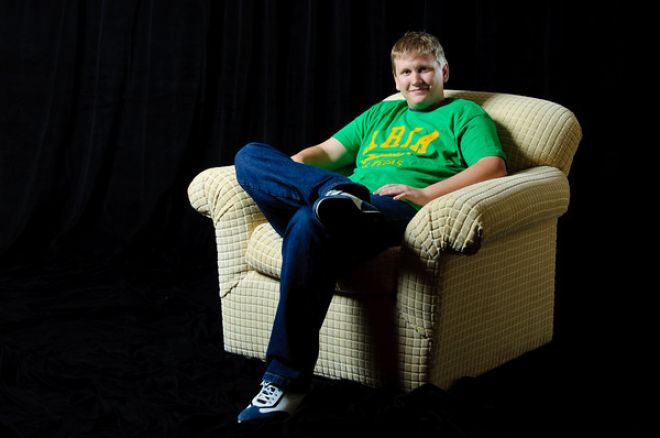 Making millions at the World Series of Poker.
It's the thing that every young, aspiring poker player daydreams about. Every year, a handful of players manage to find the right combination of skill, luck, and timing to make that American Poker Dream a reality. For 2011, the dreams of Ben Lamb came true in a big way, and his remarkable summer secured him a spot on our Top 10 of 2011 list.
Lamb — better known as "Benba" in his social circle — is a 26-year-old poker pro who was raised in Tulsa, Oklahoma. While he was grinding his way up into seven figures of profit playing online, Lamb came of age in 2006 and took up the live game professionally.
Just a couple of months into his career, he tasted sweet tournament success when he won the $1,000 Scotty Nguyen Poker Challenge in his hometown. Ten days later, he was on a flight to Las Vegas to take a stab at the WSOP. And the rest, as the say, is history.
Beginner's luck? Not so fast.
Lamb parlayed that early win into a 12th-place run in the 2006 WSOP $1,500 Pot-Limit Omaha event, and he ran all the way to 156th place in the 2007 Main Event. Two years later, he almost pulled off a miracle when he ran all the way to the final two tables of the Main Event before being bounced out in 14th place by Jeff Shulman. Even a $600,000 check didn't mitigate the disappointment, but Lamb was building up some serious momentum, and there would be plenty more big paychecks to come.
That Main Event performance introduced Lamb to the televised poker audience, and he'd become a household name before long. He racked up three more WSOP cashes in 2010, making it to the final table in the $1,500 Pot-Limit Omaha Hi-Lo event. He had to settle for a fifth-place showing there, but it did give him a chance to play at a WSOP final table, a place he'd spend a considerable bit of time the following year.
Now relocated to Las Vegas more permanently, Lamb had a big crowd of friends and poker pros on the rail for him as he took his seat in the $3,000 Pot-Limit Omaha event at the 2011 WSOP. Three days later, he was back at another final table, and this time he made it all the way to heads-up play before ultimately falling to Sam Stein. After being so close to WSOP history, Lamb was hungry for another chance, and he didn't have to wait long — about a week, in fact.
The $10,000 Pot-Limit Omaha Championship is the place you'll find the best PLO players in the world, and Ben Lamb was still one of the lesser-known among the 361 entrants. That all changed by the end of the week as he once again tore his way to the final table. Lamb ended up squaring off with Sami "LarsLuzak" Kelopuro for all the marbles, and this time, Benba got his gold. The $814,436 that came with it was nice, but it was likely secondary by that point. Lamb was finally a WSOP champion, and he was suddenly in hot contention for Player of the Year honors, too.
Lamb's heater wasn't over yet, and he continued to display his all-around poker acumen by picking up a 12th-place cash in the $10,000 Six-Max, followed by another final table — eighth place in the $50,000 Poker Players' Championship. That big final table led right into the Main Event, and Lamb was still riding the rush.
Despite his monstrous series to that point, Lamb still trailed Phil Hellmuth in the WSOP Player of the Year race. After one day of Main Event play, though, it became clear that he had every intention of swapping places. Lamb crushed the Day 1b flight to bag up the biggest stack in the room, and he held that top spot through Day 2. The pack caught up to him a bit during Day 3, but he was right back among the leaders when things started to get serious on Day 4.
There was no stopping him. After five days, he was in fifth place.
After six?
Second.
On Day 7, the field was trimmed all the way to 22 players, and Lamb was still perched in the top five and looking to put a big exclamation point on his summer. A seat with the November Nine had narrowly eluded him in 2009, but this time, Lamb came ready to play. After a long session on Day 8, the final table was set, and Lamb had four months off to prepare for the biggest final table of his life.
When the finalists recommenced, Lamb was able to stave off the first five eliminations to return for the final three-handed battle. In the end, though, his run at poker immortality came up just that short, and he'd have to settle for the $4 million third-place consolation prize.
Despite his inability to snatch the title, Lamb's 2011 WSOP will go down in the books as one of the most impressive performances the Rio has seen. And he's earned a place in its halls, claiming the 2011 WSOP Player of the Year honors to put his portrait in the rafters.
Lamb's 2011 WSOP
| Event | Place | Prize |
| --- | --- | --- |
| Event #31 $3,000 PLO | 2nd | $259,918 |
| Event #42 $10,000 PLO Championship | 1st | $814,436 |
| Event #46 $10,000 NLHE Six-Handed Championship | 12th | $56,140 |
| Event #55 $50,000 Poker Players' Championship | 8th | $201,338 |
| Event #58 $10,000 NLHE Championship | 3rd | $4,021,138 |
That's five cashes, four final tables, and $5,352,970 in the bank. It's a remarkable line for a five-month period. In total, Lamb has racked up more than $6.5 million in career tournament cashes, one gold bracelet, and a spot among poker's elite. Not to mention the number six spot on our top 10 list for 2011.
Follow PokerNews on Twitter for up-to-the-minute news.