The Nightly Turbo: Bernard Tapie's Tournament, Teaching Poker in High School, and More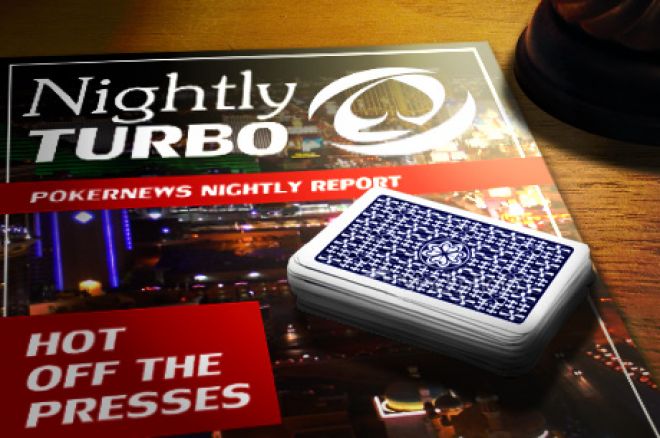 Groupe Bernard Tapie was back in the news on Thursday. Sorry, it had nothing to do with Full Tilt Poker. We'll cover the latest on GBT, plus a calling for poker to be taught in high schools, in this edition for the Nightly Turbo.
In Case You Missed It
Phil Ivey made another final table on Wednesday. How close did he come to winning his ninth bracelet? Find out in our Day 17 recap.
Scotty Nguyen and Joe Cassidy are playing heads-up for a bracelet on Thursday. Read about that and more in the WSOP What To Watch For.
2011 bracelet winner Aaron Steury joined the PokerNews Podcast on Wednesday. Find out what he had to say about defending his title in the $1,500 HORSE event.
Looking for a fun, behind-the-scenes perspective of life at the WSOP? The Muck is providing several daily stories from inside the Rio, so check it out!
Setting The Date
The details of Bernard Tapie's International Stadiums Poker Tour (ISPT) have been sketchy since we first came across an impressive advert for the poker tour late last year. But it appears an official date has been set for the first event next summer.
According to the ISPT website, the first event will take place from May 31 through June 6, 2013, at Wembley Stadium in London. The event will feature a €4,500 buy-in with a €20 million guarantee, and the organizations claims that 2,119 players have already registered.
The tournament itself will begin with up to 30,000 players competing a shootout format using electronic pads offered to them from their seats in the stadium. Then, after the first round, the remaining players will move to actual tables laid out on the Wembley lawn and play until a champion is crowned.
For more information, including the tournament betting structure, visit ISPT.com.
Poker in High Schools?
International Federation of Poker (IFP) President Anthony Holden is calling on high schools in the U.K. to follow the lead of a New York City high school and introduce poker as an official extracurricular activity.
Holden leads the IFP's campaign to promote poker as a genuine mind sport. He believes that poker helps children learn necessary life lessons, from the skill of "reading an opponent — essential to all negotiations — to the ability to rapidly calculate probability."
"Like other mind sports poker is a valuable support tool in education," said Holden. "It promotes the development of concentration and the memory, helps develop a structured mind and the power of reasoning and positive behavior patterns."
The Henry Street School, located on Manhattan's Lower East Side, launched its Poker club in 2007 and it remains the only sanctioned high school poker club in the city. There are weekly tournaments held on school grounds and, in 2008, the school took a poker team to Massachusetts and defeated a team from Harvard Law School.
Learn more about the Holden and the IFP at pokerfed.org.
Progress in Delaware
A bill that would allow Delaware residents to gamble online passed in the House this week by a vote of 29-8. The bill will next move onto the Senate for discussion.
House Bill 333 calls for a centralized online gambling platform to be regulated by the state Lottery Office. Delaware casinos have been struggling to compete against casinos on the East Coast, and the Department of Finance estimates HB 333 would generate $7.75 million in revenue for the state next fiscal year. The state is also attempting to partner with other states to create a multi-state platform similar Powerball and Mega Millions.
If passed, the bill would permit the offering of games like poker, blackjack, digital slot machines. Online lottery tickets and limited sports betting would also be available.
Business Week has more.
Feldman Hits Reality TV
PokerNews learned Thursday that high-stakes poker pro Andrew Feldman will appear on the U.K. version of The Secret Millionaire on June 25. The 24-year-old Brit will be the youngest millionaire on the show since its creation in 2006.
The popular series features millionaires who take a short hiatus from their luxury lifestyles and go undercover in deprived areas and donate money for specific needs. Feldman is a former Full Tilt Poker Red Pro with more than $1 million in live tournament cashes, but he's more known for his exploits in cash games.
Feldman's appearance on the reality show won't be his first television appearance. He's played in several televised several high-stakes cash games, and last year he finished runner-up to Andy Frankenberger on Sky Sports' Party Poker Premier League Mixed Games Championship. You may recall Feldman shedding some tears after taking a bad beat on the final hand.
Find out more about The Secret Millionaire at Channel4.com.
The Straddle
Fancy a look at the lighter side of things at the WSOP? Kristy Arnett is back with her second edition of The Straddle.
Follow PokerNews on Twitter for up-to-the-minute news.