The Weekly Turbo: FTP Deal Expected Soon, PokerStars Launches Zoom Poker, and More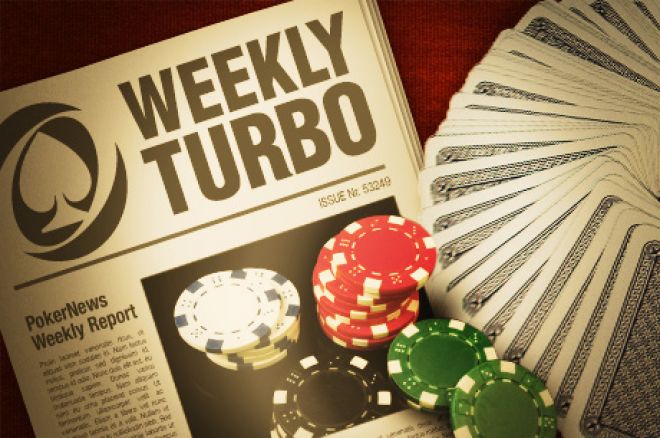 Did you miss any of the top poker news stories this week? Well you've come to the right place to get caught up. We're covering reports that the Full Tilt Poker/Groupe Bernard Tapie is close to completion, PokerStars launching Zoom Poker, and more.
Online Poker
Let's Make a Deal
According to a multiple reports on Tuesday, the pending deal between Groupe Bernard Tapie and Full Tilt Poker is expected to be completed in the next couple of weeks.
Gaming Intelligence reported Wednesday that Groupe Bernard Tapie lawyer Behnam Dayanim is "reasonably confident" that the French investment firm's agreement to purchase Full Tilt Poker will be completed in the next couple of weeks. The complex sale of Full Tilt Poker has dragged on since an agreement was made between Groupe Bernard Tapie and the Department of Justice last November when the two sides came to an agreement to allow GBT to purchase the forfeited FTP assets from the DOJ for $80 million.
As part of the agreement, GBT would repay non-U.S. players, who are owed an estimated $150 million, and the DOJ would be responsible for repaying the U.S. players, which is also estimated to be about $150 million.
Meanwhile, eGaming Review reports that the deal is expected to be closed by next week, and that Full Tilt Poker could be operating again as early as next month. According to the report, Laurent Tapie is already working on collecting the necessary licenses to bring the embattled poker room back to life. Tapie indicated earlier this year that GBT was in negotiations with the Alderney Gambling Control Commission (AGCC) to resurrect FTP's operating license.
When PokerNews reached out to Tapie lawyer Behnam Dayanim on Tuesday, he said the following: "All I can say is that negotiations are ongoing. I can make no further comment."
We'll continue to keep you up to date on the latest from Full Tilt Poker and Groupe Bernard Tapie.
Zoom Poker Launches
On Friday, to the delight of high-volume poker junkies, PokerStars launched the real-money beta version of Zoom Poker, a fast-paced poker format that allows players to play hundreds of hands per hour and (potentially) increase profits. The game plays exactly the same way as any other online cash game except for one huge difference — as soon as you fold, you are removed from the table you were seated at and placed at a new table with different players.
For now, the beta release is only offering a few tables of micro-limit hold'em and Omaha games, but PokerStars says that more games and limits are on the way in the coming weeks. The client is allowing 1,500 players at a time to partake in the beta games while the kinks (if any) are identified and resolved. After that, PokerStars will unveil bigger stakes, other game types, and possibly even Zoom tournaments in the future.
Check out our Zoom Poker review here at PokerNews.com. You can also find more info at the Zoom Poker page.
Bodog Exposes Hole Card Info
On Thursday, Bodog addressed concerns about collusion on its anonymous poker tables by allowing players to request the hole card information of everyone at a table 24 hours after a game ends. The software update was announced in December but finally implemented this week.
"The fact that we can now offer players this information is another advantage of our anonymous tables and something nobody else can offer," said Jonas Odman, VP of the Bodog Poker Network. "Collusion is a natural concern for any poker room but this new additional feature puts the player in full control. This makes the Bodog Poker Network the fairest place to play poker online in the world."
Bodog's traffic had seen a slight surge since it introduced anonymous tables last November, but the site has seen a sudden drop since the Bodog.com domain was seized and the brand's founder was indicted last month. According to PokerScout.com, Bodog's traffic has declined by 13 percent since those events.
Read more at PokerNews.com.
More Operators Apply for Nevada Licenses
The list of operators seeking Nevada Internet gaming licenses grew longer on Thursday as Spielo and GTECH G2 submitted paperwork to the Nevada Gaming Control Board (NGCB). The two companies make up the new gaming division of Lottomatica Group, which provides a full range of player-focused games, products and services across every gaming channel.
"Applying for these licenses in Nevada is an important step in our iGaming strategy for the US," said Spielo International president and CEO Walter Bugno. "Spielo International and GTECH G2 are names that are trusted in regulated markets around the world. We have an established track record as providers of end-to-end gaming products to more than 1,500 customers on five continents."
eGaming Review also reported Thursday that Playtech is planning to submit an application with the NGCB soon. Read more at PokerNews.com.
Poker Legislation
Is Iowa Online Poker Bill Dead?
On Tuesday, the Iowa Senate approved a bill to legalize and regulate intrastate online poker by a vote of 29-20. The next step for the measure is to move through the Iowa House, but House Speaker Kraig Paulsen (R-Hiawatha) told KCRG on Thursday that there has been a "general lack of interest" regarding online poker among his GOP caucus members.
Not encouraging news for poker players in the state.
The issue has been a hot one in the Iowa Senate for months, but Paulsen says there has been very little conversation about the bill in the House. "What are we in? Week 10?" said Paulsen. "I don't know if I've had three members mention this subject to me ... until this week when the big hub-bub was."
A study by the Iowa Racing and Gaming Commission showed that the legalization of online poker in the state could generate between $3 to $13 million in state tax revenue. However, a recent poll by the Des Moines Register that showed 69 percent of Iowa residents opposed legalization of online poker.
Read more at KCRG.com.
Mississippi Internet Gaming Bill Dies
A bill aimed at legalizing intrastate online gambling in Mississippi died on the table last week, ending any hopes of the bill becoming a law.
The Mississippi Lawful Internet Gaming Act of 2012, proposed by Rep. Bobby Moak on Feb. 20, intended to legalize and regulate online gambling, including poker, within Mississippi state lines. The bill would have allowed licensed casino operators like Caesars and MGM to offer online poker to residents in the state.
However, the bill was defeated by the Ways and Means committee and the Gaming committee on March 6. There's no word on whether Moak plans to introduce another measure in the near future, but it seems Mississippi will fall behind other states like Nevada, New Jersey, California and Iowa in the race for an intrastate online poker platform.
Read more at PokerNews.com.
Poker Players
Timoshenko, Katchalov Join PartyPoker Premier League
The lineup for the upcoming PartyPoker Premier League V got even stronger Wednesday as Eugene Katchalov and Yevgeniy Timoshenko added their names to the mix.
Katchalov and Timoshenko will join Tom Dwan, Erik Seidel, Patrik Antonius, Sam Trickett, Vanessa Selbst, Luke Schwartz, Tony G, and other putting up the $125,000 buy-in for the event at the Montesino Casino in Vienna, Austria from April 4 through 10. Katchalov will be making his first appearance on the televised Premier League stage, and Timoshenko will be competing in the event for the second time.
"I'm very happy and excited to be able to play the PartyPoker Premier League Event this year," Katchalov told the PartyPoker Blog. "From what I've heard and read, it's a unique and fun structured event that will have some tough competition but I'm sure will be a great experience overall!"
Read more at PokerNews.com.
Haxton Comes Back to Defeat Blom in SuperStar Showdown
After their match was postponed due to Internet connectivity issues, Viktor "Isildur1" Blom and Isaac "philivey2694" Haxton resumed the PokerStars SuperStar Showdown on Tuesday. Picking up where they left off on Sunday, Blom was up $99,886 through 692 hands when action began, meaning Haxton had a huge hill to climb in order to beat the Swede with around 1,800 hands left to play.
The climb turned out to be a smooth one for Haxton, who battled back to claim a slight win over the Team PokerStars Pro for the second straight time. After 2,500 hands, Haxton left the tables with $5,093 in profit, bringing his winnings against Blom in the SuperStar Showdown to $46,794 over 5,000 hands. The loss dropped Blom's record to 8-4 in SuperStar Showdown matches since the format was created in December 2010.
SuperStar Showdown Breakdown
| Date | Opponent | Profit/Loss | Record |
| --- | --- | --- | --- |
| Dec. 19, 2010 | Isaac "philivey2694" Haxton | -$41,701 | 0-1 |
| Jan. 2, 2011 | Antanas "Tony G" Guoga | +$44,280 | 1-1 |
| Jan. 30, 2011 | Daniel "w00ki3z" Cates | +$51,196 | 2-1 |
| Feb. 13, 2011 | Eugene "MyRabbiFoo" Katchalov | +$111,750 | 3-1 |
| Feb. 27, 2011 | Attila "DodgyFish72" Gulcsik | +$10 | 4-1 |
| March 20, 2011 | Daniel "KidPoker" Negreanu | +$150,000 | 5-1 |
| March 27, 2011 | Daniel "KidPoker" Negreanu | -$26,500 | 5-2 |
| April 3, 2011 | Scott "urnotindangr" Palmer | -$5,425 | 5-3 |
| April 10, 2011 | Scott "urnotindangr" Palmer | +$66,607 | 6-3 |
| April 24, 2011 | "Mastermixus" | +$1,279 | 7-3 |
| June 19, 2011 | Rui "PepperoniF" Cao | +$150,000 | 8-3 |
| March 11, 2012 | Isaac "philivey2694" Haxton | -$5,093 | 8-4 |
Blom will face off against Andrew "Kanu7" Millar in the next SuperStar Showdown on Sunday at 1200 EDT (1600 GMT). Read more about his match against Haxton here at PokerNews.com.
Jen Tilly Teaching Lisa Simpson How to Hold'em
Jennifer Tilly has used her voice in a number of cartoons during her career, perhaps most notably as Bonnie Swanson on Family Guy. But now, according to reports, Tilly will get to see herself in cartoon form in an upcoming episode of The Simpsons.
Inside TV reports that the actress and World Series of Poker bracelet winner is set to make a cameo during the next season of the seemingly immortal television series. Tilly, the ex-wife of the show's co-creator, Sam Simon, will appear in a poker instructional video that Lisa Simpson watches to hone her poker skills.
Read more at InsideTV.com.
Follow PokerNews on Twitter for up-to-the-minute news.