The Nightly Turbo: Full Tilt Poker Deal Expected Soon, Iowa Passes Poker Bill, and More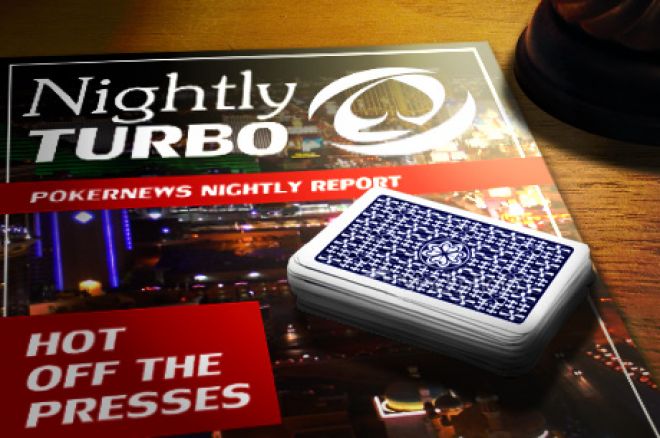 Is a deal to purchase Full Tilt Poker near completion? That seemed to be the chatter circling through the poker community on Wednesday. In this edition of the Nightly Turbo, we'll bring you the latest comments from the Groupe Bernard Tapie camp, plus positive news for Iowa poker players, and more.
In Case You Missed It
Daniel Negreanu released his "Weekly Rant" on Wednesday. If you want to hear Daniel talk about Ray Bitar, borrowing money, and plenty more, you can find his video blog in our new section, The Muck.
Are you planning a trip to Viña del Mar, Chile, for the PokerStars.net Latin American Poker Tour? Lynn Gilmartin tells you everything you need to know about the city in the latest PokerNews Jet Set.
Only 112 players remain at the PokerStars.com European Poker Tour Madrid. Who's leading the field after play on Day 2? You'll have to check out the EPT Madrid recap to find out.
Let's Make a Deal
According to a multiple reports on Tuesday, the pending deal between Groupe Bernard Tapie and Full Tilt Poker is expected to be completed in the next couple of weeks, and possibly as early as the end of this week.
Gaming Intelligence reported Wednesday that Groupe Bernard Tapie lawyer Behnam Dayanim is "reasonably confident" that the French investment firm's agreement to purchase Full Tilt Poker will be completed in the next couple of weeks. The complex sale of Full Tilt Poker has dragged on since an agreement was made between Groupe Bernard Tapie and the Department of Justice last November when the two sides came to an agreement to allow GBT to purchase the forfeited FTP assets from the DOJ for $80 million.
As part of the agreement, GBT would repay non-U.S. players, who are owed an estimated $150 million, and the DOJ would be responsible for repaying the U.S. players, which is also estimated to be about $150 million.
Meanwhile, eGaming Review reports that the deal is expected to be closed by next week, and that Full Tilt Poker could be operating again as early as next month. According to the report, Laurent Tapie is already working on collecting the necessary licenses to bring the embattled poker room back to life. Tapie indicated earlier this year that GBT was in negotiations with the Alderney Gambling Control Commission (AGCC) to resurrect FTP's operating license.
When PokerNews reached out to Tapie lawyer Behnam Dayanim on Tuesday, he said the following: "All I can say is that negotiations are ongoing. I can make no further comment."
We'll continue to keep you up to date on the latest from Full Tilt Poker and Groupe Bernard Tapie.
Iowa Senate Approves Online Poker Bill
One week after a Mississippi online gambling bill died in committee, the Iowa Senate passed a measure to allow Iowa casinos and racetracks to offer online poker to residents in the state.
Senate File 2275 passed by a vote of 29-20 on Tuesday and will now move on to the House. If passed there, Gov. Terry Branstad could then sign it into a law. An Internet poker platform would be licensed and regulated by the Iowa Racing and Gaming Commission (IRGC), which has already been given the go-ahead to establish a structure whereby operators would partner with state-licensed casinos to provide access to online sites.
Iowa has been one of many states to show support for online poker since the Department of Justice changed its position on the Wire Act of 1961 in December. Iowa lawmakers commissioned a study last year to determine the practicality and potential income Internet poker could generate for the state. Assuming a tax rate of 22 percent, the projections indicate approximately $3 million to $13 million in potential tax revenue for the state annually, according to the IRGC.
Read more at PokerNews.com.
Timoshenko, Katchalov Join PartyPoker Premier League
The lineup for the upcoming PartyPoker Premier League V got even stronger Wednesday as Eugene Katchalov andYevgeniy Timoshenko added their names to the mix.
Katchalov and Timoshenko will join Tom Dwan, Erik Seidel, Patrik Antonius, Sam Trickett, Vanessa Selbst, Luke Schwartz, Tony G, and other putting up the $125,000 buy-in for the event at the Montesino Casino in Vienna, Austria from April 4 through 10. Katchalov will be making his first appearance on the televised Premier League stage, and Timoshenko will be competing in the event for the second time.
"I'm very happy and excited to be able to play the PartyPoker Premier League Event this year," Katchalov told the PartyPoker Blog. "From what I've heard and read, it's a unique and fun structured event that will have some tough competition but I'm sure will be a great experience overall!"
Read more at PokerNews.com.
Haxton Comes Back to Defeat Blom in SuperStar Showdown
After their Sunday match was postponed due to Internet connectivity issues, Viktor "Isildur1" Blom and Isaac "philivey2694" Haxton resumed the PokerStars SuperStar Showdown on Tuesday. Picking up where they left off on Sunday, Blom was up $99,886 through 692 hands when action began, meaning Haxton had a huge hill to climb in order to beat the Swede with around 1,800 hands left to play.
The climb turned out to be a smooth one for Haxton, who battled back to claim a slight win over the Team PokerStars Pro for the second straight time. After 2,500 hands, Haxton left the tables with $5,093 in profit, bringing his winnings against Blom in the SuperStar Showdown to $46,794 over 5,000 hands. The loss dropped Blom's record to 8-4 in SuperStar Showdown matches since the format was created in December 2010.
SuperStar Showdown Breakdown
| Date | Opponent | Profit/Loss | Record |
| --- | --- | --- | --- |
| Dec. 19, 2010 | Isaac "philivey2694" Haxton | -$41,701 | 0-1 |
| Jan. 2, 2011 | Antanas "Tony G" Guoga | +$44,280 | 1-1 |
| Jan. 30, 2011 | Daniel "w00ki3z" Cates | +$51,196 | 2-1 |
| Feb. 13, 2011 | Eugene "MyRabbiFoo" Katchalov | +$111,750 | 3-1 |
| Feb. 27, 2011 | Attila "DodgyFish72" Gulcsik | +$10 | 4-1 |
| March 20, 2011 | Daniel "KidPoker" Negreanu | +$150,000 | 5-1 |
| March 27, 2011 | Daniel "KidPoker" Negreanu | -$26,500 | 5-2 |
| April 3, 2011 | Scott "urnotindangr" Palmer | -$5,425 | 5-3 |
| April 10, 2011 | Scott "urnotindangr" Palmer | +$66,607 | 6-3 |
| April 24, 2011 | "Mastermixus" | +$1,279 | 7-3 |
| June 19, 2011 | Rui "PepperoniF" Cao | +$150,000 | 8-3 |
| March 11, 2012 | Isaac "philivey2694" Haxton | -$5,093 | 8-4 |
Blom will face off against Andrew "Kanu7" Millar in the next SuperStar Showdown on Sunday, March 18, at 1200 EDT (1600 GMT). Read more about his match against Haxton here at PokerNews.com.
Duhamel Dominating Global Poker Index Player of the Year Standings
Team PokerStars Pro Jonathan Duhamel maintained his gigantic lead in the Global Poker Index Player of the Year standings this week. The award, which is presented by PokerNews, honors the player who has the strongest performance in live tournaments during the calendar year, according to the USA Today Global Poker Index point system.
Duhamel already has four six-figure scores in 2012 and added another cash to his resume at the World Poker Tour Bay 101 Shooting Star Main Event, where he took 13th for $25,620. Duhamel has 595.68 points in the GPI POY, giving him a huge lead over the closest competitor, Erik Cajelais, who has 342.87 points.
Cajelais moved up 13 spots after finishing fourth at Bay 101 for $256,300. The Montreal native has five qualifying cashes in 2012, including a third-place result at a PokerStars Caribbean Adventure side event in January.
Noah Schwartz, Faraz Jaka and Samuel Chartier rounded out the top 5, respectively. Here's a look at the Top 10 of the Global Poker Index Player of the Year standings:
GPI Player of the Year Top 10
| Place | Player | Total Score | Change in Rank from Last Week |
| --- | --- | --- | --- |
| 1 | Jonathan Duhamel | 595.68 | -- |
| 2 | Erik Cajelais | 342.87 | +13 |
| 3 | Noah Schwartz | 326.05 | -1 |
| 4 | Faraz Jaka | 308.34 | -1 |
| 5 | Samuel Chartier | 305.79 | -1 |
| 6 | Jason Koon | 284.24 | -1 |
| 7 | Ruben Visser | 258.03 | -1 |
| 8 | Stephen Chidwick | 248.77 | -1 |
| 9 | Oliver Speidel | 238.23 | -1 |
| 10 | Daniel Idema | 234.08 | -1 |
For the full GPI Player of the Year standings, head on over to EpicPoker.com.
Welcome to Madrid!
The PokerNews Live Reporting Team is in Spain for the PokerStars.com European Poker Tour Madrid Main Event. PokerNews hostess Kristy Arnett took a tour around the city and even got a look inside the home of the famous Real Madrid Club de Fútbol.
Get all the latest PokerNews updates on your social media outlets. Follow us on Twitter and like us on Facebook today!