The Nightly Turbo: Bellande Playing $1 Million Event, Brad Booth Comes Clean, and More

Brett Collson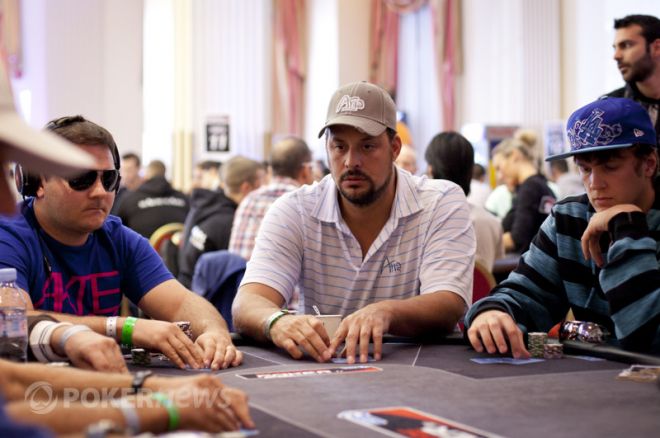 The $1 million Big One for One Drop is nearing its 48-player cap. Who's the latest player to confirm his participation? We're bringing you that story, plus Brad Booth's apology to the poker community, in this edition of the Nightly Turbo.
In Case You Missed It
John Monnette won his second World Series of Poker bracelet on Tuesday. We break down his victory and more in the Day 10 WSOP recap.
Brian Rast and Greg Mueller are eyeing their third WSOP bracelet on Wednesday. Read about the day's biggest story line in the WSOP What to Watch For.
Jonathan Duhamel still leads the GPI Player of the Year race, but a talented German pro is making a move toward the top spot. Find out who it is in the GPI POY monthly report.
Need a new book to read at the tables? Chad Holloway takes a look at That's Poker Baby!, the first in a series of personally written volumes by Scotty Nguyen.
On Wednesday, Bally Technologies was recommended by Nevada gaming regulators to receive an interactive gaming license. Read more about the story right here at PokerNews.
PokerNews released a new mobile app for iPhone and Android devices! Read all about it here!
Broke Living? Not So Much
This one certainly raised a few eyebrows.
Jean-Robert Bellande, infamous for his massive bankroll swings and degen lifestyle, announced Tuesday that he will be playing the $1 million buy-in Big One for One Drop at the World Series of Poker next month. Bellande broke the news on his "BrokeLivingJRB" Twitter account Tuesday afternoon after teasing a major announcement earlier in the week.

While Bellande seems to have locked up a spot in poker's richest event ever created, several of the game's top talents are trying to put enough funds together to play. Justin Bonomo, Phil Hellmuth, Antonio Esfandiari and others have said they'd like to sell action for the event, but none have confirmed their participation.
WSOP Communications Director Seth Palansky told PokerNews on Wednesday that an updated One Drop list will "hopefully" be released later this week. Sources have told us that 46 spots have been filled, meaning there are only two remaining before the event is capped.
The official list of 30 can be found at allinforonedrop.com.
Coming Clean
On Tuesday, we covered the latest scandal involving Brad Booth and the $28,000 he allegedly stole from poker pro Douglas "WCGrider" Polk.
One day later, Booth came clean about his inability to repay Polk and several others he's borrowed money from. Sitting in front of a webcam, an emotional Booth took full responsibility for the money he took from Polk and makes a promise that he will make good with himself, his debtors, and the entire poker community. The video was recorded on June 4 and uploaded to YouTube on June 6.
Said Booth, "The only way I know how to make right out of this is to publicly make a promise to myself, to the people I owe money to, to the poker community that I will not gamble in the pit, I will not drink alcohol, I will not play online until I get back on my feet and get control of my life."
"The last four years have been so super difficult and I've had many chances to get my life back together after the UB scandal. And I've seemed to fail in every opportunity."
Booth's life was turned upside down four years ago when he was a victim of the infamous Ultimate Bet super-user scandal, during which Booth claims to have lost more than $2 million. Booth says he had recently rebuilt his bankroll to around $55,000, but he blew all of it during a one-night gambling binge.
Watch the complete apology right here:
Online Poker Hearing in California
A California bill that would allow online gambling within state lines has been amended ahead of a Senate committee hearing on June 12.
The Internet Gambling Consumer Protection and Public-Private Partnership Act of 2012, also known as SB 1463, was introduced in February by California Sens. Darrell Steinberg and Roderick Wright. Under the original framework, operators could apply for a 10-year license to offer authorized games to players within the state. The measure initially only applied to the offering of poker and any violation was deemed a misdemeanor by law.
New revisions to the bill call for a five-year license period instead of the original 10 years. The bill will also require the Bureau of State Audits, four years after the issue date of any license by the state, but no later than five years after that date, to issue a report to the Legislature detailing the implementation of the measure.
SB 1463 seeks to generate "hundreds of millions of dollars" for the state in the fiscal year 2012-13. The state has been split on the issue, from tribes fearing competition from industry giants, to residents concerned about problem gamblers setting a bad example for young people.
Read the full amendment of SB 1463 at aroundthecapitol.com.
PokerStars Macau Event Cancelled
On Wednesday, PokerStars announced that the PokerStars Macau Cup scheduled for August 11 through 20 has been cancelled. The news comes less than a month after the same event was rescheduled by tournament organizers.
"Due to events beyond our reasonable control, the Macau Poker Cup scheduled for August is, regrettably, being cancelled," said Danny McDonagh, PokerStars' director of live poker operations for the Asia-Pacific. "We cannot yet confirm the scheduling of PokerStars Macau special events for the rest of 2012, but hope to do so as soon as possible. However, what I can promise is an amazing Macau Poker Cup from June 9-18 which is going ahead as planned."
"I assure all our loyal players and partners that PokerStars Macau is still deeply committed to creating the best poker experience in the world and my team is focused on showing that commitment this upcoming week at the Macau Poker Cup."
The first Red Dragon series will kick off on June 9 at the Grand Waldo Entertainment Complex. The series is highlighted by an HDK$11,000 Red Dragon Main Event.
For more information, check out PokerStarsMacau.com.
Gigi Levy Leaves 888
According to Totally Gaming, former 888 Holdings CEO Gigi Levy has stepped down from the company's board of directors.
Levy served as 888's CEO for four years before resigning in April 2011. He was instrumental in boosting 888's poker brand into one of the industry's leaders. As of Wednesday, 888poker was the No. 4 ranked online poker online poker room according to PokerScout.com, trailing only PokerStars, Party Poker and iPoker.
Levy's CEO position was filled by Brian Mattingly, who spoke with PokerNews earlier this year to discuss the company's direction under his guidance.
Read the story at Totally Gaming.
Opinions with Greg Mueller
Greg Mueller is always good for a quote. Or two. Or 12. PokerNews' Lynn Gilmartin caught up with the Canadian poker pro to find out his opinion on mansages, Twitter, and more.
Follow PokerNews on Twitter for up-to-the-minute news.