The Nightly Turbo: Poker Player Goes Missing, Hollywood Poker Goes Under, and More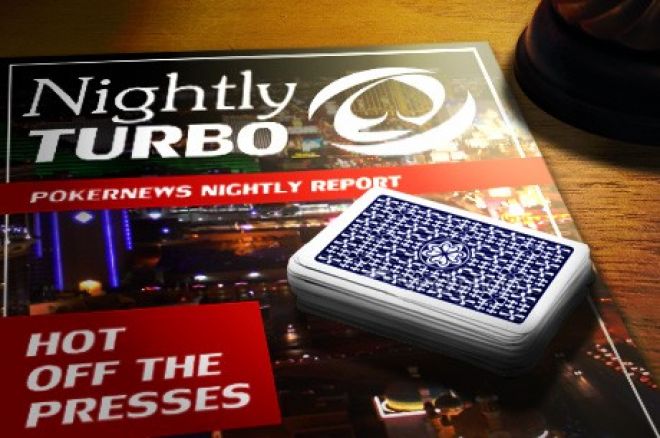 The World Series of Poker is on fire right now, especially with the $50,000 Poker Players Championship in full swing. But there are other stories around the world, as well. In this edition of the Nightly Turbo, we're covering a poker player who has gone missing, a poker site that has closed its doors, and more.
In Case You Missed It
Who won World Series of Poker bracelets on Monday? And who's leading the $50,000 Poker Players Championship after Day 2? Find out in the Day 30 WSOP recap.
Another woman was closing in on a WSOP title Tuesday. We take a look at that story and more in Tuesday's WSOP What to Watch For.
A controversial hand took place during the $50,000 Poker Players Championship on Monday. Donnie Peters was on hand to cover the chaos from beginning to end.
2011 WSOP Main Event champ Pius Heinz joined the PokerNews Podcast on Monday. Find out what he had to say about his new image at the table, bluffing, and more.
How did Brett Richey discover his passion for poker? Find out that and more in the latest Seat Open.
Looking for a fun, behind-the-scenes perspective of life at the WSOP? All Mucked Up has daily stories from inside the Rio, so check it out!
Help Find Peter Lap
The sudden disappearance of a popular poker player has several members of the poker community on alert this week.
Peter Lap, better known to Blonde Poker members as "Boldie," mysteriously went missing last Tuesday after he left for work, according to Blonde Poker forum member "Laxie." The disappearance is out of character for Lap, prompting his friends to react quickly.
"He left his car, mobile and laptop at the hotel he'd checked in to and was last seen taking a taxi to Manchester airport" Laxie said. "His wife, Wendy, has been in contact with the police and they've a missing person's report filed."
Police found Lap's belongings at the hotel. Some forum members indicated that Lap could have flown into Las Vegas sometime last week. However, because flight records are confidential, police will not look into that matter at this time.
Lap, 37, is 6-foot-3, about 200 pounds, bald, and has a Dutch accent. He was last seen in Cresta Best Western Altrincham booking a shuttle bus to Manchester Airport.
UPDATE: Thanks to the investigative work of his friends, Lap was located in Las Vegas and will be heading home soon! We're glad to hear he's OK.
Read the thread at Blonde Poker for more information.
Hollywood Poker Folds
Ongame Network skin Hollywood Poker was shut down on Monday, much to the chagrin of players who were given no warning. All player accounts and balances were transferred to Red Kings, another Ongame-based poker room.
Reason for the closure wasn't given, but the following message can be found on the Hollywood Poker website:
HollywoodPoker has stopped offering online poker. So that you can continue playing on the Ongame Network we have arranged to transfer your account with your entire account Balance to RedKings.com, a leading Ongame Network gaming site offering superb casino and poker games in a secure environment. Please be informed that your HollywoodPoker account, along with your entire account balance, has been transferred over to RedKings.com. Your nickname and password will remain the same. Simply log into Redkings.com with your HollywoodPoker username and password.
Hollywood Poker opened in 2004 and has been endorsed by World Poker Tour commentator Vince Van Patten and actor James Woods, among others. However, the endorsements ended when Hollywood poker left the U.S. market in 2006 after the signing of the Unlawful Internet Gambling Enforcement Act (UIGEA).
PocketFives has more.
Online Poker Traffic
PokerScout.com released its weekly online poker traffic rankings on Monday. The tracking site reported an overall drop of 0.9 percent, marking the sixth straight week of declines worldwide.
There were two changes in the top 10 this week. PokerStars.es passed PokerStars.fr for eighth place and continues to build in the new regulated Spanish market. Meanwhile, the Merge Gaming Network recaptured the No. 10 spot from new rival Revolution Gaming. The two networks have been battling for prominence in the U.S. since Lock Poker left Merge on June 1 and formed Revolution Gaming.
As for year-over-year traffic numbers, online poker has seen a worldwide decline of 18 percent since this time last year, much of that caused falloff by Full Tilt Poker and the CEREUS Network. As PokerScout notes, this week marks the one-year anniversary of Full Tilt Poker losing its operating license, so we'll likely see a significant change in the numbers next week.
Some of the biggest gainers since this time last year were Revolution Gaming (up 72 percent) and 888poker (up 16 percent). The International Poker Network (down 51 percent), PKR (down 34 percent) and the Merge Network (down 13 percent) were among the notable decliners.
Read the full report at PokerScout.com.
Who Would You Rather?
Poker pro Matt Glantz was seated at a stacked table in the $50,000 Poker Players Championship on Monday. Lynn Gilmartin asked Glantz about his tablemates for the latest edition of Who Would You Rather.
Follow PokerNews on Twitter for up-to-the-minute news.