The Nightly Turbo: Sam Trickett Robbed, PokerStars VIP Changes, and More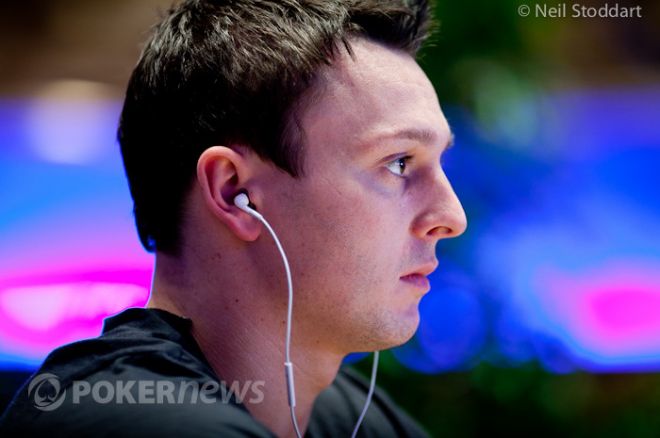 We know you're busy sweating all of the World Series of Poker action on our Live Reporting page, so we won't keep you long. In this edition of the Nightly Turbo, we're covering Sam Trickett's threat to the player who allegedly robbed him, PokerStars changing its VIP system, and more.
In Case You Missed It
A bracelet was awarded in the first open event of the 2012 World Series of Poker on Wednesday. Find out which well-known pro collected the hardware in our daily WSOP recap.
Which story lines should you be watching for at the WSOP on Thursday? Read about them in the latest WSOP What to Watch For.
Shaun Deeb joined the PokerNews Podcast on Wednesday. Tune in to hear about his SCOOP success, living in Mexico, and his grandma's poker skills.
Looking for a fun, behind-the-scenes perspective of life at the WSOP? The Muck is providing several daily stories from inside the Rio, so check it out!
Trickett Issues a Threat
"If you have shady people in your community, you should speak up. I don't like this 'don't snitch' culture." — Daniel Negreanu.
It appears high-stakes superstar Sam Trickett has followed Negreanu's advice. On Wednesday, Trickett announced via Twitter that he had money stolen from him by a well-known pro. Trickett hasn't released the name of the player or the amount that was stolen, but he intends to make public if the situation isn't resolved soon.
I had money stolen from me by a well known poker pro,that i thought was my friend! If he dont call me soon,Igoing to expose him 4 what he is

— Sam Trickett (@Samtrickett1)
Speculation about the identity of the "well-known pro" has circulated through the poker community. Obviously, we're not in a position to venture a guess, but we'll be sure to keep an eye on this as more develops.
Trickett is in Las Vegas for the World Series of Poker and is set to play the $1 million Big One for One Drop from July 1 through 3. Matchbook.com announced this week that it will be sponsoring Trickett for the duration of the WSOP.
Read more at UK.PokerNews.com.
PokerStars Aims to Please
After taking player requests into consideration, PokerStars has decided to make a few changes to its VIP system to benefit its valued customers.
PokerStars' Head of Home Games Lee Jones unveiled the changes in a TwoPlusTwo thread on Wednesday. Starting June 1, PokerStars will be releasing VIP bonuses quicker than ever before, all the way from the bronze VIP level to Super Nova Elite.
| VIP Level | USD | FPP | USD/FPP | % Reduction |
| --- | --- | --- | --- | --- |
| Bronze | $10 | 1,000 | 0.01 | 60% |
| Silver | $25 | 2,250 | 0.011 | 50% |
| Gold | $75 | 6,250 | 0.012 | 75% |
| Platinum | $200 | 15,400 | .013 | 69% |
| Supernova | $600 | 40,000 | 0.015 | 60% |
| Supernova | $1600 | 100,000 | 0.016 | 60% |
As you'll notice, under the new VIP system, a Bronze player can cash in 1,000 FPPs for $10. The previous exchange rate for Bronze players was $25 for 2,500 FPPs. The change means players are getting a 60 percent reduction with the new system.
For a closer look at the PokerStars VIP system, visit PokerStars.com.
Aussie Aussie Aussie!
Legalized online poker in Australia is moving closer to realization now that new proposals have been introduced to the 2001 Interactive Gambling Act.
In a report issued this week, Communications Minister Stephen Conroy argued that regulating online gambling could help protect gamblers that are currently wagering about $1 billion per year with illegal offshore operators. The new proposals include self-exclusion from gambling websites, pre-commitment warning, and easily accessible data telling gamblers how much they are winning and losing.
Conroy stressed that the proposals were only in the interim stage and the government had made no decisions, but it is certainly a step in the right direction for Australian poker players.
Online gambling has been illegal in Australia since the mid-1990s, but offshore sites have been able to work around Australian legislation. The government hasn't charged any offshore operators with violating the Interactive Gambling Act since it was introduced more than a decade ago.
The Daily Telegraph has more.
A Change in Domain
On Wednesday, PokerStars players in the Netherlands were greeted with surprising news when logging into the world's leading online poker site.
PokerNews.nl reports that all players in the Netherlands were transferred from pokerstars.com to the new pokerstars.eu. The software and game selection are virtually identical to the dot-com version, but the purpose of the switch to PokerStars.eu is to address the taxation of gambling winnings in European countries.
The pokerstars.eu site first opened in Sweden and Finland, where players were previously taxed on up to 50 percent of their online gambling winnings earned outside of the European Union. The Netherlands is the latest country to enter the jurisdiction, and other EU nations are expected to follow.
Players on pokerstars.eu still have access to the same games as the dot-com site, and tournament guarantees remain unchanged. Players in the Netherlands who use the PokerStars Mobile app must download the new pokerstars.eu client and delete the old one, according to PokerNews.nl.
For more, read the story by our good friends over at nl.PokerNews.com.
Find your Match
Who has time to deal with all that dating nonsense with all the time you're spending at the poker tables? We cut through that nonsense with three words ... Mutually Beneficial Arrangements! Sounds too good to be true? Think again. It'll be the best move you've ever made. There are tons of people looking to find the arrangement of a lifetime.
Find out more at ArrangementFinders.com.
This an advertisement.
Who's Your Hero?
PokerNews' Sarah Grant spoke to two of her heroes, Layne Flack and Gavin Smith, on Day 4 of the World Series of Poker on Wednesday. Who are Flack and Smith's heroes? Watch the following video to find out.
Follow PokerNews on Twitter for up-to-the-minute news.