Marcel Luske Talks PokerChamp, Poker's Newest Board Game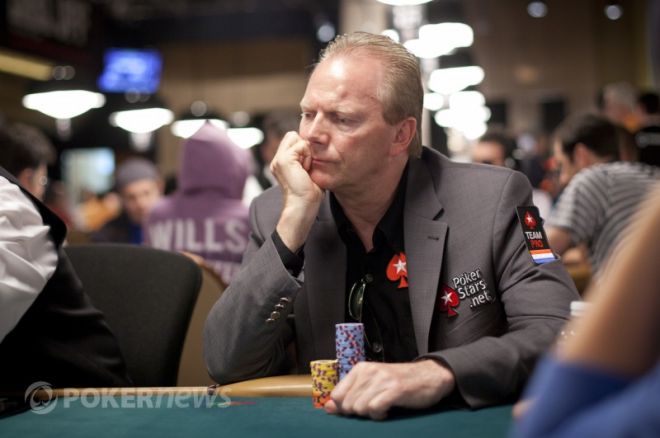 In 2003, Marcel Luske, dressed in a nice suit as usual, caught the eye of ESPN which gave him worldwide exposure during that year's Main Event. Now, nearly 10 years later, Luske has joined forces with Pierre Neuville to launch PokerChamp, a new board game for poker beginners.
The relationship between the Dutchman and Frenchman seemed natural. Luske, along with his protégé Noah Boeken, helped grow poker in Holland. Together, they appeared in magazines, gave interviews on radio stations and taught classes. The name Marcel Luske became synonymous with poker in Holland. As such, games popped up in toy stores with his image wearing sunglasses, which you could tell were upside down. Although the games were moderately successful, Luske wasn't satisfied. He wasn't a board-game expert, but he did think the game had to be easier and better.
Enter Neuville, who had years of experience as CEO of the biggest board-game manufacture, Europe Hasbro, the manufacturer of Monopoly, Risk and Scrabble, to name a few. At the 2010 European Poker Tour San Remo, Luske and Neuville, who was by that time retired from the board-game industry, came together and began to make a poker board game for beginners that would be the biggest and best yet; thus, PokerChamp was born.
Today, you can find PokerChamp at toy stores all over Holland, France and Belgium. It is also available online on PokerChamp.net. As the website explains:
"POKER CHAMP™ is a board game inspired by Poker but played with totally different rules. The goal of the game is to win exclusively POKER CHAMP™ Awards. PokerChamp provides fun, suspense, rhythm, emotion and friendly group atmosphere. The ultimate Poker board game is born after 2 years of Research and Development. For millions of families, POKER CHAMP™ is the first genuine opportunity to enjoy Poker at home."
After PokerChamp was devised, the two partners set about promoting the game. At the Hold'em Challenge at Casino Namur, Neuville had a box beside him that he gave away to whoever busted him, much like Barry Greenstein had done with his book, Ace on the River. Likewise, Neuville was busy promoting the game at this year's World Series of Poker.
PokerNews recently talked with Luske about PokerChamp.
Why did you develop this game?
This game was developed to get the starting player on board. The doubters — people who actually watch from a distance and judge but have no clue about poker — you know them for sure. When they play this game, one hand with family and friends, they instantly see that poker is a fascinating game. They see that the poker element — the basis — requires a certain skill. To sharpen yourself by combining, to estimate, read people and calculate — it's all important. To think along with others about what they are doing and to assess whether or not to make investments.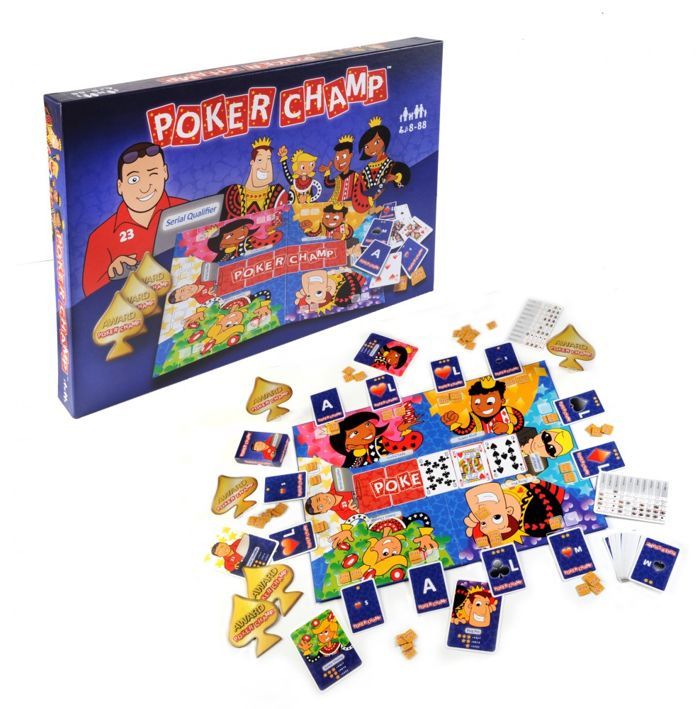 We have made it a whole lot easier than traditional poker. The fact that on the back side of the cards is information about that card, that was already invented because I was working on that for a couple of years, but something was missing, and when Pierre came up with a board to go with it, he made it into a board game.
I contacted Pierre because I knew there was something missing. We needed something like that in the stores, a poker game that you can actually play with family and friends. A light bulb moment appeared for me and Pierre, and he started this along with me even though he had retired several years before. Pierre knew what he had to do and could be done, he knew it needed a board and so we developed that. We have spent months developing that, we made the rules, shaped the board, and developed the awards.
We had our first meeting in San Remo, and two months later, we signed in Las Vegas. In Italy, I showed him what already was developed and gave him what I had in mind. Pierre started to laugh. It looked ridiculous to him as it was done. He saw I brought a different play of poker, but it didn't meet up with the demands of the game industry. He instantly saw that with some minor changes it would be more acceptable and it had great potential, but it would have to meet up to the board-game standards. Eventually he became my partner, and several months later we had another partner, Yves Kupfermunz, who leads the business part.
How did you came up with the name PokerChamp?
At first, we came up with some other names, but they weren't right or were already taken. We wanted a name with "poker" in it, because it's about the game we all know so well. The 6.5 billion people who know nothing about poker will no doubt recognize the name, and the 500 million people who do know how to play poker will pass it on to their family and friends who don't know how to play.
'Someone at a basement with Scotts, women with short skirts, and loads of money at the table.' That's the image of poker to those who don't know anything about it. That is obsolete, we all know, but for people who are against gambling, that's their reality; that's how they see poker, while we know it's a challenge — a skill game. And this game has to be the stepping stone for people to realize. The name of the game has that a bit in itself, everyone can be a champ at his own house. This game is a better first acquaintance than any book, I dare to say. Because every book lacks practical experience but this game will teach it in a playful way.
How does the game work exactly?
It's extremely simple, and that's the beauty of it. You open the box, take the board out and give everyone a ranking card. At the back is a description as to where you sit, everyone has their own seating picture. One is a very young Pierre Neuville, very clear with 'Serial Qualifier' written at his chest. Across I sit as the 'Gentleman of Poker' with the reversed sunglasses. You get 12 chips which you directly put one of them in, that's your ante. Everyone gets two cards, which look just a bit different than your ordinary deck of cards. The dealer will then place the three cards open on the board, so all players do have a five-card starting hand to play with.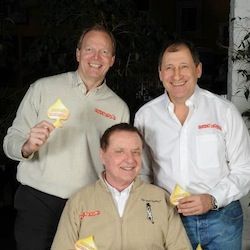 The topside of the cards have symbols — marks that we know like ace of spades and one, two and three stars — but the back also gives some information of the suits, etc. At the back of the cards you see the size and strength of the cards, which your opponent can also determine. We have reduced it to hearts, diamonds, spades and clubs which you can see on it, unless it is an ace. The back not only gives information about the suit but also about the power. In three series you'll see what kind of card it is; small (2,3,4 and 5), medium (6,7,8 and 9) or large (ten to king). The ace is a bit of an odd card; you can see at the back it's an ace but not which suit it is. The calculation is always one on four, which is much simpler than a deck with 52 cards which you have no idea what your opponent has.
The game is much simpler and so it is suitable as a family game. You quickly know what your possibilities are after the flop, and you can also asses your opponent's chances easier. Moreover, you can never lose more than six chips a round, while playing the base variant. The bets are namely one chip preflop and two on the turn and river. You can't re-raise and you can win with one chip when it's your last. It's essentially different from the poker that you and I know, but more fun for novice players. Oh, and you can bet when you want to, you don't have to wait for your turn.
Normally in poker you can bust at the first hand and you'll be watching at the side for an hour. Not very nice when you're playing a board game at the kitchen table with family. With this game that can't happen, because when you bust, you get new chips from the player with the most chips. Because when he gives you chips, he can get an award and the first with two awards wins the game at the base variant. Or you decide that the player who gets the most awards in an hour will win. Or the first who gets three awards- you decide yourself. Anyone can get started immediately. Even a child can play it, it's so simple, but it's still so much fun to play!
I'll give you an example. I never actually played golf because you never play golf as an Amsterdam market merchant. When my popularity grew by playing poker, I was invited to certain events where people were also playing golf. I stood there with Michael Jordan under the eyes of 150 journalists and then had to play golf. I always thought the driver was the one sitting on the golf cart. If someone talked about the driver, I automatically looked at the cart, which to me seemed logical. I didn't realize that it was the club you used for your first hit. I was embarrassed to ask, really.
Perhaps you have the same problem with poker. Maybe people find it fun but they are ashamed to ask certain things, because the poker world is filled with specialized terms that can scare people. With PokerChamp that's completely gone. When I went golfing, and after 300 hits, I hit the ball well. I found it so much fun! I saw the ball fly, I finally hit the ball and was totally idolatrous of golf from that moment on. An unprecedented feeling!
There are quite a few things that can stop you from playing golf, and just because you don't understand, you might be anxious to begin. The same with poker, although you and I can no longer imagine that because we have been in it for so long. This game is developed to eliminate that fear, a stripped-down variant that everyone can start with and where you can do nothing wrong.
Can you imagine that PokerChamp captures about 50 to 75 percent of the base of poker just by playing the first game! Playing this one time will make understanding those poker TV shows a piece of cake, and then you'll look at it in a very different way. Once you understand how much finesse is in it, how much attention the player has to have for everything that happens, then you will understand the poker world much better. With PokerChamp, you will gain knowledge while having fun!
For more information on PokerChamp, or to order the game, please visit www.pokerchamp.net. Also, check out the following video where Lynn Gilmartin gets the scoop on PokerChamp.
Get all the latest PokerNews updates on your social media outlets. Follow us on Twitter and like us on Facebook now!