The Nightly Turbo: October Nine Betting Odds, Andre Coimbra's Challenge, and More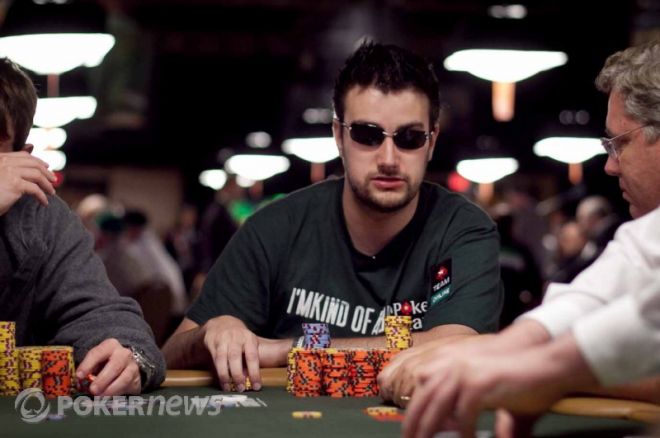 The World Series of Poker Main Event reached a final table on Monday. Which of the nine players is favored to become the next world champ? We bring you that story and more in this edition of the Nightly Turbo.
In Case You Missed It
Nine players made poker history by reaching the final table of the World Series of Poker on Monday. Read about the penultimate day of action in the Day 51 WSOP recap.
It was a crazy final week at the WSOP. Take a look at our favorite videos from Week 7 in the PokerNews Video Vault.
Do you like to bet on horses? Digiturf is celebrating its 35th season of virtual horse racing by offering an additional $320,000 in sponsorships! Read more right here at PokerNews.com.
On Monday, the PokerNews Podcast crew hit the airwaves one last time at the 2012 World Series of Poker. Rich, Donnie and Danielle discussed the final day of the Main Event and sat down with Layla Martin to talk about Onnit Labs.
Railing the Rail
The Amazon Room in the Rio was buzzing with excitement Monday as the WSOP final table approached. Lynn Gilmartin chatted with some of the spectators on the rail to get their take on the atmosphere.
Follow PokerNews on Twitter for up-to-the-minute news.
Online Poker Traffic Report
PokerScout.com released its weekly traffic rankings on Monday. The online poker tracking site reported a slight climb of 0.1% worldwide, marking a surge for the third straight week.
The battle between the US-facing Revolution Gaming and the Merge Poker Network raged on this week, with Revolution still holding a slight edge over Merge. The two have been competing since the beginning of June when Lock Poker defected from Merge to form its own Network. Both companies saw gain in traffic numbers during the past week.
As for year-over-year numbers, online poker has seen a 16 percent decline since July 2011. The three largest sites have all seen significant declines; PokerStars still maintains a sizable lead over the competition despite dropping 16 percent, and the iPoker Network (down 35%) and PartyPoker (down 50%) have struggled to keep pace. On the flip side, Revolution Gaming (up 48%) and Winamax.fr (up 9%) have seen positive growth since this time last year.
Check out the full report at PokerScout.com.
APAT's Expansion
The Amateur Poker Association & Tour, an organization that hosts poker tournaments throughout Europe, has announced the purchase of Poker.co.uk, an online poker room on the International Poker Network.
According to APAT, the acquisition was made to expand the organization's online poker platform. The new online poker room will host satellites and direct entry to APAT's Live and Online Championship tournaments, the National Online League and the inaugural National Online Cup.
The sale includes player database, online poker software and customer support contracts of Poker.co.uk, which will be rebranded APAT later this year. The software is already available for immediate download at APAT's website.
"We're excited that APAT will add an online poker room to our product range and look forward to delivering a high quality online poker experience for our customers, as we have in the casino environment since 2006," said Des Duffy, managing director of APAT.
Matt Dale, Founder of Poker.co.uk added: "With a membership of over 50,000 players and a reputation for being very community focused, APAT is well positioned to bring something new to the online poker market and I'm delighted to play a part."
Read more at uk.PokerNews.com.
Almost Halfway Home
Day 5 of the PokerStars MicroMillions II tournament series saw nine more champions crowned and more than $500,000 in prizes awarded. The series is nearing its midway point as 44 of the 100 events were concluded through Tuesday morning.
Team PokerStars Pro Andre "acoimbra" Coimbra, who announced he will be playing all 100 MicroMillions II events, played in all 44 through Monday night. Playing on just 16 hours of sleep in five days, Coimbra cashed 13 times for $273.59, placing him 19th on the MicroMillions leaderboard. The winner of the leaderboard will receive a 2013 PokerStars Caribbean Adventure package worth $15,000
Coimbra is providing daily video blogs to update his progress:
Here's a look at Monday's winners from the PokerStars MicroMillions II series:
| Event | Entrants | Winner | Prize |
| --- | --- | --- | --- |
| #36: $11 NL Hold'em | 3,992 | mikland13 | $6,269.78 |
| #37: $3.30 PL Omaha [6-Max, 2R1A] | 4,107 | KOTLYAREVSKA | $4,853.98 |
| #38: $5.50 NL Hold'em | 8,985 | oskaart | $6,441.90 |
| #39: $4.40 FL Razz | 3,348 | dewast_out | $2,278.70 |
| #40: $5.50 NL Hold'em 6-Max Turbo Knockout | 15,303 | Julian013 | $7,843.43 |
| #41: $1+R NL Hold'em 3x-Turbo | 26,695 | Wieger1980 | $13,569.70 |
| #42: $5.50 NL Hold'em | 18,295 | spielverderb | $9,878.05 |
| #43: $3.30 NL Hold'em 6-Max | 14,791 | KnuggleKing | $6,084.93 |
| #44: $11 NL Hold'em | 4,294 | KidSylar | $6,743.83 |
MicroMillions II runs through Sunday, July 22, culminating with a $22 Main Event with a $1 million prize pool. For an in-depth look at Thursday's results, visit the PokerStars Blog.
Who You Takin'?
Now that the final table is set for the WSOP Main Event, sports books all over the globe are giving poker enthusiasts a chance to bet on the next world champ.
Betting giant Ladbrokes opened lines for the "Octo-Nine" shortly after the final table was reached Monday night. Not surprisingly, Ladbrokes listed chip leader Jesse Sylvia as the favorite, giving the American poker pro 3-to-1 odds to win the tournament. He's followed by Andras Koroknai and Greg Merson, both at 5-to-1.
Here's a look at Ladbrokes' odds for the 2012 World Series of Poker Main Event final table:
| Player | Chips | Odds |
| --- | --- | --- |
| Jesse Sylvia | 43,875,000 | 3/1 |
| Andras Koroknai | 29,375,000 | 5/1 |
| Greg Merson | 28,725,000 | 5/1 |
| Russell Thomas | 24,800,000 | 6/1 |
| Steven Gee | 16,860,000 | 8/1 |
| Michael Esposito | 16,260,000 | 8/1 |
| Robert Salaburu | 15,155,000 | 9/1 |
| Jacob Balsiger | 13,115,000 | 12/1 |
| Jeremy Ausmus | 9,805,000 | 16/1 |
Last year, Pius Heinz was sixth in chips with 16,425,000 going into the Main Event final table. Many sports books had him listed at 11-to-1 to win the bracelet — a great value for bettors.
In previous years, Jonathan Duhamel (2010) held a significant chip lead over the rest of the field and was a 3-to-1 favorite to win it all; Joe Cada (2009) was fifth in chips coming into the final table and opened at 18-to-1; Peter Eastgate (2008) was fourth and listed at 13-to-2; and Jerry Yang (2007) was eighth in chips and priced at 19-to-1.
Keep those numbers in mind when placing your bets. You can find this year's odds at Ladbrokes.com.