The Nightly Turbo: Real-Money Online Poker in Nevada, MicroMillions II Winners, and More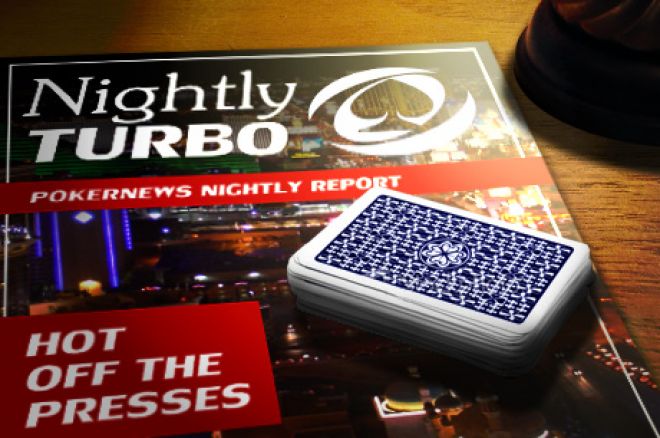 If you're looking for Friday's top poker stories to get your weekend started off right, then you've come to the right place. In this edition of the Nightly Turbo, we're covering the South Point Casino's big plans in Nevada, the latest winners from PokerStars' MicroMillions II, and more.
In Case You Missed It
How was the high-stakes action at the PokerStars tables this week? Read the Online Railbird Report to find out the week's biggest winners and losers.
October Nine Perks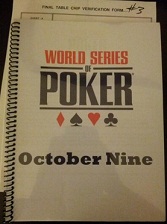 What are some of the benefits of making the World Series of Poker Main Event final table? "Octo-Niner" Jeremy Ausmus gave us a glimpse on Twitter:
I'm part of an exclusive club now. The stuff in this book, wow! Secret info on Roswell, JFK, freemasons, +more, crazy

— Jeremy Ausmus (@jeremyausmus)
Follow PokerNews on Twitter for up-to-the-minute news.
PokerStars Macau Expands
PokerStars has announced two new events to be included in 2012 Asia Player of the Year season. The Macau Poker Cup Championship will take place from September 7 through 16, and the inaugural APPT: Asia Championship of Poker is scheduled for Oct. 26 through Nov. 11. Both events will take place at the Grand Waldo Entertainment Complex.
The Macau Poker Cup Championship is the annual finale for Asia's premier poker series and will feature a HKD $20,000 buy-in Main Event that has a HKD $4.5 million guarantee. Meanwhile, the much anticipated APPT: Asia Championship of Poker (ACOP) will feature a HKD $100,000 buy-in Main Event with a massive HKD $10,000,000 guarantee. The 17-day poker festival will have 18 official Asia Player of the Year events, including a HKD $25,000 buy-in ACOP Warm-up (HKD $5,000,000 guarantee) and a HKD $250,000 buy-in High Roller event.
"ACOP is the next evolution of tournaments in Asia," said Danny McDonagh, director of live operations for Asia-Pacific. "This is an exciting step towards reaching the success of major international tournaments like the PCA, EPT, and WSOP."
Here's a look at the remaining PokerStars Macau schedule for 2012:
| Date | Event | Buy-in (HKD) |
| --- | --- | --- |
| Aug. 11-20 | Red Dragon Main Event | $11,000 ($3,000,000 Guarantee) |
| Sept. 7-16 | Macau Poker Cup Championship | $20,000 ($4,500,000 Guarantee) |
| Oct. 26-Nov. 11 | Asia Championship of Poker | $100,000 ($10,000,000 Guarantee) |
For more information, check out PokerStarsMacau.com.
PokerScout Tracks Play Money
For years, PokerScout.com has been tracking the real-money traffic of online poker sites around the globe. But this week, the popular site began following the most active play-money online poker sites.
Not surprisingly, Zynga topped the list by a wide margin. The social gaming giant boasts nearly 30 million users per month, and PokerScout reported an average of 120,400 players per day over the past week. Zynga has expressed an interest in real-online gambling once it is legalized in the U.S., but for now Zynga Poker remains the leader among the free offerings.
As of Friday afternoon, PokerStars was second with 24,800 average daily users. PartyPoker, 888Poker and the Merge Gaming Network rounded out the top five, respectively.
Here's a look at the play-money sites being tracked by PokerScout:
| Rank | Site | 7-Day Average |
| --- | --- | --- |
| 1 | Zynga Poker | 120,400 |
| 2 | PokerStars | 24,800 |
| 3 | PartyPoker | 2,500 |
| 4 | 888Poker | 1,100 |
| 5 | Merge Gaming Network | 320 |
| 6 | ClubWPT | 300 |
| 7 | Ongame Network | 270 |
| 8 | iPoker Network | 140 |
| 9 | Microgaming Network | 67 |
Check out the latest traffic rankings at PokerScout.com.
Small Buy-ins, Huge Prizes
We're nearing the finish line of the PokerStars MicroMillions II tournament series. Through Thursday, more than 875,000 entrants participated in the first 72 events, with more than $4 million handed out over eight days.
Only 28 events remained going into Friday, which means Team PokerStars Pro Andre Coimbra is nearing the completion of his challenge. Coimbra played in all 72 events through Thursday, cashing in 16 of them for $318.68 — all while sleeping for about four hours per day. Coimbra has been updating his progress in a daily video diary:
Here's a look at Thursday's MicroMillions II winners.
| Event | Entrants | Winner | Prize |
| --- | --- | --- | --- |
| #66: $2.20 NL Hold'em | 13,497 | peterpan351 | $3,631.24 |
| #67: $1+R NL Hold'em 3x-Turbo | 19,321 | suclaw | $11,723.38 |
| #68: $2.20+R NL Omaha 6-Max, 3x-Turbo | 7,028 | ActionJunk | $11,516.59 |
| #69: $3.30 FL Triple Stud | 4,312 | xVegasDreamx | $2,097.59 |
| #70: $5.50 NL Hold'em | 11,489 | Mpak.Vagelis | $8,048.75 |
| #71: $11 NL Hold'em Turbo, SuperKnockout | 6,406 | Seanallin99 | $7,820.00 |
| #72: $1+R NL Hold'em 3x-Turbo | 7,664 | Klyukvenniy | $7,605.00 |
MicroMillions II runs through Sunday, July 22, culminating with a $22 Main Event with a $1 million prize pool. For an in-depth look at Thursday's results, visit the PokerStars Blog.
The Race Is On
The South Point Casino is poised to launch the first licensed real-money online poker site in the United States.
The casino, which created a free-to-play site last October, is set to meet with the Gaming Control Board next month to discuss recommendation for an operating license in Nevada. If approved, South Point will seek final license approval from the Nevada Gaming Commission.
South Point owner and CEO Michael Gaughan told eGaming Review that a real-money online poker site would be ready to launch as early as September. Gaughan says his gaming platform has already been approved by an independent testing laboratory, meaning it can go live as soon as it is licensed to do so.
"We're finishing up our second wave of testing and so far no problems," Gaughan told eGamng Review. "I may not be the biggest or the best but hopefully I'll have a head start by two or three months."
Last month, slot machine suppliers IGT and Bally Technologies became the first companies to receive licenses to act as service providers for Internet poker operators. However, it could take up to six months for their technology to be tested by the board and the state. The providers also need to wait on partnering casinos to receive license approval from the NGC.
Read more about South Point Poker at eGR North America.