Lessons Learned From the 2012 ESPN Fantasy Poker League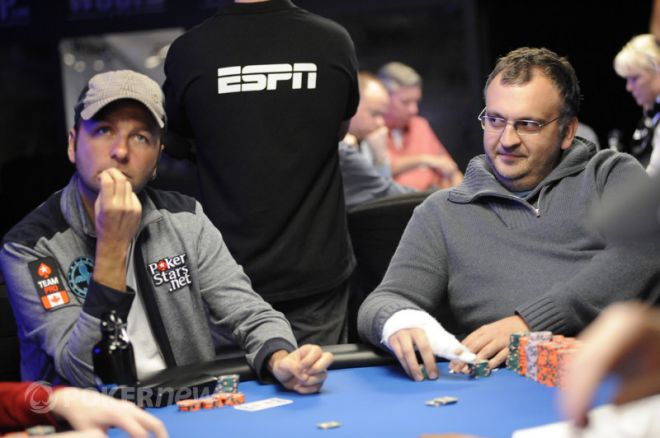 For the third year in a row, I was invited to participate in the ESPN Fantasy Poker League, a long-running tradition for a mix of poker players and media personalities dating to 2006. I managed to capture the coveted title in my inaugural year, and I had dreams of making it two titles in three years.
For the 2012 World Series of Poker, 10 teams participated in the draft: Lance Bradley, Josh Brikis, Eric Baldwin, Gary Wise, Daniel Negreanu, Dwyte Pilgrim, Bernard Lee, Steve "Chops" Preiss of WickedChopsPoker, the league's commissioner Andrew Feldman of ESPN, and myself.
Prior to the WSOP, I was extremely excited about my chances thanks to what I thought was an above-average draft. How could I go wrong with a team that included Jason Mercier, Daniel Alaei, Matt Glantz, Josh Arieh, Jeff Lisandro and David Bach? I thought I had a stacked team and a great shot at the title, but nothing could have been further from the truth.
2012 ESPN Fantasy Poker League Results
| Place | Team | Points |
| --- | --- | --- |
| 1 | Andrew Feldman | 660 points |
| 2 | Dwyte Pilgrim | 474 points |
| 3 | Lance Bradley | 434 points |
| 4 | Josh Brikis | 411 points |
| 5 | Eric Baldwin | 371 points |
| 6 | Daniel Negreanu | 355 points |
| 7 | Steve "Chops" Preiss | 294 points |
| 8 | Gary Wise | 262 points |
| 9 | Chad Holloway | 256 points |
| 10 | Bernard Lee | 212 points |
It became apparent early this WSOP that things weren't going to go my way. The other teams had such players as Phil Hellmuth, David "Bakes" Baker, David "ODB" Baker, and John Monnette, all of whom were busy capturing bracelets. In fact, six of the ten teams ended up with bracelet winners on their roster, but mine was not one of them.
I won't lie. Watching my competitors earn heaps of points was tough. I tried to switch things up by dropping Yevgeniy Timoshenko and adding Andy Frankenberger — after his bracelet win unfortunately — but it didn't provide the spark I needed. By the last week of June, my fantasy poker hopes vanished faster than Eskimo Clark's bankroll, and all I was left with was some some tough lessons learned.
Here are just a few of the things I realized while agonizing through the 2012 ESPN Fantasy Poker League:
1.) Don't Underestimate Phil Ivey: Last year, I was graced with the second overall pick, and after an inexperienced Dwyte Pilgrim picked Eric Baldwin with the first pick overall, I snatched up the one and only Phil Ivey. It was a no-brainer at the time, but I was soon left regretting the pick after Ivey announced he would be skipping the 2011 WSOP in the wake of Black Friday.
That put me between a rock and a hard place because that announcement wasn't made until a couple weeks into play. Our league only allows one drop/add-on, so I ended up dropping Ivey after all hope of a return was gone and picked up Steve Billirakis in his place. While the latter earned me 80 points, it proved too little too late, and I finished the league in seventh place.
Granted, I didn't have the opportunity to pick Ivey in this year's draft because he was selected by Brikis second overall and my first pick wasn't until number three, but even if he'd fallen to me I wouldn't have selected him. My experience with Ivey in 2011 hurt, and I was bitter. I thought, or perhaps hoped, that there was no way he could return after taking a year off from the WSOP and find success. I was wrong. Ivey made an amazing five final tables, earned more points (245) than any other player selected, and proved he is a true fantasy stud.
Lesson Learned: Take Phil Ivey if and when you have the chance.
2.) Trust Your Horses: My selection of Andy Frankenberger in the third round last year drew some heavy criticism. Although I'll admit I reached for him in the third round, the criticisms subsided considerably when the Season IX World Poker Tour Player of the Year captured his first gold bracelet in 2011. He ended up being my top scorer that year and more than proved his fantasy poker worth.
For whatever reason, be it either limited roster spots or my naïve belief that he couldn't repeat that success, I passed on Frankenberger in this year's draft, as did everyone else. Shortly afterward, Frankenberger contacted me and basically said, "What's up with that?" I felt bad, promised to select him in another league, and left it at that. As if that weren't enough, Frankenberger went on to make me regret passing on him in the ESPN league by winning his second bracelet in as many years.
Lesson Learned: Don't listen to the naysayers, and trust your gut. More importantly, trust the players who have brought you success.
3.) Big Names Don't Always Equal Big Numbers: One of the most important things to do in fantasy poker is to select players who will be playing a large number of events. In 2011, no one played more events than Tom "durrrr" Dwan, who knocked off 54 of the 58 bracelets events he was eligible to enter (no Seniors, Casino Employees or Ladies event).
That stat alone made him worthy of an early pick, so no one was critical when Wise took him in the second round sixteenth overall; in fact, had he fallen just two more spots, I'd have happily taken him. Surprisingly, the pick burned Wise as Dwan skipped the vast majority of the WSOP and didn't earn a single fantasy point, one of only three players selected to do so — Ben Lamb and Phil Galfond were the others.
Here's a fun chart put together by Feldman in his league recap on ESPN that takes a round-by-round look at this year's studs and duds:
Scoring By Round
| Round | Points | Highest Scorer (points) | Lowest Scorer (points) |
| --- | --- | --- | --- |
| 1 | 840 points | Ivey – 245 | Steve Billirakis - 10 |
| 2 | 519 points | Hellmuth – 205 | Dwan - 0 |
| 3 | 226 points | Justin Smith – 54 | Lamb - 0 |
| 4 | 534 points | Schulman – 142 | Galfond - 0 |
| 5 | 543 points | Monnette – 202 | O'Dwyer - 1 |
| 6 | 236 points | Marco Johnson – 59 | Vitaly Lunkin - 5 |
| 7 | 482 points | Vanessa Selbst – 129 | Allen Kessler - 7 |
| 8 | 349 points | Brian Hastings – 128 | Carlos Mortensen – 3 |
Lesson Learned: Be careful which big-name players you choose, and don't underestimate the value you can find in later rounds.
4.) Balance is Best: Looking over my team, with the benefit of hindsight, I realize my roster lacks balance. Instead of selecting a wide variety of players, I chose players cut from the same cloth. For example, Daniel Alaei, Matt Glantz, Josh Arieh and David Bach are all veteran mixed-game players, but each ran the risk of missing tournaments for juicy cash games.
I don't think they were bad picks, but I should have balanced them out with other types of players such as former Player of the Year contenders, past world champs, and those who were looking to prove themselves on poker's biggest stage.
That's exactly what Feldman did with his team, and needless to say it worked wonders:
Team Andrew Feldman
| Round | Overall | Pick |
| --- | --- | --- |
| 1 | 9 | Erik Seidel |
| 2 | 12 | Phil Hellmuth |
| 3 | 29 | Ben Lamb |
| 4 | 32 | Nick Schulman |
| 5 | 49 | David "ODB" Baker |
| 6 | 52 | Viktor "Isildur1" Blom |
| 7 | 69 | Chris Bjorin |
| 8 | 72 | Carlos Mortesnen |
Granted, neither the Ben Lamb nor Carlos Mortensen picks did much for Feldman, but the rest did. Kudos to him for snagging stars like David "ODB" Baker and Chris Bjorin in the latter rounds, both of whom will no doubt go in the early rounds next year. Likewise, adding two former world champs, the ever consistent Erik Seidel, and wunderkinds Viktor "Isildur1" Blom and Nick Schulman proved tremendously fruitful. It's a solid team and well-deserving of the title.
Lesson Learned: Balance your team with a mix of old-school pros, young guns, Internet and live pros. The more variety the better.
For a more complete look at this year's ESPN Fantasy Poker League results, have a look at Feldman's recap on ESPN Poker.
Get all the latest PokerNews updates on your social media outlets. Follow us on Twitter and like us on Facebook now!