PokerStars, Full Tilt Poker Settlement: Industry Reactions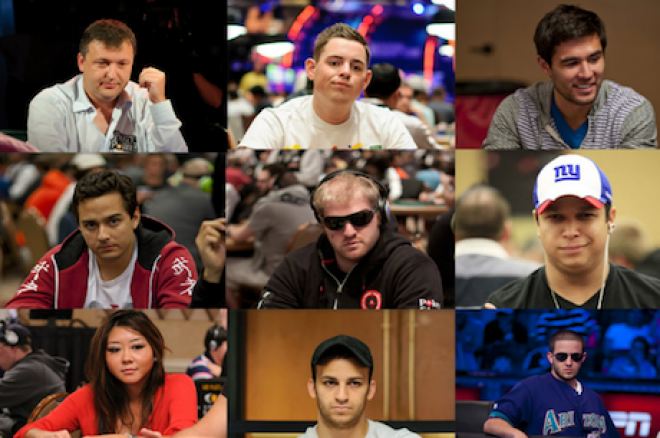 On Tuesday, it was announced that PokerStars reached an agreement with the U.S. Department of Justice to acquire the assets of Full Tilt Poker. A flood of initial reactions appeared on Twitter, but PokerNews contacted a number of poker pros to get their reactions after the news had a chance to settle in.
Tony G -- "I am really excited a deal is finally done to get the players paid first and foremost, and thankful that the guys at PokerStars did the right thing and stepped up to make this happen. It's great to put this terrible chapter to rest and those who were involved with FTP will no longer be a part of any future dealings. PokerNews.com will strive to ensure it gets into talks with the new FTP management ASAP to provide PokerNews players, and readers with the kind of value they've come to expect from our company over the years."
PokerNews CEO Robbie Davies -- "My thoughts are solely with all of the players who have had their funds locked up for so long. It is very disconcerting what many of our friends, as well as the poker community have had to go through. Thankfully we can see some hope with the future.
"This is a sober reminder to all. I urge players to avoid unregulated and unlicensed poker rooms and to stick to the big reputable sites for a fun and safe experience.
"I feel a very compelling reaction of inspiration. It is galvanizing to see the commitment the Scheinberg family exhibits toward the positive advancement of poker. I would like to wish all the best to everyone at PokerStars and FTP who are taking on this re-building project."
2012 World Series of Poker October Niner Greg Merson -- "I'm super happy for everyone in the community. The poker world has been through so much the last 16 months and deserves this type of news!"
JC Alvarado -- "Personally, I don't think this is something we should really be celebrating. It's just a relief that we finally got our money back. That's all this is. The fact that we have been paid back doesn't negate the fact that a lot of us weren't able to generate income for the past year. We should never forget that we still got screwed by a system that can decide to make it illegal for people to play a game they enjoy and by people so greedy that they can steal directly from the pockets of their own customers for years without anyone knowing about it.
"Even though our 'jobs' depend on online poker, I hope we can all work together to make sure something similar doesn't happen again (as I suspect it will). I think we should proceed with caution. That said I'm very thankful that there were people out there fighting the good fight and helping us get our money back. Occupy Poker. All day."
Why do you believe something similar will happen again?
"Well, companies like Lock Poker still exist, for one. But really, we still have to come to grips with the fact that the poker world operates very differently than most businesses. It's still fairly unregulated and is still in somewhat of a legal grey area in a lot of countries. When a semi-illegal business runs on insane amounts of other people's money (and trust) and that business can be operated by one person from inside their own living room and still remain relatively unchecked, that's just a recipe for fraud and theft, in my opinion. Add to that the fact that poker players are often naive, forgetful, and driven by their own self interest and it doubles that risk.
"All you have to do is look at how poker players continued to deposit money on UB/AP and gave them a second chance after the super user scandal just because the games got softer, and you can see how willing we are as a community to let people get away with anything they want. It's dangerous. It's sort of a weird combination of cut-throat capitalism and poorly structured anarchy, and it clearly isn't working out too well."
Felipe Ramos -- "Every poker player got really injured here, especially FTP Pros, as I was one and deeply involved in all of this. Very nice that PokerStars and DOJ worked this agreement. PokerStars has always treated the players as they should be and this is no news for me. DOJ is doing its job, which is great. All I want to see is our activity full regulated.
"I am just wondering now if PokerStars will fully honor contracts, as besides FTP money laying on my account, there was an agreement as a Pro. I was damaged, financially and more than that as our image was attached to the brand for too much time."
Toby Lewis -- "It can only be good news IMO. A lot of friends, and myself, have money locked up that we weren't convinced was ever coming back so that's very positive now and the fact that PokerStars are going to keep the companies separate will hopefully mean for more money available to win online. Hopefully one day online will be allowed back in the U.S. but i think that it will probably be kept internal when it does unfortunately."
Matt Vengrin -- "It's a step in the right direction towards legalization I think."
Galen Hall -- "Like everyone, I'm pretty excited about the news. I actually didn't have much on FTP, but a lot of my closest friends had huge sums ($350k+) on there, and for them to get it back makes me really happy.
"What you're essentially gonna see is over a hundred million dumped right back into the poker economy, especially if the FTP --> Stars transfer is completed. Hopefully this means that marketplace action will pick back up, bigger games will run again, tournament fields will increase, etc.
"Probably the most exciting thing for me is that this is a strong indication that the U.S. market is opening up within the next 24 months. I pay close attention like many, but Stars has better info than any common person could ever hope to have, so if they look like they seem quite confident about it, then that's pretty significant.
"Customer loyalty and trustworthiness are really important in real money online gaming, and Stars has now put themselves so far ahead of the closest competition that I doubt any existing competitor can touch them. It's going to be really interesting to see a Stars v Zynga battle in the (hopefully) near future, which pits Stars' superior support/technology/software/loyalty of grinders vs. Zynga's massive unique casual player base."
Sorel Mizzi -- "I don't have a unique or well thought out answer for that, but I think it will affect everyone positively and will bring more money back into the poker economy and restore more faith in online gaming."
Maria Ho -- "Although I personally didn't have much money stuck on Tilt, I am so ecstatic for all the people in the poker community that had to suffer the devastating effects Black Friday had to their bankroll and livelihood as a result of the gross mishandling of their money. This is definitely great news and I think we will soon start to see the positive ripple effects the returning of players money will have for the poker economy as a whole.
"Stars has continued to show that they are dedicated to upholding the highest of standards with how they conduct business at a time where our industry can really benefit from the kind of positive example they have set and continue to set. As for what this means regarding the future of online poker in the U.S., this news should increase our optimism and hope but only time will tell."
Terrence Chan -- "Guess it's similar to everyone else's. It's a great day for the game. For me, I had a good amount of money tied up in there, but not a life-changing amount. I know others did have amounts they desperately needed, though. It's great news all around and I would expect a small renaissance in the quality of online poker games and hopefully increased turnouts in some of the major live events too once money is refunded."
Eric Froehlich -- "It's great news. Anything that puts more money into the poker economy is always a good thing. People having so much money locked up for so long online directly leads to decreased numbers at WPTs and WSOP events. The sooner we can actually get online poker regulated and back online and available for American players, the sooner the poker industry will start to return to the high levels it was at a few years back."
Melanie Weisner -- "I think it's fabulous news for the players and really helps set the stage for legislation in the states. It looks like it's going to be a lengthy process for the return of U.S. funds but it brings a concrete plan of repayment and gives U.S. players a lot to look forward to with the development of the future poker economy."
Faraz Jaka -- "Extremely happy this deal has gone through for myself and all my other friends in the industry who were affected by it.
"I think poker players have gotten accustomed to be a little careless with their money and also with protecting themselves when dealing with staking and loan agreements. When It became knowledge that there is a chance we might not get any of our full tilt money back the only good thing that came from it was that it taught people a pretty serious lesson in terms of managing their money and personal/business agreements.
"It's a win-win situation since the scare was serious enough to get that lesson across but still allow all of us to still get our hard earned money. Having to deal with money in other players accounts from loans or staking agreements is going to be tricky for U.S. players who have to file a petition with the DOJ to get their money back. This will only further the point in players heads to think twice about all of the scenarios that our outside of their control that can affect our careers, and our piggy banks!"
Anonymous Poker Pro from Australia -- "The first week/fortnight that FTP is back is going to be so amazing as so many people will be treating their recovered sums as "wins" of sorts and those who don't withdraw will be gambling it up and playing stakes/tourneys they probably shouldn't. Add to that those who have had small amounts tied up for so long just punting it off all in unison and it's going to be an amazing time for the regs who don't go berserk.
"The mid-stakes regs won't have to put up with as many high-stakes regs in their tourneys as the high-stakes guys will have FTP to spend on now and won't need to fill up their screens with mid-stakes stuff.
"All the other sites will likely run big promos to coincide with so much new money instantly being in the economy; a significant amount held will be withdrawn quickly but not all of that's going to make it to people's pockets.
"Talk of the possibility to transfer funds between PS and FTP in the future pretty much sews up their overwhelming monopoly (if this didn't already), and that is just one of the hugely advantageous synergies players can expect: improved tournament scheduling, greatly improved customer support, and the possibility for a unified VIP Rewards program are also going to be huge for players."
What are your thoughts on Tuesday's developments? Let us know in the comment section below, and as always, follow PokerNews on Twitter for up-to-the-minute news.