Blair Hinkle Discusses Return of $1 Million Trapped on Full Tilt Poker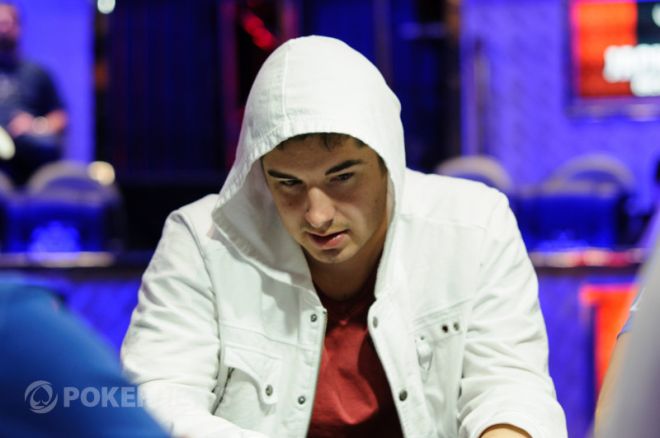 Imagine waking up in the morning to discover that you're a millionaire. That's a feeling poker pro Blair Hinkle experienced on Tuesday after PokerStars completed a deal to purchase the assets of Full Tilt Poker.
Hinkle's story has been covered at length since last year. Two months before Black Friday, Hinkle chopped the Full Tilt Poker Online Poker Series (FTOPS) XIX Main Event for $1,162,950. But despite his best efforts, he was unable to withdraw a single penny from his account before the U.S. Department of Justice seized Full Tilt Poker on April 15, 2011. Seven figures frozen online with no indication he would ever see it again.
After more than a year of waiting and wondering, Hinkle and the rest of the poker world learned the good news on Tuesday that all Full Tilt Poker players would be repaid. PokerNews talked with Hinkle about his reaction to the news and where he goes from here.
Thanks to your brother's real-time video, we know you had been sleeping before you were awakened to hear the news that Full Tilt Poker players would be repaid. Now that you've had time to truly wake up and let the news sink in, how are you feeling?
I don't know that it has completely hit me just yet. When I was driving to get lunch after I heard the news I was pretty emotional, but I have calmed down since. I think keeping busy with these interviews is making it easy to not get overwhelmed.
This entire process has been a roller-coaster ride. With the rumors and speculation dragging on for months, did you ever give up on the hope of the possibility that you'd receive any of your money?
I tried my best not to let the rumors affect me one way or another. I did keep up with the news, but I didn't want it to take over my life. There were a few times where I thought I wouldn't see much, if any, of the money. That was pretty rough for me, but then Groupe Bernard Tapie came along and kept hopes alive.
What were your thoughts after the Groupe Bernard Tapie deal fell through?
The more I learned about the deal that Tapie was trying to do, the more happy I was to find out that they were not actually going to buy Full Tilt. It made a lot more sense in my mind for PokerStars to end up getting a deal done than Tapie.
You told us in April that even getting 10 percent of your money back would be a pretty great score. You must feel like you're freerolling right now. Any plans for what you're going to do with the money that you get back?
Pay lots of taxes. Besides that I will probably get a car that drives better in the snow for the winters here in Kansas City. Along with that I would like to find a house now. That has probably been the hardest thing about this process. I never knew if I should buy a house or how much I could spend. I am very glad I now know just how much I can spend on things.
Did you ever consider quitting poker after the debacle at Full Tilt?
I never considered quitting completely, although I did consider going back to school to become a teacher. That would be a pretty good job to have considering you have summers off for the WSOP. I think I will probably still work toward that, and now thankfully I won't be taking out student loans.
What kept you motivated to grind the live tournament circuit?
I love playing live poker. Meeting different people with interesting stories makes the game very fun for me. I am also a very competitive person, so the drive to outplay my opponents and win poker tournaments makes it very easy to play the live tournament circuit. I don't really consider it a grind.
How often did you think about the $1 million you had stuck online?
I would say it would cross through my mind about every week. I tried not to think about it too much, but it seemed to find its way into conversations pretty often, so I learned to deal with it.
How has your family supported you throughout the entire ordeal?
My family and friends have been great. They all stayed positive and helped me not get too down on myself. I don't think I can thank them enough for all of the support through this difficult time.
PokerStars says it plans to relaunch FTP in the U.S. When the time comes, will you feel comfortable playing on FTP after everything that's happened?
I would be very excited if they can come back to the U.S. With as well run as PokerStars is, I would have no problem playing on their sites.
Now with the prospect of online poker returning to the U.S, how much — if any — does that change the life you've been accustomed to living the last 16 months?
It would be a great change to my life. I wasn't a high-volume player before, but now that I haven't been able to play any online poker, I really miss it. I enjoy live poker more, but online gave me a chance to hone my game before big live series such as the WSOP. I really hope that online poker comes sooner rather than later.
On a final note, I just wanted to give a big thanks to PokerStars for saving all of us who had money stuck on Full Tilt. I would also like to say thanks for all of the kind words people have been sending my way via Twitter and Facebook.
For more on Hinkle's story, be sure to check out Tuesday's PokerNews Podcast. For news, updates, and more follow PokerNews on Twitter and Facebook.