The Weekly Turbo: PokerStars Acquires Full Tilt Poker, Ryan Young Passes Away, and More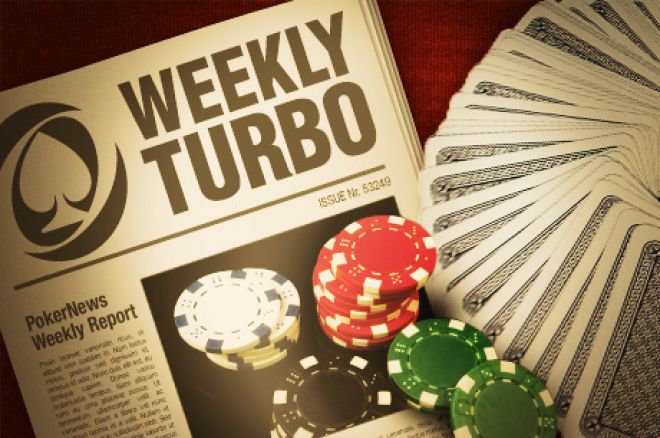 Did you miss any of the top poker news stories this week? Well you've come to the right place to get caught up. We're covering PokerStars' acquisition of Full Tilt Poker, the shocking death of poker pro Ryan Young, and more.
Poker Business
PokerStars Acquires Full Tilt Poker Assets
After months of negotiations with the U.S. Department of Justice, PokerStars has completed the purchase of Full Tilt Poker.
On Tuesday, the U.S. Attorney's office approved a deal allowing Full Tilt Poker to forfeit all of its assets to PokerStars. In return, PokerStars will forfeit $547 million to the U.S. government over the next three years. Once the transfer of assets is finalized, PokerStars will make available all outstanding balances owing to all non-U.S. customers of Full Tilt Poker — an amount totaling $184 million — within 90 days. U.S. players, owed approximately $150 million, will be refunded separately through a remission process organized by the DOJ.
According to a press release issued by PokerStars, the company plans to re-launch Full Tilt Poker in most markets as a separate brand, following the appointment of a "new, independent management team." In addition, the agreement allows the company to operate real-money online poker in the U.S. under both PokerStars and Full Tilt Poker brands once the activity is legalized at a state or federal level and PokerStars receives the proper licenses.
For the full story, check out PokerNews.com.
Another Win for the DOJ
Nelson Burtnick, former director of payments for Full Tilt Poker, was arrested on Tuesday after arriving in New Jersey from his home in Dublin.
Burtnick was one of the 11 defendants in the civil indictment issued by the Department of Justice on April 15, 2011. He surrendered to authorities Tuesday and pleaded not guilty to charges of money laundering and bank fraud in connection with the illegal activities conducted at Full Tilt Poker. Like his former colleague Ray Bitar, Burtnick posted bail and was released.
The news of Burtnick's arrest was overshadowed by the deal between PokerStars and the DOJ on Tuesday. PokerStars forfeited $547 million to acquire all of Full Tilt Poker's assets and help clean up the mess created by Burtnick, Bitar and others at FTP. It will pay another $184 million to all non-U.S. FTP customers within 90 days of the close of the deal.
Read more about Burtnick right here at PokerNews.com.
Praying for a Bad Beat
A record-setting Bad Beat Jackpot is currently up for grabs at the collective Caesars Entertainment properties in Atlantic City. As of Saturday the jackpot was sitting at $730,540, pooled from the Caesars Atlantic City, Bally's Atlantic City, Harrah's Resort Atlantic City, and Showboat Atlantic City properties. The previous record was $672,115.
"This record Atlantic City Bad Beat Jackpot has generated a buzz like nothing else in our Caesars Entertainment poker rooms," said Don Marrandino, eastern division president for Caesars Entertainment Atlantic City. "Players are lining up each and every day for a chance at this life changing amount."
The Bad Beat Jackpot in Caesars' Atlantic City properties has gone untouched since March 1, 2012, when a winning table shared $281,000. When the jackpot is won, it will be split among everyone playing in all four card rooms, with the loser of the hand getting 30 percent and the winner receiving 20 percent.
For more on the Bad Beat Jackpot, visit Harrahs.com.
Poker Players
Far Too Young
Poker pro Ryan Young of Torrance, Calif., passed away on Monday, according to many of his close friends in the poker community. Young was 28.
Details of Young's death are limited, but several sources close to Young said he died in a car accident. Young was beloved by many of his peers in the poker community, several of whom shared their thoughts via social media on Monday.
"So incredibly torn up about Ryan Young's car accident," said Amit Makhija. "Was in disbelief when I read the news this morning was praying it was a bad joke. I was quite close to him for many years, and it's really so sad, he was definitely an amazing friend, and a great person. My heart and prayers go out to his family."
"Very sad day," Bryn Kenney wrote on his own Facebook page. "A good friend of mine Ryan Young passed away. He was such a good hearted kid. You will be missed, I love you buddy."
"This is such a shock," David Benefield wrote on Young's Facebook wall. "You were a great friend, an awesome person, and a damn good poker player. I have known you for as long as I have known almost anyone in the poker world, and I will miss you dearly."
Even those who didn't know Young well had wonderful things to say about him.
"We only met a few times, but I can echo the thoughts of so many others — poker, and the rest of the world, needs more truly nice guys like you," said poker pro Jon Turner.
On Saturday, Young's mother contacted Daniel Negreanu to post a short message on his blog from her and the Young family:
Ryan Young, family, and I would like to thank all the kind words and gestures that were posted on Facebook, Twitter, and the poker media. It has meant so much to our family to hear that he was so respected and loved by so many. We are confident that Ryan is in a better place now. He is continuing to infect people with his one of a kind smile, and his positive attitude, just as he did in this world. Thanks again for your compassion, support, and kindness. Sincerely, Lois, Ryan's mom, Robbie and Randall, Ryan's brothers.
Young burst onto the live poker scene in 2007 when he won his first World Series of Poker bracelet in a $1,500 no-limit hold'em event for $615,955. He amassed more than $1.6 million in live tournament cashes in his short career. Young was also a feared player on the virtual felts, where he played high-stakes sit-and-gos and tournaments under the name "youngluck."
Our deepest condolences go out to Young's family and friends.
Stiffing The Grinder
When Michael "The Grinder Mizrachi was at the final table of the $50,000 Poker Players Championship in June, he had more on the line than the $1,451,527 top prize.
Before the start of the World Series of Poker, Mizrachi was offered 5-to-1 odds on $20,000 by Giorgio Medici that he wouldn't win a bracelet in 2012. As you probably know, Mizrachi went on to win the Poker Players Championship (for the second time in three years). But when it was time to collect his $100,000 from the prop bet, Medici said he couldn't pay.
Apparently, Medici filed for Chapter 7 bankruptcy on July 6, claiming $36.2 million in liabilities. On page 25 of the bankruptcy filing, Medici listed his debt to Mizrachi under "unsecured nonpriority claims."
Mizrachi was steaming about the bet on social media outlets last month. His main reason for coming forward about the bet was to warn others. "I don't want this to happen to anybody else," he posted on Twitter.
Mizrachi recently spoke with the South Florida Sun-Sentinel about the situation. Click on the link for more info.
Paying Off Debts
Team PokerStars Pro Barry Greenstein says he intends to repay the $400,000 he borrowed from Full Tilt Poker a few years ago.
Greenstein's debt to Full Tilt Poker was made public by Groupe Bernard Tapie in February. According to GBT attorney Behnam Dayanim, Greenstein and several other high-profile pros borrowed a combined $18 million from the embattled poker room before it was shut down on Black Friday. The debts were discovered while GBT was investigating Full Tilt's financial situation before purchasing the company.
Now that PokerStars has acquired the assets of its former rival, the community is asking questions about the debts of the high-stakes players.
"I was always going to have to pay whoever owned Full Tilt," Greenstein said in a thread at TwoPlusTwo.com this week. "Clearly, PokerStars will own Full Tilt in a few days or a little longer, and finally I will know who to pay. I'm curious if they will try to collect from anyone else."
Others involved in the alleged FTP loans include Phil Ivey, Mike Matusow, Erick Lindgren and David Benyamine. While the exact debts of each player haven't been made public, an Excel spreadsheet created by Full Tilt Poker CEO Ray Bitar has been given to PokerStars. The spreadsheet breaks down the amounts owed by each player, according to sources who have seen the document.
Read more on Greenstein at TwoPlusTwo.com.
Poker Tournaments
Raymer Back in the Winner's Circle
Greg "Fossilman" Raymer has added a Heartland Poker Tour trophy to his World Series of Poker bracelet.
On Monday, Raymer won the $1,500 HPT Route 66 championship event for $71,875. Raymer bested a field of 131 players in the tournament, which fell short of its $250,000 guaranteed prize pool by $53,500. It marked Raymer's first victory in a televised event since he won the WSOP Main Event in 2004 for $5 million.
Heartfelt thx to everyone for the many kind tweets and texts. Super pumped to have won another TV event. @HPTPoker @RT66CasinoHotel

— Greg Raymer (@FossilMan)
Others taking part in the event at the Route 66 Casino were Kathey Liebert, Allen Kessler, and former HPT champs Craig Casino, John Sacha, and Rob "veeRob" Perelman. Raymer's victory came in the 200th HPT event.
Here's a look at the final table results from the Heartland Poker Tour Route 66 championship event:
| Place | Player | Prize |
| --- | --- | --- |
| 1 | Greg Raymer | $71,875 |
| 2 | Robert Crawford | $42,500 |
| 3 | Scott Dougherty | $26,875 |
| 4 | Benjie Benaviden | $21,550 |
| 5 | Steven Carruthers | $16,250 |
| 6 | Matt Wakeman | $14,375 |
| 7 | John Bechard | $11,875 |
| 8 | Alberto Herrera | $10,625 |
| 9 | Julian Melancon | $9,375 |
For more details from the event, check out the Heartland Poker Tour website.
Prague Poker Festival
The schedule for the 2012 Prague Poker Festival has been released. The festival kicks off on Nov. 27 with the World Sit 'N' Go Masters and will be followed by events from the World Poker Tour, European Poker Tour, and Grand Series of Poker (GSOP), all of which will be played at Corinthia Hotel and Casino in Prague.
In addition to the poker tournaments, event organizers Living it Loving it and Mind Sports (International) Ltd. will launch the inaugural Prague Mind Sports Festival from Dec. 1 through 4. Poker players will have the opportunity to compete in games such as Backgammon, Scrabble, Risk and Counter-Strike: Global Offensive in an exciting tournament format.
Here's a look at the preliminary schedule for the Prague Poker Festival:
| Date | Event | Buy-in |
| --- | --- | --- |
| Nov. 27-30 | World Sit 'N' Go Masters | €2,200 |
| Dec. 1-2 | 888 Bounty | €888 |
| Dec. 3-9 | World Poker Tour Main Event | €3,300 |
| Dec. 7-8 | Kings High Roller | €20,000 |
| Dec. 8-9 | Win365 Bounty | €440 |
| Dec. 9-14 | European Poker Tour Main Event | €5,300 |
| Dec. 12-15 | GSOP Live Main Event | €1,100 |
For a complete look at all of the events, check out PraguePokerFestival.com.
Online Poker
Nevada's Online Poker Race
South Point Poker is scheduled to meet with the Nevada Gaming Control Board next week to discuss recommendation for an operating license in Nevada. If approved, South Point will seek final license approval from the Nevada Gaming Commission and possibly become the first operator to offer legalized and regulated real-money online poker in the U.S.
South Point's hearing with the NGCB is set for Aug. 8 in Carson City. Monarch Interactive, another one of the 30-plus companies that have applied for online poker licensing in Nevada, will meet with the NGCB on the same day.
South Point CEO Mark Gaughan told eGaming Review last month that his real-money online poker site would be ready to launch as early as September. Gaughan says his gaming platform has already been approved by an independent testing laboratory, meaning it can go live as soon as it is licensed to do so. South Point currently offers a free-to-play site at SouthPointPoker.com, but Gaughan says the real-money site will have brand new software.
Slot machine suppliers IGT and Bally Technologies were the first companies to receive licenses to act as service providers for Internet poker operators, but it could take up to six months for their technology to be tested by the board and the state.
Read more about the NGCB hearing at gaming.nv.gov.
Ultimate Beat
The cheating scandal that occurred on Ultimate Bet and Absolute Poker between 2004 and 2008 is arguably the worst case of fraud the online gaming industry has ever seen. Years later, though, many in the community are still left wondering what exactly happened behind the scenes.
Enter Scott Bell. A former poker pro who was affected by the cheating incidents, Bell has since spent years investigating the real story behind the scandal. Now, he's set to release a documentary, appropriately titled Ultimate Beat. Here's a sneak peak that was released on Thursday:
Bell and production company DoubleHead Pictures are still shooting interviews for the film, so if you have an interesting story involving the scandal be sure to contact the team at doubleheadpictures.com.
Get all the latest PokerNews updates on your social media outlets. Follow us on Twitter and like us on Facebook today!