World Poker Tour on FSN: Shawn Cunix Wins Jacksonville BestBet Open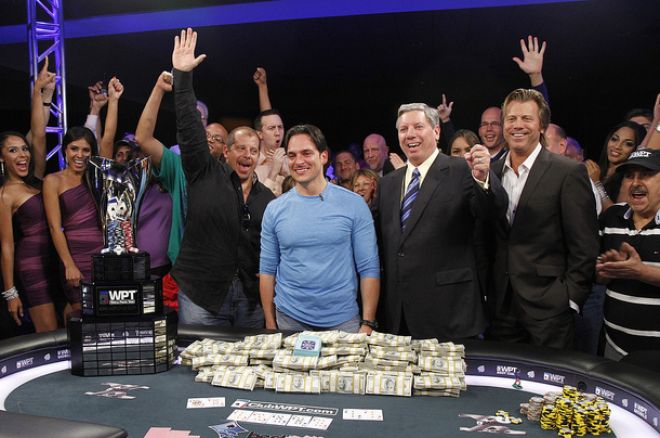 On Sunday night, the World Poker Tour Season X continued on Fox Sports Network with the conclusion of the inaugural Jacksonville BestBet Open, which originally took place from April 27 through May 2, 2012 and attracted 320 players.
In Part I, the early stages of the tournament were highlighted. Last week's recap of Part II feature three eliminations: Will "The Thrill" Failla (6th - $54,704), who retook the WPT Player of the Year lead; host of the WPT's Raw Deal, Tony Dunst (5th - $66,532); and WPT Borgata Poker Open third-place finisher Daniel Buzgon (4th - $94,624).
Here's how things stacked up at the start of the broadcast:
WPT Season X Jacksonville BestBet Open Final Table
| Seat | Player | Chips |
| --- | --- | --- |
| 1 | James Calderaro | 4,865,000 |
| 2 | -empty- | N/A |
| 3 | -empty- | N/A |
| 4 | -empty- | N/A |
| 5 | Shawn Cunix | 2,720,000 |
| 6 | Darren Elias | 1,995,000 |
Goodbye Marianela: Prior to the start of action, WPT commentator Mike Sexton thanked Marianela Pereyra, who was working her last stop after filling in for Kimberly Lansing. "I just want to say, from both Vince and I, how much we've enjoyed working with you, you're a real pro, and truly it's been an honor to work with you. We hope to see you again soon."
What Are the Royal Flush Girls Good At?: The WPT answered that question this week with a brief segment featuring Angelique of the Royal Flush Girls (RFGs). She explained what the RFGs were up to in Jacksonville, including golfing, RFG Britney winning at the dog races, surfing, and of course Angelique winning a poker tournament against James Dempsey. "We had an amazing time here in Jacksonville, and I look forward to coming here next year," Angelique concluded.
The Buckeyes Can Suck Out Too: With the blinds at 30,000/60,000 and a 10,000 ante, Darren Elias raised to 125,000 from the button with
. Shawn Cunix, the Ohio State Buckeye who began the final table as the chip leader but was now on the short stack, opted to three-bet to 500,000 from the big blind with
. Elias thought for a brief moment before moving all in, and Cunix snap-called off for 1.48 million total. "Hearts," Cunix yelled. Wouldn't you know it, the
flop delivered two. "That helps," Cunix chirped. Although that was true, the
turn did not. "Yeah," Cunix erupted when
spiked on the river. "Wow, the Buckeyes can suck out too, baby!"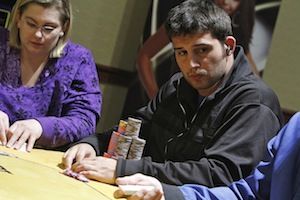 Paid to Talk: "I was always the talker back in school, and I was scolded for talking, but now I get paid to talk from time to time," William Reynolds said in a new edition of Ones to Watch which explained how he and Dan O'Brien often helped commentate on the WPT live stream alongside Tony Dunst.
"Some of the best moments are when people are just playing awful poker, and I can just sit there talking about how badly they're playing," O'Brien said of his emceeing duties. "I think to be a good commentator you have to be honest and just speak your mind."
Elias Races for Tournament Life: On what would be Hand #109 of the final table, Darren Elias raised to 150,000 from the small blind holding
only to have James Calderaro three-bet to 375,000 from the big with
. Elias responded by moving all in for 1.73 million and Calderaro made a quick call.
It was a classic flip, but Elias needed to improve if he wanted to keep his Jacksonville BestBet Open hopes alive. The
flop was about as dry as it could come, and the
turn left Elias in need of either an ace or king on the river to stay alive. The dealer burned one last time and put out the
. Elias shook hands with the two remaining players and exited in third place, good for $147,850.
"It's unfortunate," Elias told Matt Savage in his post-elimination interview. "Those last hands sort of played themselves, so it's part of the game. Those hurt."
Heads-Up Play: James Calderaro began heads-up play with 5,610,000 (93 big blinds) to Shawn Cunix's 3,970,000 (66 big blinds). "If you had asked me going into the final table who was going to get heads up, I wouldn't have picked Shawn and James," fifth-place finisher Tony Dunst said in the latest edition of The Raw Deal.
Even though that may have been the case, it was the two businessmen at the start of the final table who outlasted four pros to battle for the title. In celebration, both Calderaro and Cunix took a shot of what appeared to be tequila before kicking things off. In the first hand, Calderaro opened for 180,000 with
and Cunix simply mucked his
.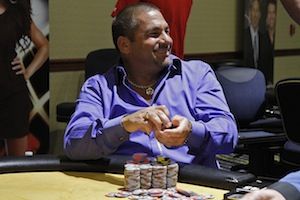 The heads-up match lasted 45 hands, most of which were fairly uneventful. In one hand, Calderaro raised to 275,000 from the small blind with
and was called by the superior
of Cunix. The
flop saw both players check, while the
paired both players. Cunix check-called a bet of 300,000, the
peeled off on the river, and again Cunix check-called a bet, this time 650,000. Calderaro confidently rolled over his hand but soon discovered he had kicker problems. "King ten baby, whoooooooo," Cunix said in celebration. "I pissed my pants on that one."
Cunix had been blabbering throughout the final table, and though it seemed to grate on some players, Calderaro took it in stride. With that hand, Cunix pulled out to an 8.26 million to 1.32 million chip lead.
In the very next hand, with the blinds at 50,000/100,000, Calderaro moved all in for 1.31 million with
and Cunix folded
face up. One hand after that, Cunix picked up pocket threes again and moved all in, prompting Calderaro to call off with
.
The
flop was disaster for Calderaro as Cunix had spiked a set. The latter bellowed like a kid in a candy store, but the
turn did give Calderaro a gut-shot straight draw. Unfortunately for him, the
river did not complete it. Calderaro was eliminated on Hand #154 of the final table in second place for $236,560, while Cunix captured the Jacksonville BestBet Open title and accompanying $400,600 first-place prize.
"Thank you very much for everything, it's very humbling," Cunix told Mike Sexton through tears in his winner's interview.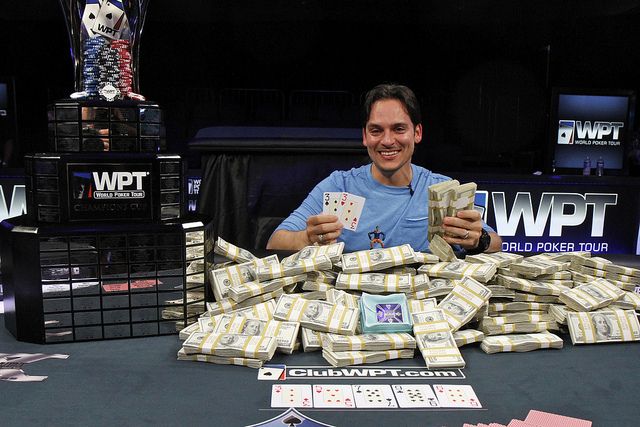 Tune in Next Week: The WPT World Championship Super High Roller is set to air on Sunday, Sept. 16, on FSN, so be sure to check your local listings. If by chance you miss it, check back next week for the latest recap of all the action here on PokerNews.
Get all the latest PokerNews updates on your social media outlets. Follow us on Twitter and like us on Facebook now!
*Pictures courtesy of World Poker Tour.