World Poker Tour on FSN: Some Thrills and a Raw Deal at the Jacksonville BestBet Open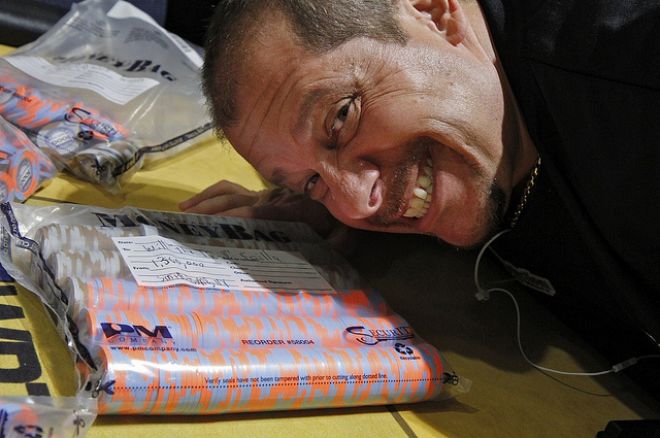 The World Poker Tour Season X continued Sunday night on Fox Sports Network with Part II of the inaugural Jacksonville BestBet Open, which took place from April 27 through May 2, 2012. The $5,000 buy-in tournament attracted 320 players, creating a $1,504,000 prize pool, but just six remained at the top of the broadcast.
Recapping Part I: Last week in our recap of Part I, we highlighted the early stages of the tournament and the action that led up to the final table. That included Will "The Thrill" Failla making the final table and retaking the Player of the Year lead from Joe Serock, who had taken it the week prior in the Seminole Hard Rock Showdown finale; as well as Tony Dunst's run to the final table.
Here's how things stacked up at the start of the broadcast:
WPT Season X Jacksonville BestBet Open Final Table
| Seat | Player | Chips |
| --- | --- | --- |
| 1 | James Calderaro | 2,357,000 |
| 2 | Daniel Buzgon | 960,000 |
| 3 | Will Failla | 460,000 |
| 4 | Tony Dunst | 505,000 |
| 5 | Shawn Cunix | 4,300,000 |
| 6 | Darren Elias | 980,000 |
Not so Much of a Thrill: In the very first hand of the episode, with the blinds at 20,000/40,000 and a 5,000 ante, Shawn Cunix opened for 100,000 with
from early position. Action folded around to Will "The Thrill" Failla in the big blind and he defended with the
, making him a 69 percent favorite. The
flop was interesting as it paired Cunix's ten, but Failla was still a 51 percent favorite with two overs, an open-ended straight draw, and the better flush draw.
Failla wasted little time in committing his last 355,000, and Cunix called just as quickly. "All I need is the
," Failla pointedly told the dealer. "You hear what I'm saying?
or you could just put up an
." Unfortunately for "The Thrill," his request fell on deaf ears as the dealer turned the
followed by the
on the river. Always a class act, Failla shook hands with the entire table before exiting in sixth place, good for $54,704.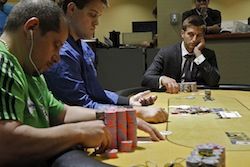 Dunst Follows Failla Out the Door: Within a couple of hands --actually Hand #48 of the final table — action folded to Tony Dunst on the button, and he moved all in for 515,000 with
. He was, no doubt, hoping to swipe the blinds and antes, but Darren Elias stood in his way when he defended from the big blind with
. The board ran out an uneventful
and Dunst followed Failla's lead, shook hands with the table, and headed to the payout desk to collect $66,532 for his fifth-place finish.
"More disappointing than the finish is the fact that I didn't really get to play any poker. It was kind of like — lose a bunch of hands in a row with one exception and then bust, so not a lot happened," Dunst said when asked by Matt Savage in his post-elimination interview if he was disappointed.
Five Questions with James Dempsey: In last week's recap, James Dempsey's elimination was featured as he had finished as the money-bubble boy. The Season X Five Diamond World Poker Classic Champion, which was the first WPT event he ever played, was back this week as he joined Marianela Pereyra for the popular Five Questions segments.
Why is "Bingo Bango Bongo" the best poker line ever?
"It's the absolute best. I started playing poker 10 years ago and I used to watch the WPT, me and my brother, and it was just one of Sexton's great lines. When someone used to flop gin he'd go, 'Bingo, bango, bongo," I used to love it all the time. It just stuck with me, he doesn't even say it anymore, but he gave me a 'bingo, bango, bongo' last year just for me."
What's the difference between playing poker in Europe and playing poker in the States?
"Everyone's a bit crazier in Europe. It's weird, playing against the good players and they're just a lot more aggressive preflop and then you get a lot of Spanish, French, and Italian people who just sit there for three hours and then go berserk in one hand."
The Raw Deal: After busting the tournament, Tony Dunst returned to the booth for a new segment of The Raw Deal. I was hoping Dunst would analyze one of his own hands, perhaps his shove with pocket deuces in the early stages of the tournament, but he didn't; in fact, all he did was complain a bit about not being able to play at the final table before turning his attention to Darren Elias.
Dunst explained why Elias is such a good player and highlighted the following:

Well respected
Successful online player
2nd WPT final table this season
No major live tournament wins
"It's quite the poker clinic Darren is putting on here, even if it kills me to say it, seeing as he's the one who busted me," Dunst concluded.
Cunix Gambling: Action folded to Daniel Buzgon in the small blind and he moved all in for 515,000 with
. Shawn Cunix looked down at
and opted to make the call. "Wow, Shawn is gambling here with a jack-high," Mike Sexton said. Indeed Cunix was behind and wouldn't catch up as the board ran out
, giving Buzgon a much-needed double to 1,050,000. Interestingly, if Buzgon were to win the Jacksonville BestBet Open, he would overtake Will "The Thrill" Failla atop the Season X WPT Player of the Year leaderboard. That hope would be short-lived.
Another One Bites the Dust: In Hand #73 of the final table, Daniel Buzgon moved all in under the gun for 725,000 and cleared the field around to James Calderaro in the big blind. The latter thought for a few moments before making the call.
Showdown
Buzgon:
Calderaro:
The
flop delivered two pair for Calderaro and made him an 84 percent favorite. "At least it was the
," Buzgon said in reference to a runner-runner flush possibility. Wouldn't you know it, the
turned and that possibility was one step closer to becoming a reality. "I am good at runner-runner flushes," Buzgon joked. Unfortunately for him, it wasn't in the cards as the
blanked on the river.
Buzgon, who finished third earlier in Season X at the Borgata Poker Open, shook hands with the remaining three players and then took his leave in fourth place for $94,624. "I guess. I mean coming in with only 570,000, didn't expect much, so I guess this is a decent result," Buzgon told Matt Savage when asked if he was satisfied with the result.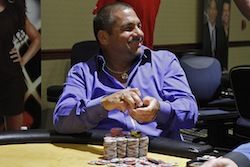 Monster Three-Way Pot Results in a New Chip Leader: After Darren Elias won a healthy pot off Shawn Cunix and took over the chip lead, a big three-way hand developed when Elias raised to 125,000 with
and was called by James Calderaro, who was holding
in the small blind. Cunix came along from the big with
, and two checks on the
flop put action on Elias, who bet 160,000. Both his opponents called and then Calderaro checked with the nuts on the
turn. Cunix took the bait and fired out 500,000, and surprisingly Elias made the call with an open-ended straight draw.
Calderaro took a moment and then used two hands to slide out 1.1 million. Both his opponents folded and that was the end of that. "Got a new chip leader, baby," Cunix said as he sipped his drink. Indeed, with that hand Calderaro overtook the chip lead and put an end to the broadcast.
Tune in Next Week: Part III of the Jacksonville BestBet Open is set to air on Sunday, Sept. 9, on FSN, so be sure to check your local listings. If by chance you miss it, check back next week for the latest recap of all the action here on PokerNews.
Get all the latest PokerNews updates on your social media outlets. Follow us on Twitter and like us on Facebook now!
*Pictures courtesy of World Poker Tour.