2012 WSOP October Nine: Jesse Sylvia's Plans for the Prize Money, Support System, & More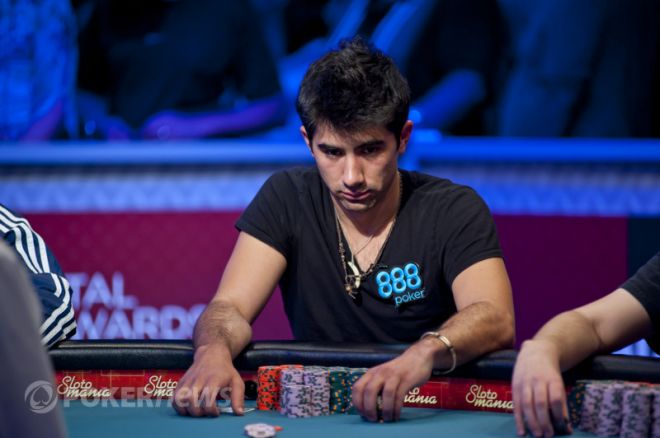 Starting the World Series of Poker Main Event Final Table as the chip leader doesn't always lead to success. In fact, since 2005, only two players took the chip lead into the final table and rode it to victory — Jamie Gold (2006) and Jonathan Duhamel (2010). Jesse Sylvia, 26, is looking to become the third player to do so as he enters the October Nine on the big stack of 43,875,000.
Sylvia, a graduate of Cal Lutheran University, had a wild ride in the late stages of the Main Event. On Day 7, he was one of the short stacks with 27 players left but hit a heater and quickly vaulted to the top of the chip counts. The poker pro, who has been playing seriously for three years, hails from Martha's Vineyard and splits his time between there and Las Vegas with his girlfriend, Ashley Sleeth, though the couple plan to relocate to Los Angeles later this year.
Before making the October Nine, where he is guaranteed to take home at least $754,798 and could win as much as $8,527,982, Sylvia's biggest score came in the 2011 WSOP Event #26: $2,500 No-Limit Hold'em Six-Handed when he finished 11th for $33,418. Needless to say, Sylvia is playing for some life-changing money, though he admits the glory and bracelet appeal to him too.
PokerNews recently caught up with Sylvia to talk about the October Nine, the pressure associated with being chip leader, and what he's doing to prepare for the biggest final table of his life.
What have you been up to since making the October Nine?
The first week or two I partied pretty hard with friends. We did some pool parties, some nightclub stuff, whatever people generally do in Las Vegas. After that I moved out, and we went to see my girlfriend's [Ashley] parents for a few days, which was really nice. They live in Florida, so we hung out there with them. Her parents have been as supportive as my parents, so that's been really cool. Then we went and hung out where I grew up, which is Martha's Vineyard. Since then I've just been playing a few tournaments, playing a little bit online, and watching a lot of videos in preparation.
Just relaxing and hanging out with friends. It's a time in your life where you need to be prepared, but I also think you need to sit back and enjoy it a little bit. I was told statistically it's a once-in-a-lifetime sort of thing, and it is, so you should step back and enjoy it a little bit.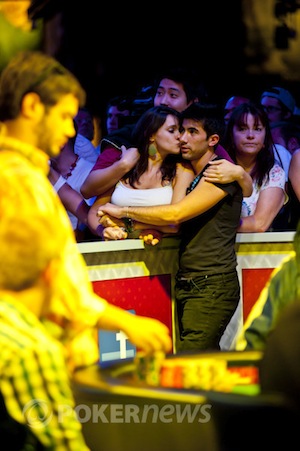 You mentioned that you have a lot of support. Did you always have that sort of support in poker or was it something that came with making the Main Event Final Table?
They've all been really supportive. My mom was always a little more reserved. My dad was always a little happier to tell his friends that I was a poker player. My mom was always supportive. I think she would prefer if I was a lawyer or something, but after this I think we're good either way.
Since making the final table, my whole family has been really supportive and amazing. My girlfriend, Ashley, has been unbelievable. I've dragged her to so many interviews and stupid crap. Well, I don't think it's stupid, but she probably does. She's actually gotten really good at poker and has been playing some stuff. She's learning really fast. She's lucky because she's consistently around really good poker players. That's why I'm lucky, too. It's really helpful to know a lot of people whose minds you can pick.
You and fellow October Niner Russell Thomas used to be roommates. How did that come about? Have you two been talking strategy for the final table?
We played together online a lot like two years ago. My game was getting a little stagnant, so I went on a forum and found this really nice apartment for the summer in Las Vegas. I asked if anyone wanted to live there with me, it was like my trap, I was going to get these really good poker players to live there and I was going to learn from them. Russell was one of the guys who wanted to do it, so we lived together for like six or seven weeks during the 2010 WSOP. I always called him "Russ Rungood" because he had a sick first two weeks. I had a lot of time to have him sit around and watch me play, berate me because I'd make some stupid mistakes and stuff. We learned a lot from each other I think. I definitely think I learned more from him.
We've talked a little bit about strategy. Both of us are bigger threats to the other person so we don't give up too much. It's a little bit like Risk — you've got your standoff, you've got your armies, and eventually you're going to have to break up their continent. We're both very happy and can understand that we're both competitive. I'll be rooting for him when he's all in against someone else, but I have no problem getting it in versus him and trying to knock him out. I have no problem with it because I know he has no problem with it. We're both competitive people.
What's it like being the chip leader of the October Nine? Is there a lot of pressure associated with that title?
There's definitely pressure. It's really cool going in as the chip leader. Everyone wants to know what your plans are. They would anyway, but it's more so being chip leader. It's also fun to see people's reactions when they learn you made the October Nine and ask how much I have in chips. I say, "44 million," and then they ask what the big stack is. I say, "Oh, about 44 million."
If you could lock up second-place money right now but had to give up a chance at the bracelet, would you take that deal?
I would absolutely not take that. I'm not a person who needs a ton of money to be happy. I think going for the glory would be great. If I do get heads-up and take second, I'll be a happy guy; I'll be OK with life, but to ever think that I would not give it a shot would be too sick for me.
Do you have any big plans for the money that you'll win?
I want to buy my mom a house. That's been a plan for a long time, and it's close to reality. Houses are a little more expensive where I grew up, but I've been looking at some pretty decent ones and I'm happy about that. Aside from that probably nothing. I'll likely get a car when I go out to California after the Final Table. What else? There's an island I've always wanted to buy in Panama, it's actually not very expensive, and I told my staker that if I win, I'm going to buy an island in Panama. I told him he needs to buy the island right next to it and we'll hang out. We'd get two islands that connect during low tide so we can walk across and hang out. That sounds good.
Who will be coming to Vegas to support you during the final table?
We had an initial list that got up to like 80-something, but I hadn't really asked any of my friends if they'd booked flights. We made a Facebook page and I think we've got like 140 on there now. I have a feeling it's going to be somewhere between 200 to 300 people. It's going to be a pretty big rail. We have a pretty tight-knit community.
I think 888poker is going to hook us up with t-shirts. It will be really cool for everyone. 888 actually wanted to get a van, or like a bus, to bring people out. If they did that, it'd be the coolest.
Speaking of 888, how's it been being a part of their team alongside Jake Balsiger and Russell Thomas?
They signed me with about 50 left in the Main [Event]. The guys who signed me have been arguing about who found me first because they signed me early on and then I ended up as the chip leader. They did a good job on that. I think Russell and Jake signed a deal after they made the Final Table. We were all in Barcelona together for the European Poker Tour, and we all did the WSOP Europe in Cannes.
PokerNews will be live blogging from the October Nine Final Table, which you can view in our Live Reporting Section. Don't forget to follow us on Twitter and like us on Facebook.
All promotions are subject to local jurisdictions