Best Sports Books in Las Vegas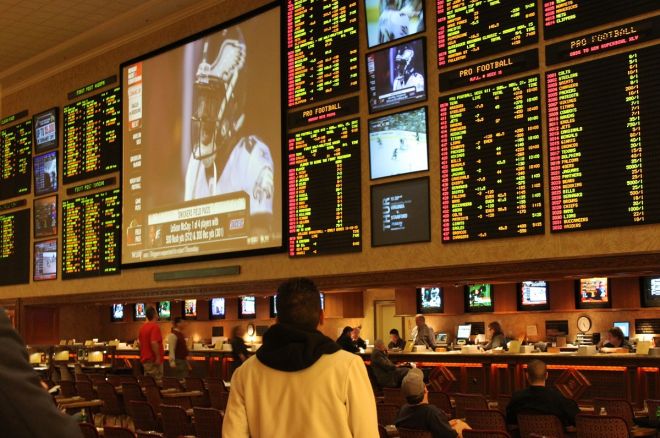 If you're in Las Vegas this summer, there's a good chance you'll place some sort of wager on a sporting event. Whether it be a straight wager, a parlay or a futures bet, sports fans love to visit Las Vegas to place their hard-earned money on a game.
The World Series of Poker gets underway in late May, which happens to be during the heart of the NBA and NHL playoffs. Naturally, many poker players place heavy bets on the games, so much so that the poker tournaments themselves play second fiddle to the big-screen TVs located inside the Rio.
Where should you be placing bets and watching games during your trip to Las Vegas? Here's a look at some of the most popular sports books in Sin City.
Red Rock
Nestled off the strip, the Red Rock Casino is one of the best venues to watch a sporting event in all of Las Vegas. The 96-foot video wall of the sports book boasts a multitude of high-definition screens displaying every game you could ask for. The 206-seat race and sports book has more than 200 personal televisions, and wagering assistance and customer service is available 24 hours a day, seven days a week.
Caesars Palace
The Caesars Palace Sport Book is a premier destination for sports bettors (especially high rollers) in Las Vegas. Located next to the Caesars Palace poker room, the race and sports book features six oversized 12' by 15' screens, a 20' by 50' LED board and twelve 50" plasma screens. There are 140 sports seats and a 12" flat screen at every table in the sports book. The race book has 65 private booths and 12 50" plasma screens simulcasting live horse racing from around the country every day.
Las Vegas Hotel
Formerly the Las Vegas Hilton, the Las Vegas Hotel has owned one of Sin City's most popular sports books for decades. The sports book has the largest menu of betting options in the state of Nevada, and you can watch all of the action play out in one of the 350 seats available to bettors. The 30,000 square feet room is home to 28 giant screens, one massive 15' by 20' screen, and more than 60 viewing monitors. LVH is famous for unique betting props that you won't find anywhere else.
Aria Race and Sports Book
If comfort is your thing, look no further than the Aria Sports Book. The room is filled with plush couches and chairs, each with its own monitor to watch your games. The race and sports book has more than 10,000 square feet of space and it located directly off the main floor. There are two self-betting kiosks, as well as nine betting windows to accept wagers.
Lagasse's Stadium at The Palazzo
If you want a realistic and luxurious experience while wagering on games, Lagasse's Stadium is where you want to be. Place bets straight from your stadium-style seat with Cantor Gaming's mobile sports wagering application while watching more than 100 high-definition screens that are strategically placed so that every game is viewable from your seat. Or, for more comfort, there are couches available for a long day of games. You'll be gambling in style with tailgating food created by world-famous chef Emeril Lagasse, and be sure to take advantage of the full bar with your favorite drinks and beers on tap.
Lead photo c/o Wikimedia Commons.