Best Pools in Las Vegas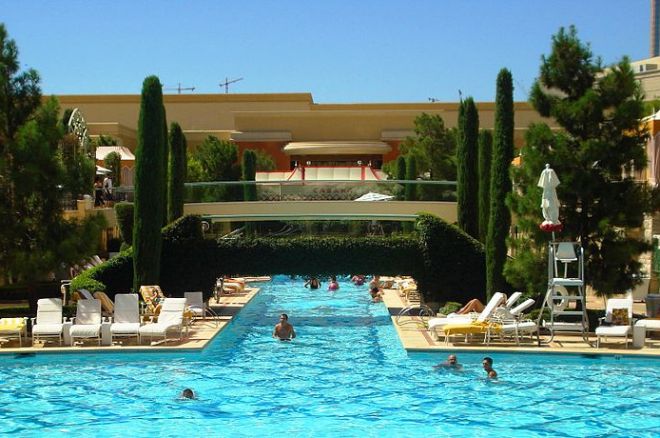 Las Vegas is known for its wild and extravagant nightlife. But there are 24 hours in every day, and Sin City has plenty to offer during the hot summer mornings and afternoons.
The pool-party scene in Las Vegas has been exploding lately. Whether you're looking to relax in a lazy river, catch some rays with a gorgeous view, or dance to the house beats of a world-famous DJ, you'll have no problem finding a pool that suits your requirements.
Here's a look at some of the best pools in Las Vegas:
Palms Casino Resort Pool
The enormous Palms Pool is a playground for party-goers. Thousands of people gather to the three pristine pools during the hot summer months, soaking up the sun and enjoying the 27 deluxe cabanas, waterfalls and poolside gaming. Each cabana includes a 32-inch T.V, plush lounge seating and a fully-stocked mini-fridge.
Hours: 9 a.m. - 6 p.m. Seven Days a Week
Cover: $10 for women and $20 for men on Ditch Fridays
Wet Republic Ultra Pool (MGM Grand)
Wet Republic brings a taste of South Beach's party scene to Las Vegas, as celebrities frequently take in the vibrant party experience at MGM. Wet Republic features two saltwater pools, eight individual pools and spas, exclusive VIP Bungalows, and party cabanas, while world-famous DJs like Steve Aoki, Tiesto, and Calvin Harris create a party atmosphere that Vegas is famous for.
Hours: 11 a.m. - 6 p.m. Thursday through Monday
Cover: $10 for women and $20 for men
Encore Beach Club
Encore Beach Club at the Wynn was named the Las Vegas "Dayclub of the Year" in the 2014 Nightclub & Bar Awards. The 60,000 square-foot venue is home to world-famous DJs like David Guetta, Avicii, Zedd, and Major Lazer. While the music is pumping, party-goers can enjoy the three-tiered pool complex with 26 cabanas and eight lavish bungalows with private infinity hot tubs. And don't miss out on the weekly bikini competitions.
Hours: 11 a.m. - 6 p.m. Friday through Sunday
Cover: $30 for women and $40 for men (no cover for local women)
Tao Beach (Venetian)
Situated atop TAO Asian Bistro and Nightclub at the Venetian, Tao Beach is one of the most exclusive daytime experiences in Las Vegas. Tao Beach offers everything guests could ask for in a pool party, including12 air-conditioned, luxury cabanas that feature such amenities as WiFi, high definition plasma screen televisions with X-box gaming consoles, a DVD library, and customized mini bars. Day beds are speckled throughout the 18,000 square foot space, which also includes a 30-foot bar. At night, the relaxed daytime atmosphere heats up with fire columns and dance music as an extension of Tao nightclub.
Hours: 11 a.m. - Sunset Thursday-Sunday
Cover: $20 for women and $30 for men
PokerNews' Sarah Grant spoke with some poker pros about their favorite hot spots in Las Vegas:
Photo courtesy of Wikimedia Commons