Poker Room Manager Andy Brock on WSOP Circuit Council Bluffs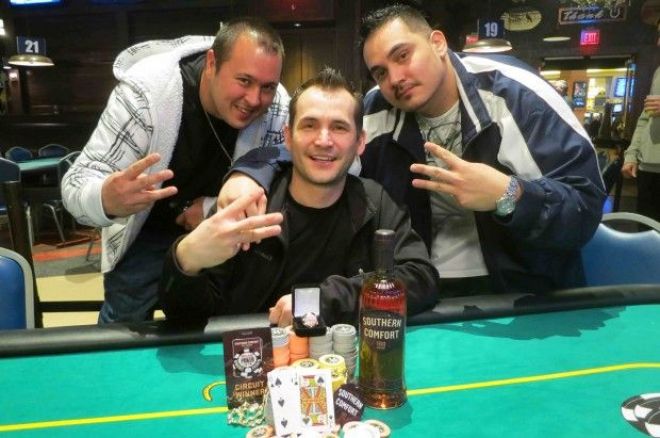 The 2012-2013 World Series of Poker Circuit presented by Southern Comfort 100 Proof continues this weekend with the $1,675 Main Event from the Horseshoe Council Bluffs. PokerNews will be on hand to report that tournament live, but to help set the stage, we thought we'd take a look at some of the stop's highlights thus far, including an interview with poker room manager Andy Brock.
WSOP Bracelet Winner Captures Third Gold Ring
The WSOP Circuit Horseshoe Council Bluffs kicked off on April 11 with Event #1 $365 No-Limit Hold'em, which drew 260 runners and created a $78,000 prize pool. While those numbers aren't impressive, WSOP bracelet winner Nick Jivkov taking down the title was. It marked his third gold ring, and he earned $19,110 and 50 points toward the Casino Championship.
"I hold the rings and the bracelet in very high regard," Jivkov told the WSOP after his win. "When I won my bracelet, to be honest with you, the $200,000 that it came with was the largest amount I had won up to that point, and I didn't even realize that until three days later. The overwhelming feeling of winning a WSOP bracelet was so big that the money didn't even enter into my mind until two or three days later. To some aspect, [the trophies] are even more important [than the money], because they validate what I'm doing."
On his way to victory, Jivkov outlasted some stiff competition including Jose Serratos (27th), Zal Irani (12th), Drew Woodke (8th), Everett Carlton (4th), Jason Mayfield (3rd) and Patrick Dixon (2nd).
"I felt that this was destiny for me," Jivkov said. "When we pulled in the parking lot [last night], my odometer read 33,333 miles, and we walked in the hotel room at 3:33 a.m. I told my friend and my wife I thought it was some type of a sign because I was playing for my third ring."
WSOP Circuit Horseshoe Council Bluffs Ring Event #1 No-Limit Hold'em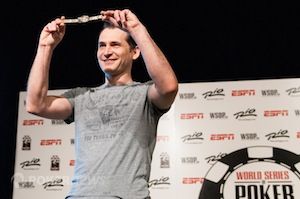 | Buy-in | Entrants | Prize Pool |
| --- | --- | --- |
| $300+$65 | 260 | $78,000 |
| Place | Player | Hometown | Prize |
| --- | --- | --- | --- |
| 1st | Nick Jivkov | Piovdiv, Bulgaria | $19,110 |
| 2nd | Patrick Dixon | Topeka, KS | $11,808 |
| 3rd | Jason Mayfield | Cabot, AR | $8,531 |
| 4th | Everett Carlton | St. Paul, MN | $6,278 |
| 5th | Fred Walker | Omaha, NE | $4,703 |
| 6th | Raymond Rife | Omaha, NE | $3,584 |
| 7th | Timothy Anstine | Omaha, NE | $2,777 |
| 8th | Drew Woodke | Omaha, NE | $2,186 |
| 9th | William Perpich | Mahtomedi, MN | $1,749 |
21-Year-Old Zach Smith Captures Event #3 $365 NLHE Re-Entry for $35,397
Re-entry events at every stop tend to be among the most successful, and the WSOP Circuit Horseshoe Council Bluffs Event #3 $365 NLHE Re-Entry was no different. A robust 562 entries accounted for a $168,600 prize pool, and $35,397 of that was reserved for the eventual winner — 21-year-old Zach Smith of Glenwood, Iowa.
"I've only played two Circuit events ever, so this is awesome," Smith said after his win. Apart-time student and a cell phone sales representative with pro aspirations, Smith defeated a tough field that included Stephen Kats (40th), Brett Schwertley (37th), Jose Serratos (33rd), Scott Stanko (18th), William Byrnes (9th), Jessie Bryant (7th) and Kat Bowen (4th). Interestingly, WSOP Circuit ring-winner Bowen was one of only six women to qualify for last year's WSOP National Championship.
WSOP Circuit Horseshoe Council Bluffs Ring Event #3 NLHE Re-Entry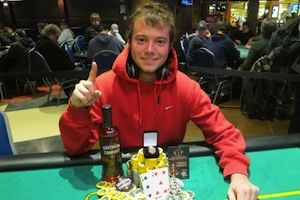 | Buy-in | Entrants | Prize Pool |
| --- | --- | --- |
| $300+$65 | 562 | $168,600 |
| Place | Player | Hometown | Prize |
| --- | --- | --- | --- |
| 1st | Zach Smith | Glenwood, IA | $35,397 |
| 2nd | Nicholas Marsh | Fort Dodge, IA | $21,899 |
| 3rd | Mark Fink | Sioux Falls, SD | $16,014 |
| 4th | Kat Bowen | Gladewater, TX | $11,883 |
| 5th | David Wintroub | Omaha, NE | $8,941 |
| 6th | Kyle Caslin | Saint Charles, MO | $6,820 |
| 7th | Jessie Bryant | Conway, AR | $5,274 |
| 8th | David Sutton | Racine, WI | $4,134 |
| 9th | William Byrnes | Viola, WI | $3,284 |
Horseshoe Council Bluffs Poker Room Manager Andy Brock Talks Poker
The WSOP Circuit Horseshoe Council Bluffs doesn't attract big fields, but having the event toward the end of the schedule seems to play to assist with that as dozens of amateurs and pros chase points toward the season-ending National Championship. For instance, all-time WSOP Circuit ring winner Alex Masek; all-time WSOP Circuit casher Doug "Rico" Carli; WSOP bracelet winner Mitch Schock; and ESPN poker columnist Bernard Lee have all been spotted east of the Missouri River.
PokerNews recently sat down with Andy Brock, the poker room manager at the Horseshoe Council Bluffs, to find out what it's like when the WSOP Circuit comes to town.
PokerNews: Can you tell us a little about yourself?
Brock: I just started here at this property in July. Before then, I spent the majority of my time at Wynn Las Vegas. I was there from 2005-2011, then I went to bestbet Jacksonville. I was only there for 3-4 months when I got the call to come up here. It's home. I'm originally from Omaha.
I moved to Vegas probably 10 years ago. I liked that, but got the call to Florida. Living on the beach and working that new room there was great, but when I got the call for poker room manager back home, it was pretty hard to turn down. Obviously I didn't.
What sort of things do you do to prepare for the WSOP Circuit?
We started promoting right when I got here. I worked with tournament director Kevin Ferguson on getting the schedule, met with marketing who were great on getting the schedule on the website, Facebook and around town. We started to promote it in our local community, and of course the World Series marketing was great. We're one of the last stops for point chasers, so I think that works in our favor. It's been a long process.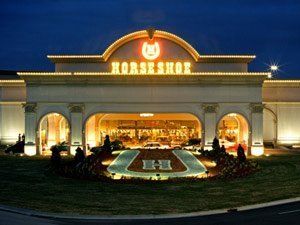 The tournaments are actually held in the Whiskey Roadhouse, which is a cleared-out bar. It's unique, but seems to work well.
Yeah. It's spacious. Usually we have concerts here on the weekends, but it's nice that we can steal it for two weeks. Last year, we heard some complaints that it was a little too cramped, so we actually removed five tables. We kind of gambled with some of our sizes and satellites, but we thought removing some tables would be better for the players.
How do the local players respond to the WSOP Circuit coming to town? Do they like it?
Absolutely. We have plenty of tournament players as we run two $235 Fat-Stack tournaments a month — the second Saturday and last Saturday of the month. We always get over 100 players for those, so they're happy. We have a good group that play here locally, but also ones that travel the Circuit like Drazen Ilich and Brandon Fish. We're happy they get to play in their home casino, maybe win some points and play in the National Championship.
How are the cash games during this time?
We've been running some great cash games. We had PLO going, which was a great game, a couple of $5/$10 no-limit, $2/$5 no-limit games. When I got here, we made a big change based upon players' request: You can buy in for 75% of the biggest stack. We've had good reaction to that, and it's made the games a lot more interesting. I encourage those who bust from a tournament to go on into the poker room and play some cash games.
Be sure to follow our live updates from the WSOP Circuit Council Bluffs, as well as all the remaining WSOP Circuit events, in our Live Reporting section.
*Photos courtesy of WSOP.com.
Get all the latest PokerNews updates on your social media outlets. Follow us on Twitter and find us both Facebook and Google+!