George Danzer, Victor "Puropoker123" Lemos & Adam "Roothlus" Levy Win SCOOP Titles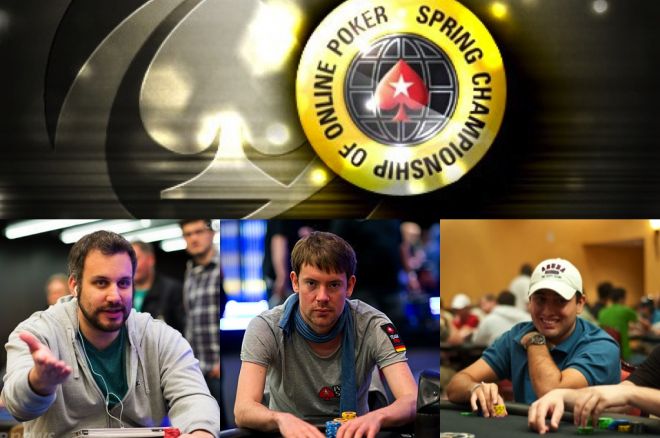 On May 12, the 2013 Spring Championship of Online Poker (SCOOP) on PokerStars began, which means play is well into the 44-event schedule, which features low, medium and high buy-in variants for each. That means 132 tournaments will be featured with a total prize pool of at least $40 million. We've already highlight several winners such as Paul "paulgees81" Volpe, Benny "toweliestar" Spindler, Sami "Lrslzk" Kelopuro & Ana Marquez, and we'd thought it be worthwhile to take a look at three more notable champions.
PokerStars SCOOP 12-H: $2,100 No-Limit 2-7 Single Draw ($50K Guaranteed)
| Buy-in | Entrants | Prize Pool |
| --- | --- | --- |
| $2,100 | 46 | $92,000 |
| Place | Player | Prize |
| --- | --- | --- |
| 1 | George Danzer | $34,040 |
| 2 | "tehopo1" | $23,000 |
| 3 | Shawn "buck21" Buchanan | $13,800 |
| 4 | Dan "HundoFight" O'Brien | $9,200 |
| 5 | Toby "810ofclubs" Lewis | $6,900 |
| 6 | Alexander "joiso" Kostritsyn | $5,060 |
On Thursday, Team PokerStars Pro George Danzer earned his second career SCOOP victory after defeating a tough field of 46 in the $2,100 buy-in 2-7 Single Draw event. Danzer collected $34,040 for his victory and a SCOOP watch go along with the two World Championship of Online Poker (WCOOP) bracelets.
Danzer may have triumphed, but at one point he found himself short stacked with 12 players remaining. His luck quickly turned after he gained momentum and managed to push his stack to the chip lead once the table reached the final seven players.
Only six spots paid, and it was "Mongano" of Russia who was eliminated on the bubble leaving the final six a guaranteed piece of the $92,000 prize pool.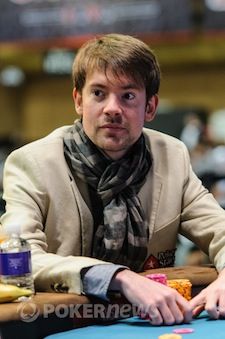 Alexander "joiso" Kostritsyn lead for most of the event but saw his fate turn as he was in jeopardy after gradually losing most of his stack. Just 45 minutes into the final six, Kostritsyn raised to 1,800 from early position, Toby "810ofclubs" Lewis came over the top with a 4,800 reraise from the small blind and Shawn "buck21" Buchanan called from the big blind. Kostritsyn then shoved with his remaining 5,501 chips and both players called. Lewis stood pat, while both Kostritsyn and Buchanan drew one card. Lewis showed [J-8-7-4-3] for a jack low while Buchanan showed a better hand of [10-8-7-6-3] for a ten low. Buchanan's hand was enough to take the pot once Kostritsyn mucked his hand busting in sixth place.
With blinds at 350/700, Lewis found himself at the bottom when Dan "HundoFight" O'Brien opened to 1,670 from the cutoff. Lewis reraised to 3,800 from the button and O'Brien shoved all in. Lewis, with only 17,603 remaining, called. O'Brien drew a single care while Lewis stood pat. Lewis tabled [10-8-5-4-2] but O'Brien showed the better hand with [8-6-5-3-2]. Lewis was out in fifth place to collect $6,900.
Blinds eventually jumped to 400/800 when "tehopo1" raised to 1,712 from under the gun and O'Brien called. Danzer, in the big blind, reraised to 6,255, which saw a fold from "tehopo1," while O'Brien called. Both drew one card, and then Danzer led for 11,255. O'Brien shoved for 27,066, and Danzer snap called. O'Brien made an eight-low while Danzer outdrew him with a seven-low. O'Brien took fourth place for $9,200.
Danzer began the final three as the short stack but doubled through Buchanan to claim the second-place spot below "tehopo1." In another hand, "tehepo1" opened to 2,996 from the button, while Buchanan reraised all in for 17,833 from the small blind. "Tehopo1" called. Buchanan drew one card and "tehopo1" stood pat. Buchanan revealed a king-low, which wasn't enough to survive against "tehopo1's" jack-low. Buchanan was out in third place, shy of a second SCOOP watch after winning the $2,100 Razz event just last year.
Heads-up play began with Danzer holding a small edge with 125,721 to tehopo1's 104,279. In a hand that crippled "tehopo1," Danzer tabled a nine-seven low just barely beating "tehopo1's" nine-eight low. In the final hand, Danzer once again just barely outdrew his opponent with a jack-low holding against tehopo1's queen-low hand. "Tehopo1" was out in second leaving Danzer victorious earning his second SCOOP watch to his collection. He won the $162 Badugi Event in 2010.
PokerStars SCOOP 10-M: $215 No-Limit Hold'em Super-Knockout ($400K Guaranteed)
| Buy-in | Entrants | Prize Pool |
| --- | --- | --- |
| $215 | 4,637 | $477,611 |
| Place | Player | Prize |
| --- | --- | --- |
| 1 | Victor "Puropoker123" Lemos | $74,988 |
| 2 | "tktxrf" | $55,880 |
| 3 | Patrick "Bandano" Renkers | $39,403 |
| 4 | "tchiklimoff" | $27,463 |
| 5 | "BrightStripe" | $20,298 |
| 6 | "Bugenhagen76" | $15,522 |
| 7 | "gustavctba" | $10,746 |
| 8 | Rafael "zugzwang16" Porzecanski | $5,970 |
| 9 | "pramen" | $3,821 |
Also on Thursday, Victor "PuroPoker123" Lemos claimed his first SCOOP victory, earning $74,988 for winning the $215 No-Limit Hold'em Knockout event. His win comes after bagging a WCOOP victory last year in the $320 No-Limit Hold'em event. The knockout structure would have players collect $103 extra for each bounty earned at the end of their run.
With blinds at 20,000/40,000/5,000, the final table was set with Patrick "Bandano" Renkers as chip leader with 5,977,779 and "tchiklimoff" the closest in second with 4,395,484.
"Pramen" was the first of the final nine players to bust after he got his chips in preflop against chip leader Renkers who had pocket tens hold against "pramen's"
. "Pramen" ended his run in ninth place for $3,820 plus ten knockouts.
Just four hands later, Porzecanski shoved his 1.01 million from middle position resulting in a re-shove from "tchiklimoff" in the small blind for 4. 08 million. "Tchiklimoff's" pocket eights held up against Porzecanski's pocket fives as the board ran
. Porzecanski bust out in eighth collecting $5,970 plus five knockouts. It's also worth noting that he previously made the UKIPT Season 3 Main Event final table finishing in third place for £41,090.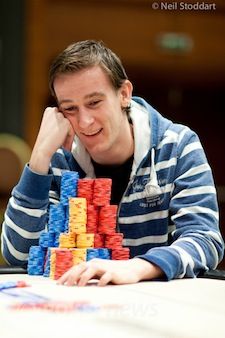 In a three-way confrontation, "gustavctba" saw all his chips in the middle holding
against the two biggest stacks Renkers'
and "tktxrf's"
. "Gustavctba" had his kings cracked when Renkers flopped a set of fives on a
board. "Gustavctba" exited the tournament in seventh place for $10,746 plus 11 knockouts.
Out in sixth place was "Bugenhagen76," who was eliminated after seeing all his chips in on the turn with only pocket fours on a
board. "Tktxrf" had the best of it showing flopped trips with
. "Bugenhagen76" took home $15,522 plus four bounties, while "tktxrf" claimed the lead with 21 knockouts.
Fifth and fourth place eliminations from "BrightStripe" ($20,298 plus 14 knockouts) and "tchiklimoff" ($27,463 plus seven knockouts) left Renkers, "tktxrf," and Victor "Puropoker123" Lemos fending for the first prize money. However, "tktxrf" was already guaranteed the most $103 knockouts after taking down "BrisghtStripe" and "tchiklimoff." "Tchiklimoff" min-raised from the button and "tktxrf" shoved 7.7 million with
. "Tchiklimoff" called the shove holding pocket tens. The board ran
with "tktxrf" to collect the pot and additional bounty.
Renkers would next see the exit doors when his pocket jacks didn't hold against "tktxrf's" pocket kings. Renkers was eliminated in third place collecting $39,403 plus 20 knockouts.
"Tktxrf" appeared to be on heater until heads-up battle began. Lemos flipped the 15.1-million-to-8-million chip deficit with a cooler that saw the river card give "tktxrf" an ace-high flush that also gave Lemos a full house to take the 19.9 million pot. The hand left the knockout champ with only three million in chips.
Proving that knockout champion doesn't equate to SCOOP champion, in the final hand a turned straight for "tktxrf's"
on the
board was bested by a rivered boat for Lemos' pocket eights. Lemos took home the most important bounty winning the SCOOP champion's watch and $74,987 and now one away from the Triple COOP.
PokerStars SCOOP 3-M: $55+R No-Limit Hold'em Six Max, Action Hour ($300K Guaranteed)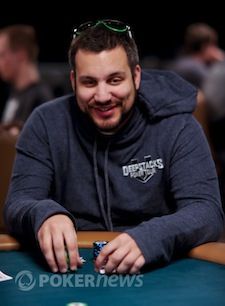 | Buy-in | Entrants | Prize Pool |
| --- | --- | --- |
| $55 | 2,764 | $471,500 |
| Place | Player | Prize |
| --- | --- | --- |
| 1 | Adam "Roothlus" Levy | $67,485* |
| 2 | Mohsin "sms9231" Charania | $61,000* |
| 3 | Steve "gboro780" Gross | $40,078 |
| 4 | Tommy "TMoney0209" Miller | $25,933 |
| 5 | Chris "NigDawG" Brammer | $16,503 |
| 6 | "miami1984" | $8,426 |
*Denotes a heads-up deal
Not your typical run-of-the-mill poker player, Adam "Roothlus" Levy proved ruthless after he being seated at two final tables at the same time. One final table was in Monaco in a live event; the other was on the chair right next to him. Levy went on to defeat 2,764 players in the SCOOP $55+R No-Limit Hold'em Six Max event while also finishing third in the Monaco Cup.
Once play found its way to heads-up action, Roothlus and Mohsin "sms9231" Charania decided on a deal that would give second place finisher $61,000 in cash. Both players were even in chips at the start and remained that way for some of the action until Levy started to pull away. He took control of the situation winning the biggest pot of the heads-up match.
With blinds at 70,000/140,000/17,5000, Levy raised to 350,000 and Charania called bring the
flop. Charania bet 250,000 and Levy called. An
came on the turn and Charania bet 680,000. Levy raised to 1,723,111 and Charania called. The river was an
and Charania bet 740,000, while Levy raised to 2.5 million. Charania showed the nut flush with
but wasn't enough to win the pot against Levy's
full house. This hand put Levy up 24 million to Charania's 7.1 million.
Charania managed to take back the lead 75 minutes into the battle until Levy left him with just under 2 million. In the final hand, Levy raised to 1.6 million, Charania called all-in and showed
with a slight lead preflop against Levy who had
. The flop and turn of
gave Charania hope for double-up, but the
on the river left Levy crowned as victor. Charania missed his chance at a second SCOOP watch but earned the agreed $61,000; meanwhile, Levy won the title and snagged $67,485 on top of the €47,000 he won for his third-place finish in the Monaco Cup.
Get all the latest PokerNews updates on your social media outlets. Follow us on Twitter and find us both Facebook and Google+!