2013 World Series of Poker Day 26: 8th and 9th Bracelets for Canada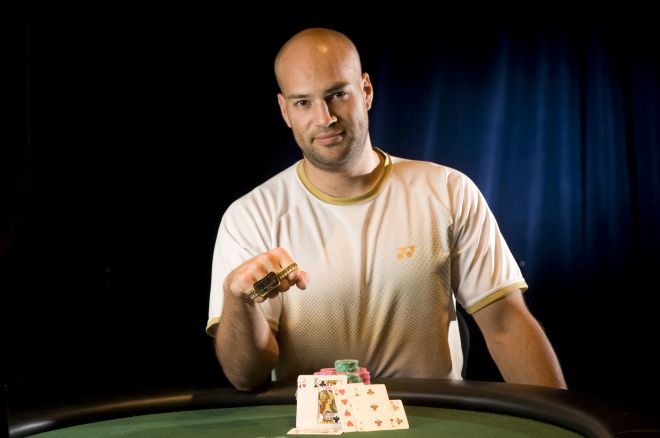 Two more Canadians won bracelets on Day 26 of the 2013 World Series of Poker. Canadians have now won nine bracelets at this year's WSOP — that number rises to 10 if Daniel Negreanu's victory in the Main Event of the World Series of Poker Asia-Pacific is included. This is a record year for Canadians. Before 2013, Canadians had only won 34 bracelets in the 43-year history of the World Series.
Justin Oliver won Event #38: $2,500 No-Limit Hold'em (Four Handed), despite entering heads-up play at a substantial chip disadvantage. This is Oliver's first career bracelet, and before Sunday, he had only $52,000 in career tournament earnings, so the $309,071 he won is by far the biggest cash of his career.
About six hours later, in the early hours of Monday morning, Daniel Idema earned his second career bracelet in Event #39: $1,500 Seven-Card Stud High-Low Eight-or-Better. In addition to those events, two more played Day 2, and another two got underway.
After three days of four-handed poker, Justin Oliver won his first WSOP bracelet. Event #38 kicked off on Friday with 566 runners. After two full days of play, only eight returned for Sunday's Day 3.
Final Eight Results
| Place | Player | Prize |
| --- | --- | --- |
| 1 | Justin Oliver | $309,071 |
| 2 | Nick Schwarmann | $191,434 |
| 3 | Jared Jaffee | $129,447 |
| 4 | David Pham | $89,736 |
| 5 | John Juanda | $54,770 |
| 6 | Daniel Park | $54,770 |
| 7 | Mike DeGilio | $29,770 |
| 8 | Jonathan D'Souza | $29,770 |
David "The Dragon" Pham entered Day 3 as chip leader, looking to add a third WSOP bracelet to his trophy case. Five-time bracelet winner John Juanda also made it to Day 3. He began the day fourth in chips with 466,000.
With only four players at each table, this entire tournament was characterized by aggressive play and fast action. It took only about 30 minutes after play began on the final day for the first bustout. Jonathan D'Souza executed an ill-timed bluff with no pair, and Pham called with bottom set.
The next two eliminations occurred within an hour of D'Souza's exit. First, Mike DeGilio's pocket eights ran into Oliver's pocket nines, and the board failed to improve DeGilio's hand. Then, about half an hour later, Jared Jaffee busted Daniel Park, whose three-bet all in preflop with
was dominated by Jaffee's [ahjcd] and couldn't improve.
At that point, the five remaining players moved to an unofficial final table. Action slowed a bit because play had become five-handed, and after the short stacks had been eliminated, no one was desperate to double up. But that lull in the action turned out to be the calm before the storm, and it led up to one of the most momentous hands of the tournament. Pham, Juanda and Nick Schwarmann got involved in an all-in confrontation on the flop. Juanda had top pair, Schwarmann had the nut-flush draw, and Pham held the second-nut-flush draw. The river completed the spade flush, awarding the full pot to Schwarmann, who had both his opponents out-chipped. Pham had more chips that Juanda at the beginning of the hand and finished in fourth place, while Juanda finished in fifth.
Schwarmann eliminated Jaffee in third place on the 19th hand after Pham and Juanda busted. Again, top pair on the flop got all in against a flush draw, and the flush came on the river.
Schwarmann entered heads-up play against Oliver with a massive lead, out-chipping his opponent approximately 6-1. Oliver was not planning on rolling over, though, and after a lot of intense, back-and-forth poker that included three double-up hands, Oliver took over the chip lead on the 69th hand of heads-up action. The players continued to battle for almost another hour, but on the 126th hand after they starting playing heads up, Oliver eliminated Schwarmann, earning $309,071 and a WSOP gold bracelet for his victory. It was the first, but not the last, bracelet of the day for a Canadian.
To read more on Oliver's victory, head over to our live blog of the event.
Daniel Idema won his second WSOP bracelet early Monday morning. Seventeen players out of the 558 who entered survived the first two days in Event #39. They returned on Sunday to play down to a winner. It took about four hours to lose nine players. The ninth-place finisher was the First Lady of Poker, Linda Johnson, who is a bracelet winner and a member of the Poker Hall of Fame. After Johnson was eliminated by Idema, the players took their seats at the official eight-handed final table.
Final Table Results
| Place | Player | Prize |
| --- | --- | --- |
| 1 | Daniel Idema | $184,590 |
| 2 | Joseph Hertzog | $114,109 |
| 3 | Raul Paez | $71,736 |
| 4 | Matt Vengrin | $51,488 |
| 5 | Mike Leah | $37,552 |
| 6 | Tony Gill | $27,834 |
| 7 | Fei Chu | $20,964 |
| 8 | Artie Cobb | $16,037 |
Artie Cobb was the first final-table casualty. Cobb is a poker luminary with four bracelets on his résumé, all in stud or stud eight-or-better. He fell on the seventh hand at the final table when he was all in on fifth street against three other players, and Joseph Hertzog scooped the pot with a wheel.
It took nearly 90 minutes before there was another bustout. Fei Chu finished in seventh place when he ran into Matt Vengrin's wired aces. Chu put the last of his chips in the middle on sixth street looking to complete a low draw, but his river card was a queen, and he was eliminated from the tournament.
After Chu was knocked out, it was yet another 90 minutes before another player hit the rail. Tony Gill got the last of his chips in the middle on fifth street with a flush draw and a seven-five low draw against Raul Paez's jacks up. Gill's sixth- and seventh-street cards did not complete either of his draws, and he busted out in sixth place.
Mike Leah was the next elimination. Leah, along with Idema, was one of two Canadians at this final table looking to add a ninth bracelet to his country's haul for the summer. Leah was all in on third street with split tens against Vengrin's split sixes. Vengrin improved to a full house, knocking out Leah in fifth place and leaving Canada's hopes resting on Idema's shoulders.
Vengrin was the next elimination. He was all in on third street with a pair on nines, and failed to improve. Three-handed play lasted over an hour, despite high limits that made an average stack about 10 big bets. Then after Hertzog successfully executed a brazen bluff against Paez, Paez started trending downward, and Hertzog eliminated him about 20 minutes later.
After about an hour of heads-up play between Hertzog and Idema, which involved several servings from a cocktail waitress and a raucous crowd on the rail, the players engaged in an all-in confrontation. The chips went in the middle on fourth street, and Hertzog was behind Idema's wired kings. Hertzog's board didn't improve his hand, and he was eliminated in second place. The final bustout secured Idema's second career bracelet, and the ninth for a Canadian at the 2013 WSOP.
To read more on Idema's second bracelet win, head here.
Nicholas Fiero leads the field of Event #40 for the second consecutive day. After Day 1, Fiero led the 249 surviving players with 176,500 in chips. During Day 2, he build his stack to 965,000 to stay atop the leaderboard.
With the exception of the "Millionaire Maker" the first weekend of the summer, this is the most popular $1,500 buy-in event the of the 2013 WSOP thus far, with 2,161 entrants. Only 21 of them will return on Monday for Day 3. Fiero will be joined by several notable players, including Matt Berkey (886,000 in chips), Allen Cunningham (697,000), Griffin Benger (610,000), Garry Gates (489,000), Kara Scott (314,000) and Jared Hamby (204,000).
The bubble boy was 2012 final tablist Jake Balsiger. Jeremy Ausmus, one of Balsiger's tablemates last October, made the money but was eliminated on Day 2, as were Brendon Rubie, Maxim Lykov, Matt Salsberg, Frank Op de Woerd, Jeremy Ausmus and Andrew Lichtenberger.
Day 3 begins Monday at 1 p.m. local time, so be sure to stay tuned to PokerNews for live updates of all the action.
Day 2 of Event #41: $5,000 Pot-Limit Omaha (Six-Handed) concluded with 22 players remaining, led by Steve Gross with a stack of 526,000. The day began with 117 survivors from Saturday's Day 1, which started 400 entrants.
Gross is followed on the leaderboard by Jesse Rockowitz (476,000), Salman Behbehani (456,000) and Alex Manzano (450,000). No other player has more than 400,00 in chips, but Yevgeniy Timoshenko, Trevor Pope and Day 1 chip leader Sorel Mizzi are all still in the mix.
Many Notable players did not make it through the day. Freddy and Shaun Deeb ended up as back-to-back eliminations, busting out in 27th and 26th, respectively. Chad Brown, Dan Smith, Tony Cousineau, Juha Helppi, Daniel Negreanu, Matt Giannetti, Manuel Bevand and Davidi Kitai are also among those players who will not return for Day 3.
Play resumes tomorrow at 2 p.m. for the third and final day of Event #41. Join us here at PokerNews as we bring you all the updates while players determine the winner of the next WSOP gold bracelet.
The chip leader after Day 1 of Event #42 is Matt Matros with 145,000 in chips. Matros has won a bracelet in each of the last three years, and with another WSOP victory in 2013, Matros will tie the record for consecutive years with a bracelet win.
At the beginning of the day, 2,043 players took their seats with their eyes on a WSOP bracelet, but that goal is still alive for only 168 of them. Jake Balsiger, who busted out of Event #40 earlier in the day, is close behind Matros with 129,100. In his earlier event, Balsiger busted out on the bubble. This time around, he took advantage of the bubble to build his stack.
The field included many well-known players, most of whom were eliminated. Among those who will not return for Day 2 are Vanessa Selbst, J.J. Liu, Jesse Sylvia, John Eames, Amit Makhija, Antonio Esfandiari, Jonathan Little and Jan Heitmann.
Several survived the day, however. Ari Engel, Victor Ramdin, David Chiu, Ryan Laplante, Ryan Tepen, Allen Kessler, James Mackey, Alex Queen and many more still have a shot at the bracelet.
Play resumes at 1 p.m. on Monday, and PokerNews will be here to bring you all the updates throughout Day 2.
Only 87 players turned out for this event, making it one of the smallest fields in the WSOP. It is, nonetheless, one of the most prestigious, because of the high buy-in and the fact that virtually every player is a serious threat to win. At the end of eight levels of play, Calvin Anderson leads the field with 134,700 in chips.
Of the 87 entrants, only 32 busted out, and the remaining 55 players who survived will return for Monday's Day 2. The bustout list was filled with notable names, including Jason Mercier, Darren Elias, Brandon Cantu, Mike Gorodinsky, George Danzer, Galen Hall, Josh Brikis, Barry Greenstein, Todd Brunson, Mike Matusow, Bertrand "ElkY" Grospellier and Brian Rast.
Phil Hellmuth, holder of 13 WSOP bracelets, was also eliminated. He was involved in a hand with Paul Volpe and Johnny Chan in which he lost about a quarter of his stack and then never seemed to get back on track. John Juanda was also eliminated on the day, ending a streak of four consecutive years in which he final tabled this event (including a victory in 2011).
Anderson is trailed on the leader board by Volpe (127,000 in chips), Tom Schneider (115,200) and Layne Flack (102,200). No other player ended the day above the 100,000 mark.
Play resumes at 2 p.m. on Monday in the Rio. PokerNews will be here all day to bring all the updates from this prestigious event.
On Tap
Day 27 of the 2013 WSOP will feature five events. Event #40: $1,500 No-Limit Hold'em and Event #41: $5,000 Pot-Limit Omaha (Six Handed) will both play down to a winner.
Two more events return for Day 2. Event #42: No-Limit Hold'em will resume with 168 players, and Anderson leads the 55 players who survived the first day of Event #43: 2-7 Draw Lowball (No-Limit). Both are scheduled to play 10 more levels.
One tournament is scheduled to begin on Monday. Event #44: $3,000 No-Limit Hold'em starts at noon.
Video of the Day
In honor of Sunday's 2-7 Lowball event, Lynn Gilmartin interviewed Bertrand "Elky" Grospellier, asking him to answer questions on a scale of two to seven.
Be sure to follow our Live Reporting page for continuing coverage of every event at the 2013 World Series of Poker, and follow PokerNews on Twitter for up-to-the-minute news.