Matt Matros Seeks WSOP Record with Bracelets in Four Consecutive Years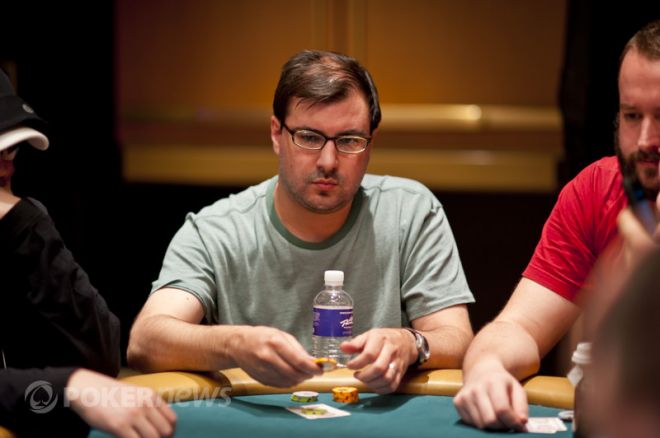 Matt Matros doesn't consider himself a poker historian. But the three-time bracelet winner is well aware of the elite company he could join during this year's World Series of Poker.
Last year, Matros became the 10th player in WSOP history to win a bracelet in three consecutive years, joining the likes of Johnny Moss, Gary "Bones" Berland, Bobby Baldwin, Lakewood Louie, Erik Seidel, Michael Mizrachi, and Allen Cunningham. If he's able to claim another bracelet this summer, Matros would join the legendary Doyle Brunson and Bill Boyd in the four-consecutive-years club.
"It is really mind numbing. I never expected to be in that kind of company," Matros told PokerNews on Monday. "My dream was to always win a bracelet, and when I won the first one I felt like I had made so many deep runs, so many cashes, and a few final tables that I was maybe owed a win after years and years of playing in the series. Then the next two were just complete icing on the cake."
Matros earned his first bracelet in 2010 in the $1,500 Limit Hold'em event, for which he collected $189,870. He picked up more hardware in 2011 by winning the $2,500 Mixed Hold'em (Limit/No-Limit), adding $303,501 to his earnings. His incredible run continued last year when he earned his third bracelet in $1,500 No-Limit Hold'em Six Handed event bagging $454,835.
His attempt at No. 4 has already begun at this year's series, and despite his recent success, Matros is cautiously optimistic about his chances.
"It's unrealistic to expect that I'd win another bracelet this year, although it would be wonderful if somehow it happened," said Matros. "It's a pretty unlikely scenario so I'm not crazy enough to expect it to happen this summer."
After winning his third bracelet in 2012, Matros told PokerNews that he felt he was the luckiest player in the world. If he were to win for a fourth time, Matros said he would partially credit the luck factor, but he'll finally recognize that he just might be a better player than he thought.
"I would be the luckiest player in the universe, not just the world if I were to win for a fourth time," he said. "When I say I'm the luckiest, I'm not saying that I'm not a good player. I am a good player but there are a lot of good players here who are as good as I am or better and have yet to win a bracelet. So then some of that is luck. I play well too but it's been great to run good and play well. If it happens again, then okay maybe I'm slightly better than I thought but I still think that I would be the luckiest player not just in this world but many other worlds."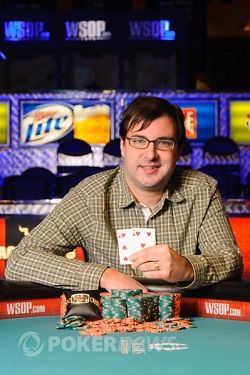 Matros is considered one of the best limit hold'em players on the planet, but he has been working on improving in other variants to keep pace with the growth of the game. Technically, only one-and-a-half of his bracelets have come in the limit format — he earned one of them in a mixed hold'em event.
"I wouldn't call myself a limit specialist because it was just the game back in the day," he said. "It was my bread and butter for a while, but it's definitely not all I play. It's been an interesting challenge to take on no-limit at a higher level, but I've been doing that for a long time, too. I started dabbling playing no-limit hold'em tournaments while playing in limit cash games. It's been a pretty natural evolution, but I would say I've adapted well to today's game."
Matros is also accepting of the fact that the popularity of limit hold'em has dried up since the no-limit version exploded a decade ago.
"Unfortunately, limit hold'em has been a bit of a dying game in the last few years. I'm hoping it levels off and doesn't continue to decline. It will never be what is what or the most popular game in the room anymore. I think that no limit is starting to slow down so maybe limit could fill that void but then again there's these other games taking off like Omaha or Open Face Chinese poker so we can only see what happens."
Aside from being a three-time WSOP bracelet winner, Matros is also a published author. His first book, published in 2005, was titled, The Making of a Poker Player. He recently completed a novel with the working title Electives and Extracurriculars.
Finding the time to balance his poker schedule and his writing schedule seems to be easy for Matros, who has found success in both realms.
"I try to have my space for poker and my space for writing," Matros said. "When I am home I stay focused on writing. I have my coffee shop, my desk, and my writer's space where I can stay really focused. When I travel is when I get really immersed in poker, whether it be in Las Vegas or at the Borgata, or Foxwoods, or wherever I travel to play."
We will follow Matros throughout the entirety of the WSOP as he makes a run at history. Follow the PokerNews Live Reporting page for up-to-the-minute coverage of every event!
Get all the latest PokerNews updates on your social media outlets. Follow us on Twitter and find us both Facebook and Google+!