Sounding Off: Brunson in London, Pegasus Flying High & the Poker Hall of Fame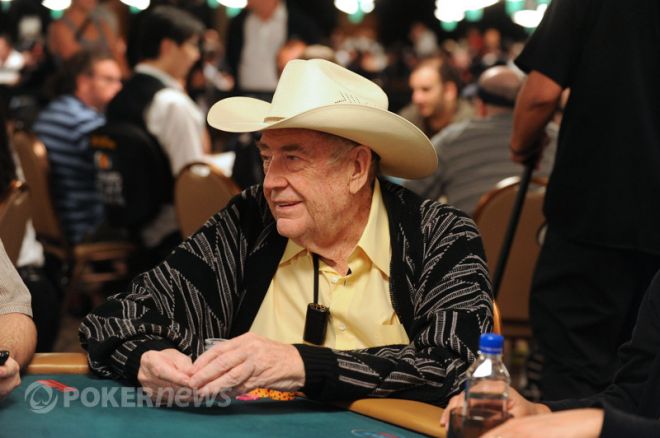 Even though the headlines seem to be dominated by the latest in the Full Tilt Poker saga, I've decided to turn my attention to the stories that have been overshadowed by the online drama. Needless to say, between the tournament slate in Europe and various happenings in the U.S., there's plenty to sound off on.
Doyle Brunson in London: Earlier this week, Doyle Brunson traveled to England to play in his first European Poker Tour, which was being held in London. "Texas Dolly" has been vocal that his traveling days are becoming increasingly rare and will soon cease altogether, so it was nice to see him make a trip overseas, which in all likelihood could be his last as he seeks to avoid the wear and tear of being on the road.
Brunson made the most of his trip by notching his first EPT cash, coming in 77th place in the EPT London Main Event for $14,067. Not only that, Brunson plans to travel to Cannes, France, for the World Series of Poker Europe. It has been a week of firsts for the living legend, so why not his first WSOPE bracelet, which would tie him with Phil Hellmuth at 11 WSOP bracelets. Brunson epitomizes poker, and it is satisfying to see him doing his thing.
Pegasus Flying High: If you don't know the name Mark "Pegasus" Smith, do yourself a favor and become familiarized. The 59-year-old Smith earned his nickname, "Pegasus," for his involvement in professional horse breeding and racing. From Georgetown, Kentucky, Smith has approximately 25 WSOP Circuit cashes totaling more than $485,000. Not only that, he recently set a record after winning his fifth Circuit ring in a $345 NLHE event at the WSOP Circuit in Southern Indiana.
Smith was previously tied with Men "The Master" Nguyen at four rings, but the consummate grinder set himself apart last week. I've met Pegasus many times on the Circuit and can tell you that you'd be hard pressed to find a nicer guy. Characterized by patience and professionalism, Smith is the opposite of Phil Hellmuth, who is his counterpart at the WSOP. Both are champions in their own right, and it's nice to see Pegasus soaring above the crowd. Interestingly, Smith almost captured his sixth ring just a few days later in a $555 NLHE Event, ultimately finishing in third place.
Poker Hall of Fame Nominees: The 2011 WSOP Poker Hall of Fame (PHoF) nominees were announced earlier this week and included:
Annie Duke
Barry Greenstein
Jennifer Harman-Traniello
Linda Johnson
John Juanda
Marcel Luske
Jack McClelland
Tom McEvoy
Scotty Nguyen
Huckleberry Seed
This list will now be presented to a 17-person media panel and the 18 living members of the PHoF who will determine this year's class. Unfortunately, I'm not a member of the media panel, but that won't stop me from offering my opinion on this year's nominees. First, I think this is an excellent list and everyone on it deserves to be nominated. With that said, I do have my favorites.
In my opinion, Barry Greenstein is the frontrunner in this group. In the game for 20 years, Greenstein has notched three WSOP bracelets and more than $7.5 million in tournament winnings. He also has found success in all forms of poker and more than holds his own in the high-stakes cash games. Throw in the untold good he has done with charity work, and Greenstein has more than proved his mettle in the poker industry.
I could go on in regard to why each of the nominees deserves to be in the PHoF, but I believe some deserve it more than others. Annie Duke, Scotty Nguyen, Jen Harman, and John Juanda are likely all future Poker Hall of Famers, but I don't think it will be this year. I say this because of the longevity the other nominees have exhibited in the industry. Linda Johnson, Marcel Luske, Jack McClelland, and Tom McEvoy come from an era of poker that is often forgotten by today's players, each having done incredible things for the game.
Johnson is already in the Women's Poker Hall of Fame for her contributions and accomplishments, while Luske has been an advocate for poker in Europe for decades. Likewise, McClelland defined what it meant to be a tournament director, while McEvoy always seems to be the bridesmaid of the PHoF, always being nominated but never inducted. I would be pleased to see any of these nominees as part of this year's class
With all that said, if I had two votes, I'd cast them for Greenstein and the only other player on the list I haven't mentioned, Huckleberry Seed. The 1996 WSOP Main Event Champion has more than $7.2 million in tournament cashes dating back to 1990, and has stood the test of time. The last three years have been the best of his career since 1996, and he earned more than $100K each year in between with the exception of 2001 ($2,759) and 2005 ($52,020).
I think all are deserving, and I am really looking forward to seeing who becomes part of the Class of 2011.
Flawless Victory: In the Oct. 4 edition of the Nightly Turbo, it was announced that Team PokerStars Pros Lex Veldhuis and Bertrand "ElkY" Grospellier had set a date for their long-anticipated kickboxing match. On Nov. 22, 2011, the two will square off in a three-round match with judges looking on. The participants will forgo any protective gear and will compete in front of TV cameras.
I'm not sure how I feel about this. This bout was rumored years ago, and since then I've lost quite a bit of my enthusiasm. Part of me doesn't care about two skinny fellas knocking each other around the ring; however, if they kickbox like they play poker, it could turn out to be a good match. For that to happen, though, it would need to be nothing but all-out action. Anything less than a KO would be disappointing. If there is blood and someone lying on the ground, well, that would be something to get excited about.
Who do I think will win? It should be a close match, but my gut tells me Veldhuis will come out on top. He seems a little more motivated, focused, and in shape than Grospellier does. I can't help but picture Grospellier as a pasty white video gamer whose muscles atrophied after spending countless hours playing Starcraft. Veldhuis for the win!
Stay up to date on all the latest news by following us on Twitter and liking us on Facebook.