The Nightly Turbo: Poker Hall of Fame Finalists, Veldhuis and ElkY Set a Date, and More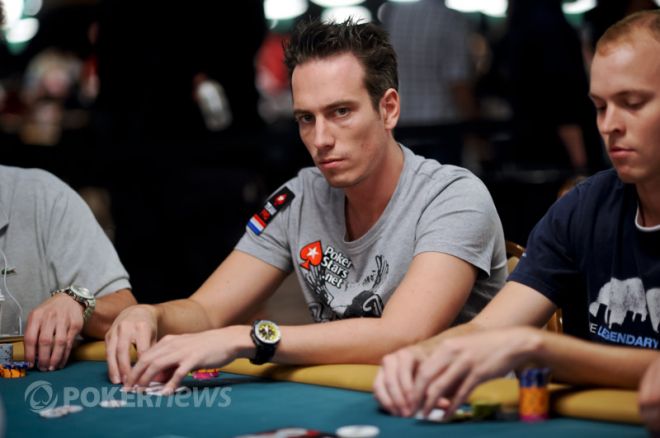 We've been waiting forever for Lex Velduis and Bertrand "ElkY" Grospellier to duke it out. No, we're not talking about Starcraft. The two PokerStars Pros have officially set a date for their long-awaited kickboxing match. Also in this edition of the Nightly Turbo, find out who the finalists are for the 2011 Poker Hall of Fame, and more.
In Case You Missed It
Bernard Tapie dominated the poker headlines last week — in more ways than one. In our latest Five Thoughts piece, we take a look at Tapie's latest ventures and his potential impact on the industry.
The days until the 2011 November Nine are dwindling and we're always curious to find out how the members of the prestigious WSOP Final Table are spending their time. We recently talked to Eoghan O'Dea to find out how he's preparing for poker's biggest stage.
The PokerStars European Poker Tour Main Event final table is in sight and several big names are still in contention for the top prize of £750,000. Find out who the leaders were after Day 3.
We're also keeping an eye the side events at the European Poker Tour in London Town. David Williams and Michael Benvenuti were among the winners thus far; have a look at who else won.
WSOP Announces 2011 Hall of Fame Finalists
Following Erik Seidel into the Poker Hall of Fame isn't ideal. But somebody has to do it. The 10 finalists for the 2011 Poker Hall of Fame were announced Tuesday and as many as two legends of the game will be enshrined as part of the World Series of Poker Main Event Final Table festivities in November.
Eighteen living Hall of Fame members, including Seidel (voted in last year), and a 17-person media panel will cast votes for the 2011 class. The finalists will be voted on by a set of criteria, such as their consistency at high-stakes games against acknowledged top competition, and standing the test of time. Or, for nonplayers, the person must have contributed to the overall growth and success of the game of poker.
Here's a look at the finalists:
Annie Duke
Barry Greenstein
Jennifer Harman-Traniello
Linda Johnson
John Juanda
Marcel Luske
Jack McLelland
Tom McEvoy
Scotty Nguyen
Huckleberry Seed
The 2011 class will be announced at the Rio All-Suite Hotel & Casino on Nov. 8. Be sure to follow PokerNews for the live coverage from Las Vegas!
Visit WSOP.com for more information.
Round 1: Fight!
Team PokerStars Pros Lex Veldhuis and Bertrand "ElkY" Grospellier have been training for a kickboxing match for nearly two years, and it appears the prop bet has an official date. Veldhuis said in his blog Monday that the two will fight on Nov. 22, 2011, in front of television cameras.
Veldhuis and Grospellier will step into the ring for an "official" three-round kickboxing match with judges and no protective gear. Veldhuis mentioned that he's suffered several injuries leading up to the fight, but he still considers himself a favorite over the less-experienced Grospellier.
"I have been getting injured a lot, and it sends me on the darkest tilt possible," he wrote. "I think cause it also shows me how much my body deteriorated, while I was in awesome shape when I was younger."
Here's a glimpse of what we expect the match to look like:
Read more about the fight at Lex Veldhuis' blog.
The Online Poker Boom is Dead
So says PokerScout.com. In the data tracker's latest online poker traffic report, it stated that, despite a wave of regulation sweeping through Europe, traffic numbers have remained stagnant. The reason? PokerScout believes that "poker as a fad has mostly run its course."
"The seasonal uptick expected at this time of year, which has happened with regularity for years, is not happening this year," said PokerScout in its report.
As for the weekly rankings, there were no changes in the top 10 from last week as PokerStars held its position at No. 1, followed by PartyPoker and iPoker at No. 2 and 3, respectively. Among the movers was the Merge Gaming Network, which slid 6 percent to drop behind Bodog, which shifted into 12th place.
In the year-over-year numbers, PokerScout's ACES indicator reports that online poker traffic (with the exception of Italy) has decreased by 32 percent in the last year. PokerStars is down 20 percent from last September, but 888poker (up 105 percent) and Bodog (up 53 percent) have seen a significant traffic increase since last fall.
Check out the complete online poker traffic report at PokerScout.com.
Size Matters at PokerStars
Bigger is better, and PokerStars has always done its best to employ that concept. The world's No. 1 online poker room has rolled out five new tournaments to The Daily Bigs lineup. In addition, PokerStars has increased the guarantees to some of The Daily Bigs already in place.
Here's a look at the new Daily Bigs schedule:
0100 EST (8:00 BST): The Big $3.30 ($5,000 GTD) — NEW
0330 EST (1030 BST): The Big $16.50 ($10,000 GTD) — NEW
0600 EST (1300 BST): The Big $33 ($15,000 GTD)
0900 EST (1600 BST): The Big $5.50 ($15,000 GTD)
1030 EST (1730 BST): The Big $8.80 ($16,000 GTD) — NEW
1200 EST (1900 BST): The Big $22 ($25,000 GTD)
1300 EST (2000 BST): The Big $109 ($50,000 GTD)
1400 EST (2100 BST): The Big $11 ($50,000 GTD)
1500 EST (2200 BST): The Big $551 ($100,000 GTD)
1600 EST (2300 BST): The Big $162 ($50,000 GTD)
1730 EST (0030 BST): The Big $4.40 ($8,000 GTD) — NEW
2000 EST (0300 BST): The Big $27.50 ($7,500 GTD) — NEW
2030 EST (0330 BST): The Big $2.20 ($5,000 GTD)
For more information, visit the PokerStars Daily Bigs homepage.
Watch the WSOP on ESPN
ESPN's coverage of the 2011 World Series of Poker continues Tuesday night with two premier episodes covering Day 6 of the Main Event. Among the players featured in Tuesday's coverage are Erick Lindgren, Phil Collins, Ben Lamb, and poker couple Dave "Doc" Sands and Erika Moutinho, both of whom were still alive when the broadcast concluded last week.
Sands and Moutinho were the talk of the tournament late in the Main Event and ESPN featured the two in a teaser leading up to tonight's coverage:
Are you following PokerNews on Twitter? Like us on Facebook while you're at it, and sign up for the newsletter. You know you want to.