The Nightly Turbo: PokerScout Traffic Numbers, Qureshi Responds, and More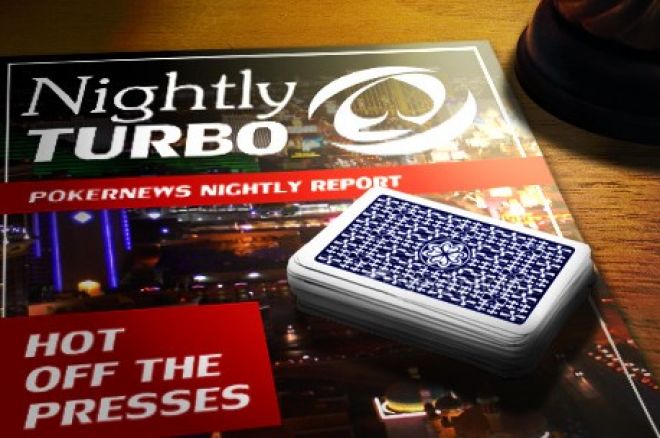 We're here to bring you the top poker news stories of the day. Not the news about the "poker" game Bill Belichick and Rex Ryan are playing. Yes, we have football on the brain. Back to why you're here. PokerScout has posted the online poker traffic numbers from last week and there's been a shake up in the top three. On top of that, Haseeb Qureshi has written a blog about his involvement with Jose "Girah" Macedo. If you want to find out more, you have to keep reading.
In Case You Missed It
The Epic Poker League kicked of its first Main Event on Tuesday and the PokerNews Live Reporting Team was there to bring you all the action. The $20,000 buy-in event attracted 137 players and by the end of the day, only 63 remained.
Sometimes you're too busy to watch TV. We understand. That's why we watch it and bring you the recaps. ESPN continued its 2011 World Series of Poker coverage Tuesday night with the final table of the $50,000 Poker Player's Championship.
Kristy Arnett caught up with Joe Hachem Tuesday night at the Epic Poker League Main Event to talk strategy. Hachem recounted a hand he played that day where he played the player and won the hand.
Shakin' Up the Top Three
Last week, we told you that online poker traffic had fallen. It seems that online poker traffic is like a yo-yo, because this week, PokerScout is reporting a 1.7 percent rise in traffic for the first week of August.
PokerStars is yet again the site to beat. The site has seen a 30 percent increase in traffic since the Full Tilt Poker shutdown in June, and the online poker giant now holds over 50 percent of the worldwide online poker market. PokerStars may have a strong hold on the top spot, but the second and third spots have switched places. PartyPoker lost ground last week, allowing the iPoker Network to inch ahead and take over second place.
Five of the top ten sites saw decreases in traffic. Everest Poker also saw a decrease in traffic, falling three spots to 16th. Some sites that are moving on up include IPN, which moved up one spot to 13th and Bodog, which moved from 16th to 14th. PartyPoker.fr joined the party again and found itself in the top 20 again, in 19th place.
In the last year, PokerScout's ACES indicator has determined that online poker traffic has decreased by 22 percent.
If you're into numbers, there's plenty more data where that came from over on PokerScout.com.
Qureshi Responds
We've told you about the Jose "Girah" Macedo dramabomb, so you know that Daniel "jungleman12" Cates and Haseeb "INTERNETPOKERS" Qureshi were also implicated.
After the drama, CardRunners parted ways with Qureshi and released a statement saying, "Effective immediately, CardRunners has decided to part ways with Haseeb Qureshi. While Haseeb is a talented instructor, he has shown poor judgement in using a stakee's poker account for his own play. We've informed Haseeb of this decision and it is final."
Qureshi took to his blog to tell his side of the story. Yes, we know it's TL;DR, but we read the whole thing to give you the CliffsNotes version. Qureshi admitted to playing under Macedo's account, which resulted in Macedo's disqualification from the BLUFF Challenge. He then goes on to detail how Macedo's scam unfolded and what he did to break the news to the people who were scammed.
"When Jose's Lock account got locked once we reached Gibraltar and I spoke with Jungle in person, we agreed that we should pay via bank wire to ensure that everyone involved received their funds immediately without worry. We wanted to be as amenable as we could to those who got scammed, recognizing that we were in a position of authority, and spent most of that night cursing Jose for being so f***ing stupid and working out the details with the group," he wrote.

Read Qureshi's entire blog at CardRunners.com.
Australian Poker Hall of Fame
The Australian Poker Hall of Fame recently announced two members of the 2011 Hall of Fame class. Leo Boxell, who just won APPT Melbourne, has over $1.1 million in winnings and is a familiar face in poker rooms around Australia.
The second member of the 2011 class of the Australian Poker Hall of Fame is tournament director Danny McDonagh. He is the first non-player to be inducted into the Australian Poker Hall of Fame. McDonagh is currently PokerStars' director of live operations in the Asia-Pacific region.
"I'm honored to be the first administrator in the Aussie Hall of Fame alongside such select company like Joe Hachem and Jeff Lisandro. When I began my poker career as a tournament director at Crown Casino, the team was running a $1,000 event that eventually became the Aussie Millions. I mean, who would have known that it would become the international icon that it is today," said McDonagh in a press release.
The Australian Poker Hall of Fame committee is still deciding on the rest of the 2011 HoF class. Jason Gray, Sam Khouiss, Keith Sloan, and Tino Lechich are among those being considered.
PokerNetwork.com has more on the Australian Poker Hall of Fame.
ESPN Inside Deal
ESPN's Inside Deal is back this week with a new episode. Jon Anik, Bernard Lee, and Andrew Feldman were all together again in the Bristol studio. The three discussed the Epic Poker League, the 2011-2012 World Series of Poker Circuit, and Full Tilt Poker.
We would have embedded the video for you, but we're not huge fans of the auto-play function. You can check out the latest Inside Deal at ESPN.com.
Are You Livin De Life?
We'd like to give a shoutout to TwoPlusTwo for this gem you're about to watch.
According to the YouTube page, A. Samuels "is a 55-year-old casino executive with a passion for hip-hop music."
Phil Ivey makes a cameo in the video and lyrics at around the 3:15 mark. "MJ, Ivey, Shaq, and AI, the bosses looked at me and said damn you fly."
This not only gave us a laugh today, but also made us scratch our heads. Did this guy lose a prop bet or is he actually serious?
Follow us on Twitter and like us on Facebook. We can't really think of a reason not to.