The Nightly Turbo: PokerStars' 65 Billionth Hand, WSOP on ESPN, and More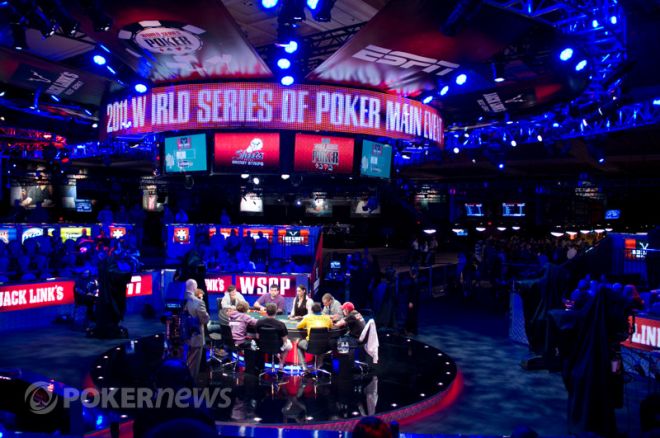 The weekend is over which means you're back to the workweek grind and so are we. What do you need to know for that watercooler chit chat on Tuesday? Well, PokerStars dealt its 65 billionth hand on Sunday. How much did the winner of the hand get? We'll tell you that, along with when the WSOP will air on ESPN, and more.
In Case You Missed It
Part two of the World Poker Tour Seminole Hard Rock Showdown aired on FSN Sunday night. All six final tablists made part two of the broadcast, and someone walked away with $1,122,340.
Another Sunday is in the books, which means another round of Sunday Majors crowned winners. The Sunday Briefing has all the results from the biggest online poker tournaments including the PokerStars Sunday Million and more.
The 2011 World Series of Poker November Nine is finally set. Now that we've had some time to digest what happened last week, Rich Ryan brings you his Five Thoughts on how the 2011 WSOP Main Event Final Table stacks up.
Congratulations!
On Sunday, PokerStars dealt its 65 billionth hand. If you're a frequent reader of the Nightly Turbo, you probably know there was some big money in it for the table dealt the Mega Milestone hand and for the winner of that hand.
Christopher Small, from Christchurch, New Zealand, was the lucky winner. He was playing at a $.10/$.25 six-max no-limit hold'em table, one of 24 tables he was playing at the time.
"I was 24-tabling and saw the popup telling me I was involved in the 65 billionth hand," Small told the PokerStars Blog. "I had ace-king when I looked at the table. My reaction was one of this must be a dream. I couldn't believe it."
The six players at the table had moved all-in and the board ran out
giving Small the big win. He pocketed $68,420 and the other five players won at least $1,710.
As for what Small will do with his newly found windfall, "It's still sinking in," he said.
According to a press release we received Monday morning, the 65 Billion Hand promotion ran for a week and saw $770,588.88 given out to more that 1,600 PokerStars players over 301 Milestone Hands.
Find out more about Christopher Small and his win at PokerStarsBlog.com.
Set Your DVRs
We're sure you got your fill of 2011 World Series of Poker coverage through the PokerNews Live Reporting Blog and the live feed on ESPN3.com and WSOP.com. If you're anything like us, you need time to wean yourself of your dependance for WSOP updates, so ESPN is here to help. Coverage of the 2011 World Series of Poker begins on Tuesday night on ESPN and runs for the next 16 weeks, all leading up to the November Nine.
It all kicks off on ESPN Tuesday, July 26 at 8 p.m. EDT with two hours of coverage of the promotional Grudge Matches that were played earlier this summer. The $25,000 Heads-Up Championship and the $50,000 Poker Player's Championship will take up the next two weeks of coverage on ESPN.
On August 16, Main Event coverage begins, and that's all you'll get until a winner is crowned. For those of you wondering who will be in the booth, the old standard of Norman Chad and Lon McEachern will be back calling the action and giving us an update on how many wives Chad has had.
Be sure and check your local listings for times and set your DVR. This is your one and only reminder - maybe.
On the Outside Looking In
Colson Whitehead is back with another installment of Occasional Dispatches from the Republic of Anhedonia on Grantland.com. If you don't know what this series is, then you probably don't read the Nightly Turbo that much, so you should change that.
In Part 3, Whitehead details his visits to City Center and The Cosmopolitan. He then gets into the stuff we all want to hear — his time at the table of the 2011 World Series of Poker Main Event and who showed up in the eight seat.
"Eventually Seat 8 showed up. The dealer looked at his ID and said, 'Oh, shit!' One thing you do not want to hear is a dealer say, 'Oh, sh*t!' when a player joins your table. He was wearing a red World Poker Tour jacket with … was that his name embroidered on the left breast? This motherf***er was so bad, he had a goddamned monogrammed World Poker Tour jacket! Floor managers and players from other tables moseyed over to say hello. Fortunately, he was on my right, and if he went crazy with six-betting or nine-betting or who knew what, I could make a quick muck."
We know when you head over to Grantland.com for the remainder of this story, you're going to think we're crazy for sending you to read a 5,000-word essay, but who knows, you might enjoy it. And you know you want to find out if he made it to Day 2.
A New Event Rolls into Town
HeadsUp Entertainment International, the folks that run the Canadian Poker Tour, Canadian Poker Player Magazine, and the Canadian Poker Player Television Network (pretty much anything that has to do with Canada and poker) announced the SIGA Poker Championship in a press release on Monday.
SIGA, the Saskatchewan Indian Gaming Authority operates six First Nation casinos in Saskatchewan and each one will be holding satellites for the event. The SIGA Poker Championship will take place October 1 and 2 at the Dakota Dunes Casino in Saskatoon, Saskatchewan.
"We are extremely pleased to be working with SIGA," said CPT President Dan Forigo. "We look forward to building a long and profitable relationship with them and are confident that the events we are working on for 2012 will continue to grow."
Check out the press release for more.
Ladies of Luck
In the second episode of In the Tank on PokerPhenoms.com, host Adam Johnson spoke with poker pro Matt Vengrin about his new project called Ladies of Luck. For his new project, he cast a group of women and will train them to play poker.
In the video, Vengrin introduces us to two finalists. The two discuss how they got into poker and how the training process is going.
We would have embedded the video here, but we can't figure out how to, so head on over to PokerPhenoms.com to check it out.
If you aren't following us on Twitter or liking us on Facebook you're probably missing on on up-to-the-minute news.