World Poker Tour on FSN: Seminole Hard Rock Showdown Part II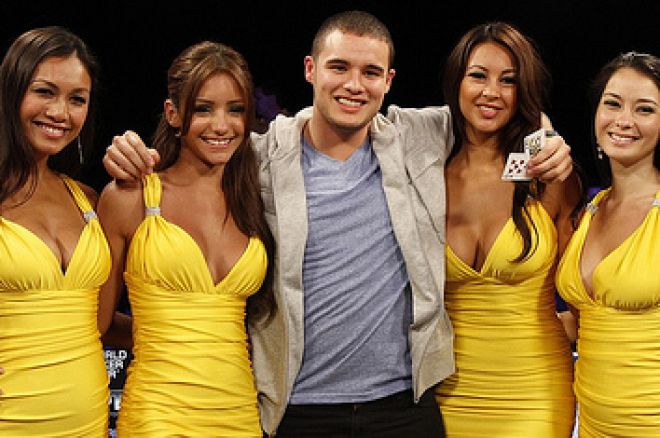 Another weekend has passed, which means that an all-new episode of the World Poker Tour Season IX aired Sunday. This week's poker action featured Part II of the Seminole Hard Rock Showdown, which took place from April 27 to May 2, 2011, at the Seminole Hard Rock Hotel and Casino in Florida, the first televised WPT tournament in that state. With the $10,000 Main Event attracting 433 entrants and creating a prize pool of $4,156,800, the remaining players were all gunning for the $1,122,340 first-place prize.
For the first time in Season IX, all six final tablists survived Part I of the broadcast. In last week's episode, the eclectic mix of finalists played some crazy hands that saw chips pinball around the table. Curt Kohlberg doubled more than once, in exciting fashion, while Abbey Daniels' tournament life was spared by a Justin Zaki lay-down.
Here are how things stacked up at the top of this week's broadcast.
WPT Seminole Hard Rock Showdown Final Table
Seat 1: Abbey Daniels (2,925,000)
Seat 2: Tommy Vedes (1,010,000)
Seat 3: Allen Bari (1,980,000)
Seat 4: Taylor von Kriegenbergh (2,695,000)
Seat 5: Curt Kohlberg (2,920,000)
Seat 6: Justin Zaki (1,450,000)
First Hand: On Hand #77 of the final table, with blinds at 25,000/50,000 with a 5,000 ante, Curt Kohlberg raised to 125,000 holding
and Tommy Vedes called from the small blind with
. The
flop hit both players hard, giving Kohlberg two pair but making Vedes the 51 percent favorite with top pair and a flush draw.
Vedes was first to act. He checked, which prompting Kohlberg to bet 175,000. "Buckle up, folks, you're going to see a lot of chips going into the pot here," host Mike Sexton said just before Vedes put in a check-raise to 475,000. Kohlberg hesitated for a moment before moving all-in and Vedes called for 880,000.
It was a coin flip, but the
was no help to Vedes, dropping him down to a 39 percent chance of winning the hand. Unfortunately for him, that flat-lined to no chance after the
blanked on the river. Vedes was sent to the rail in sixth place ($166,272).
One to Watch: The WPT continued its segment "Ones to Watch," which highlights ten young guns of poker who are primed to make names for themselves. In this week's installment, various "Ones to Watch" weighed in on their peer, Allen Bari, who just happened to be at the final table. The general consensus was that Bari was an exceptional poker player, and was, as Mike Sexton put it, "brash, cocky, and confident."
Allen Bari Eliminated in Fifth Place: On what would be hand #99, Justin Zaki raised to 135,000 with
, only to have Allen Bari move all-in for 1.195 million with
from the small blind. The rest of the players got out of the way, and after a count, Zaki made the call.
It was another race, but Bari found no help on the
flop. The
turn changed nothing, but the
river improved Zaki to a full house, eliminating Bari from the tournament in fifth place for $211,997.
"I was card dead for about six hours . . . I don't even know if that kid should be calling with fives," Bari vented to Matt Savage after the hand.
The Raw Deal: Tony Dunst took to his segment to discuss a bluff Taylor von Kriegenbergh ran against Abbey Daniels. Dunst was highly critical of Daniels' play throughout the hand and commended von Kriegenbergh on exploiting the situation to win the pot.
Abbey Daniels Eliminated in Fourth Place: On Hand #115, Curt Kohlberg raised to 200,000 with
and was quickly met with an all-in re-raise to 1,250,000 from Abbey Daniels who held
in the small blind. Taylor von Kriegenbergh folded in the big blind and Kohlberg made a quick call.
It was essentially the same scenario that led to Bari's demise, and it looked as if history was going to repeat itself when the flop fell
. Daniels needed an ace or eight to stay alive, but neither the
turn nor
river was it. The last woman standing was felled in fourth place and earned $286,819 for her performance.
Big Double for von Kriegenbergh: Justin Zaki raised to 280,000 from the button with
and had Taylor von Kriegenbergh move all-in from the small blind for 2,410,000 with
. Zaki snap-called and found himself with an 86 percent chance of winning the hand.
The
flop gave von Kriegenbergh a little help, but it was the
that sent the rail into a frenzy. Both players remained stoic and watched as the
fell harmlessly on the river. Just like that, von Kriegenbergh cracked aces to win the 5,000,000 pot and retake the chip lead.
Justin Zaki Eliminated in Third Place: While the next elimination came quickly on the broadcast, it was nearly 100 hands after the last in the actual tournament (hand #212). With the blinds at 75,000/150,000 and a 25,000 ante, von Kriegenbergh moved all-in from the button, Curt Kohlberg folded from the small blind, and a short-stacked Zaki called off from the big.
Showdown
von Kriegenbergh:

Zaki:
For what was the third hand in a row, Zaki was involved in an all-in situation with the best hand. While he lost the first two, it appeared the
flop was finally going to get him paid; however, Zaki's bad luck resurfaced when the
spiked on the turn. The
river was no help to Zaki, and he was eliminated in third place for $415,680.
Final Hand: Heads-up play began with Taylor von Kriegenbergh holding a commanding chip lead of 11,125,000 to Curt Kohlberg's 1,850,000. Needless to say, it didn't take long to determine the winner. In fact, it took eight hands for the tournament to come to an end. It happened when von Kriegenbergh moved all-in with
and was called by Kohlberg's
. The latter was at risk and seemed resigned when the flop fall
. Von Kriegenbergh hit his queen to take the lead, which was where he stayed as the
appeared on the turn, followed by the
on the river.
Both players soaked in the moment before meeting in the center of the stage and shaking hands. Kohlberg finished as the runner-up, taking home $586,109.
"The best way to win at Texas hold'em is suckouts, baby," von Kriegenbergh said as he celebrated with his friends before giving a victory interview with Kimberly Lansing.
Congratulations to Taylor von Kriegenbergh, Seminole Hard Rock Showdown Champion ($1,122,340)!
Tune in Next Week: Next Sunday FSN will air an all new episode of the WPT's Season IX! Be sure to check your local listings. If you happen to miss it, don't forget you can read the recap right here on PokerNews.
If you love poker, be sure to follow us on Twitter and like us on Facebook for up-to-the-minute poker news.
*Photo and video courtesy of WorldPokerTour.com