World Poker Tour on FSN: Hollywood Poker Open — Part II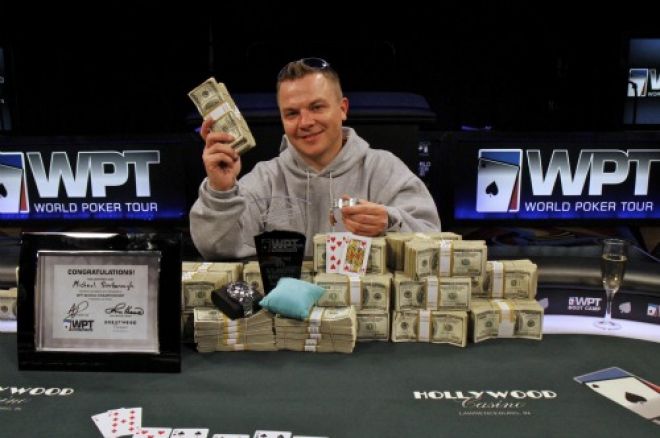 FSN continued its broadcast of Season IX of the World Poker Tour with Part II of the Hollywood Poker Open. The event took place from April 9 to 13, 2011, at the Hollywood Casino in Lawrenceburg, Indiana. The event attracted 97 players and created a $911,800 prize pool, $273,664 of which was reserved for first. The man best positioned to win was William Reynolds, who began the broadcast with a 2-1 chip lead over both Mike Scarborough and Erik Seidel.
This was a very special episode of the WPT because it marked the Tour's 200th episode! That puts them in the same league as other TV shows like Coach (200 episodes from 1989 to 1997), That 70's Show (200 episodes from 1998 to 2006), Home Improvement (201 episodes from 1991 to 1999), X-Files (202 episodes from 1993 to 2002), and Walker, Texas Ranger (203 episodes from 1993 to 2001). It also puts them far past other shows such as Growing Pains (166 episodes from 1985 to 1992), Star Trek Voyager (172 episodes from 1995 to 2001), I Love Lucy (179 episodes from 1951 to 1957), Seinfeld (180 episodes from 1989 to 1998), Golden Girls (180 episodes from 1985 to 1992), and Full House (192 episodes from 1987 to 1995).
*For more information on how the WPT compares to other TV shows, visit angelfire.com.
Getting back to poker, Part I of the broadcast saw half the final table hit the rail including cash-game specialist Ali Eslami in sixth place ($50,962); ClubWPT.com qualifier Andy Whetstone in fifth ($62,041); and Tom Marchese in fourth ($77,551).
Here is a look at how things stacked up at the top of this week's broadcast.
WPT Bay 101 Shooting Star Final Table
Seat 1: -empty-
Seat 2: Erik Seidel (512,000)
Seat 3: -empty-
Seat 4: -empty-
Seat 5: Mike Scarborough (685,000)
Seat 6: William Reynolds (1,731,000)
First Hand: With the blinds at 4,000/8,000 and a 1,000 ante, Mike Scarborough raised to 22,000 on the button holding
only to have William Reynolds reraise to 60,000 with his
from the small blind. Erik Seidel, in the big blind, got out of the way and Scarborough made the call. When the
appeared on the flop, Reynolds bet 30,000, Scarborough raised to 83,000, and Reynolds snap-called.
The
turn gave Reynolds a flush draw, but he opted to check. Scarborough bet 110,000, Reynolds check-raised all-in for 1.587 million, and Scarborough folded. Reynolds took the opportunity to show the semi-bluff. "I tried to give it away," Reynolds chirped as he raked in the pot.
Ones to Watch: During Season IX, the WPT chose 10 young players whom they deemed "Ones to Watch." Some of the players include Maria Ho, Jason Mercier, Joseph Cheong, and Matt Affleck. Not surprisingly, another "One to Watch" member was William Reynolds, who became the first on the list to make a WPT final table.
Reynolds vs. Scarborough: Over the next few hands, Mike Scarborough and William Reynolds battled back and forth while Erik Seidel seemed content to sit back and watch. In one hand, Reynolds raised to 22,000 from the button with
and Scarborough, who had chipped up to over a million, defended from the big blind with
. When the flop came down
, Scarborough check-called a bet of 25,000, leading to the
turn.
Again Scarborough check-called a bet, this time 70,000, and then checked in the dark before the
spiked on the river. Scarborough had hit his flush, but action was on Reynolds, who bet 200,000. "There's just no way," Scarborough said before moving all-in for 347,000 more.
"You're funny. Gave me the speech and then check-jammed," Reynolds laughed; however, he did not fold. Instead, he tanked for a long while, thinking aloud, as he and Scarborough chatted back and forth. Eventually Reynolds announced, "Call," only to see Scarborough turn over the winner. With that, Scarborough managed to capture the chip lead.
Five Questions: In this week's edition of "Five Questions" Kimberly Lansing sat down with Randal Flowers, the youngest ever two-time WPT winner. The two talked about Flowers' victories, his heroes (Carlos Mortensen), being a ladies' man, and the best thing about being a professional poker player (freedom).
William Reynolds Eliminated in Third Place: Mike Scarborough raised to 47,000 from the button only to have William Reynolds move all-in for 548,000. Erik Seidel folded from the big blind and Scarborough made the call.
Showdown
Scarborough:

Reynolds:
Reynolds was in a tough spot and only had a 28 percent chance of winning the hand. The
flop wasn't much help to Reynolds, but the
gave him both a flush draw and a gut-shot straight draw. Unfortunately for the one-time chip leader, the
bricked on the river and Reynolds was eliminated from the tournament in third place ($110,788).
Heads-Up Play: With the blinds at 12,000/24,000 and a 4,000 ante, Mike Scarborough (2,523,000) held a huge chip lead against Erik Seidel (405,000) entering heads-up play. Needless to say, it didn't take long for the final hand to develop. It began when Scarborough raised to 62,000 on the button, Seidel moved all-in for 361,000, and Scarborough made the call.
Showdown
Seidel:

Scarborough:
Seidel was a 55 percent favorite to win the hand, but the
flop gave Scarborough the lead and made him the 82 percent favorite. The
turn delivered a straight for Scarborough, leaving Seidel in need of a jack for a chop; however, the
on the river was not it. Seidel was eliminated from the tournament in second place for $155,103.
Congratulations to Mike Scarborough, the WPT Hollywood Poker Open Champion ($273,664)!
Tune in Next Week: Next Sunday FSN will air another all-new Season IX WPT episode, so be sure to check your local listings. If you happen to miss it, don't forget you can read the recap right here on PokerNews.
Past WPT Bay 101 Shooting Star Winners
| Season | Player | Earnings |
| --- | --- | --- |
| 8 | Carlos Mortensen | $391,212 |
| 9 | Mike Scarborough | $273,664 |
If you love poker, be sure to follow us on Twitter and like us on Facebook for up-to-the-minute poker news.
*Photo courtesy of WorldPokerTour.com
Executive Editor US, PokerNews Podcast co-host & 2013 WSOP Bracelet Winner.