The Nightly Turbo: Bwin.Party U.S. Partnership, Online Poker Traffic, and More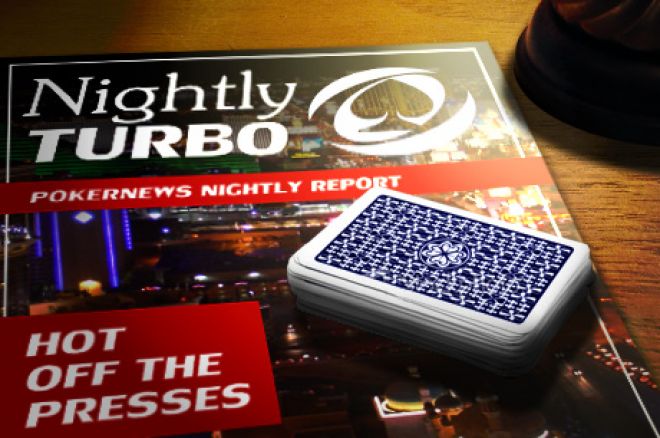 You've made it to the middle of the week, and if you're anything like us, you've got college football on the brain as the weekend gets closer. We've got to get through a couple of more days though and what better way to do that than catching up on the top poker news stories of the day. We'll be telling you how close bwin.party is to a strategic partnership with companies in the U.S., what the online poker traffic numbers look like, and more.
In Case You Missed It
What has hindered Full Tilt Poker in its attempt to pay back its players? The statement the company released Tuesday night offers some insight.
A champion was crowned at the World Poker Tour Legends of Poker Tuesday night. Find out how Will "The Thrill" Failla earned his biggest payday in our WPT recap.
We're aware that life happens and sometimes you have to miss ESPN's coverage of the World Series of Poker. That's why we watch it for you.In Tuesday night's two-hour block, Phil Hellmuth was featured and the ESPN crew even ventured out to the Poker Brat's home in Palo Alto, California.
Last weekend, Hurricane Irene did absolutely nothing for the casinos in Atlantic City — except help them lose revenue. Find out how much the AC casinos lost, which state could be adding casinos, and more in the latest edition of Inside Gaming.
Currently, the PokerStars European Poker Tour is in Barcelona for the second stop on Season 8, so if you didn't make it there, you're out of luck. But there's no reason not to plan early for the next stop.The EPT is headed to London soon, so check out the PokerNews Jet Set for things to do while you're there.
Bwin.Party Strategic Partnerships
According to eGaming Review, among other sources, bwin.party is in the process of finalizing agreements with partners in the United States to position itself for when online poker is legalized.
"We have made the decision to target strategic partners. At federal level, we are finalizing agreements with a couple of parties positioned nicely to operate in that market. In California, we are well advanced with a particular party. The same in New Jersey, consistent with where we are at a federal level," said bwin.party co-CEO Jim Ryan.
Ryan also discussed bwin.party's poker brands like PartyPoker, WPT and Club WPT, and believes the brands will benefit from "the likely exclusion from the market of the leading U.S.-facing poker brands following Black Friday."
He was then asked whether bwin.party was looking to purchase Full Tilt Poker. "We are not looking at the business and have no plans of looking at it," Ryan said.
You can read more about bwin.party at EGRMagazine.com.
Scouting the Traffic
Online poker traffic didn't change too much last week, only dropping 0.5 percent according to PokerScout. Of the top 10 sites, five saw decreases in traffic, while the other half saw increases. PokerStars sits solidly in the top spot, but PartyPoker and the iPoker Network continue to battle it our for second. The iPoker Network, ranked second, holds a solid 5 percent lead over PartyPoker at the moment. PokerScout credits PartyPoker's 3 percent drop in traffic due to criticisms over a change in rake policy the site was considering.
PokerScout's ACES indicator shows that total online poker traffic has decreased by 23 percent year-over-year. 888poker (up 126 percent), Merge Gaming Network (up 74 percent) and Bodog (up 68 percent) have seen big gains in traffic year-over-year. On the downswing are the International Poker Network (down 41 percent), Microgaming Network (down 24 percent) and Everest Poker (down 20 percent), year-over-year.
Check out current online poker traffic numbers at PokerScout.com.
#WhenWillItEnd
The latest installment of ESPN's The Nuts is back. The monthly blog post ranks the best players in poker at the moment. The Panel includes PokerNews' Editor-in-Chief Matthew Parvis, PokerNews' Tournament Reporting Manager Don Peters, ESPN's Andrew Feldman, Gary Wise, and Bernard Lee, among others.
Jason Mercier has a stranglehold on the top spot. "I see no way of Jason Mercier falling out of the top spot in the next year. His results speak for themselves, and he is clearly the best tournament poker player in the world," Parvis said.
Erik Seidel is still sitting pretty in second place, but the player in third place made the biggest jump of the month. Eugene Katchalov vaulted from sixth to third, no doubt because of his eighth-place finish in the Epic Poker League and his final-table appearance at the European Poker Tour Barcelona.
Vanessa Selbst finds her way in the top 10 again, in eighth place. "It was a mistake she wasn't on this list a month ago and thanks to two cashes, Selbst is back where she belongs," said Feldman. Phil Ivey is still hanging on in the top 10 in ninth place, even though he hasn't played in months and Daniel Negreanu rounds out the top 10.
If you want to find out what the middle of the list looks like or who bubbled, you'll have to head on over to ESPN.com.
PokerStars WCOOP Radio
PokerStars is set to bring you tons of WCOOP coverage. The World Championship of Online Poker kicks off on Sept. 4, and to make sure you stay in the know, PokerStars is launching WCOOP Radio and Inside WCOOP, a PokerStars.tv series.
WCOOP Radio kicks off Sept. 7 and runs through Sept. 27. It will feature guest appearances and player interviews, and be interactive, complete with competitions, quizzes, and exclusive tournaments for listeners. WCOOP Radio will be broadcast in English, German, Russian, and Spanish. Adding to the coverage, every Tuesday, beginning Sept. 13, Nick Wealthall and Joe Stapleton will host Inside WCOOP. The show will cover the latest news and action from the WCOOP schedule.
Stay on top of the WCOOP schedule and news at PokerStars.com.
How do You Say Hello?
Team PokerNews travels all around the world to bring you updates from the biggest poker tournaments. Each country has its own way of saying "hello," and this puts Kristy Arnett in a predicament every now and again. She set out to get the scoop on how people from around the world greet each other, and even makes up her own greeting with Laura Corneilus.
Follow us on Twitter for up-to-the-minute news.