PokerNews Mid-States Poker Tour Prepares for the $300,000 Guarantee at Meskwaki
Mid-States Poker Tour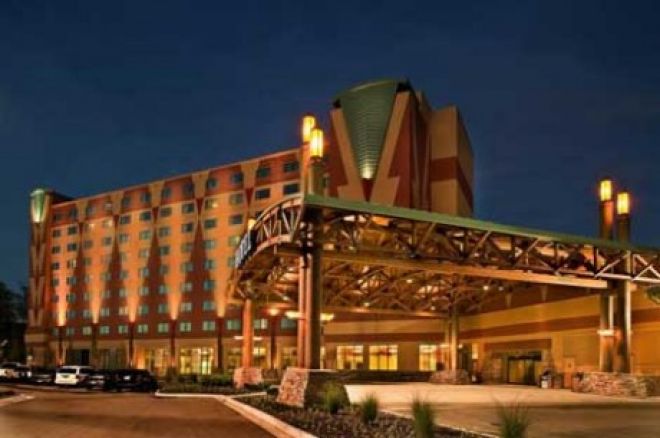 The Meskwaki Bingo Casino Hotel has hosted four PokerNews Mid-States Poker Tour events, and the event has quickly become one of the most popular tournaments in the upper-Midwest, creating prize pools totaling $1,259,700 since 2012. Players from three separate states have earned a win and an RF Moeller diamond championship bracelet at Meskwaki, including Muneer Ahmed of Dassel, MN, Dan Sun of Cedar Rapids, IA, Mike Reynolds of Chicago, IL, and Terry Ring of Durant, IA. The four players combined to earn $334,961.
Amateur poker player Terry Ring navigated one of the toughest MSPT final tables ever en route to victory at Meskwaki last April. A brief list of accomplishments from the participants in this stacked final table read like a who's-who of poker in the Midwest:
Blair Hinkle – Multimillion dollar winner with a WSOP bracelet and WSOP Circuit ring.
Nick Jivkov – WSOP bracelet winner and three-time Circuit ring winner.
Blake Bohn – Recent winner of the Chicago Poker Classic and WSOP runner-up for almost $600,000 total.
David Gonia – Winner of $94,000 and MSPT bracelet in January at Running Aces and a WSOP final table for another $57,000.
Poker pros Mark Sandness and Eric Loehr were also at the final table, and there was not a weak spot in the group, with the amateurs holding their own as Ring went on to beat Jivkov after a tough heads-up battle to take home the bracelet and $87,694.
The next MSPT festivities kick off at Meskwaki on Saturday, July 20 and will run through Sunday, July 28. The $300,000 guaranteed $1,100 Main Event will begin on Friday, July 26 and feature two Day 1s.
"I absolutely love going to Meskwaki," said MSPT Lead Pro Blake Bohn. "I enjoy that I can travel less than three hours and not have to fly across the country to play in a well-run tournament with a big prize pool. If things don't go my way in the tournament, there are always a ton of cash games to get into. I really felt at the last stop here when I arrived at the final table that I was going to win my first MSPT bracelet. Getting back in that position again is my only objective."
The Meskwaki Bingo Casino Hotel is located in Tama, Iowa, between Des Moines and Cedar Rapids on highway 30. The beautiful property draws players from all over central Iowa, and PokerNews MSPT events draw from a wide player base in the center of the country. Meskwaki was the first venue to offer a $300,000 guarantee for an MSPT event, and it has paid off with huge fields. This time will be no different.
With a huge bingo hall, table games, active craps tables, good blackjack games, horse book, indoor pool, exercise room, spa and a large number of hotel rooms, it's hard to think of anything that Meskwaki doesn't offer. One of the great features of the Meskwaki MSPT is that Meskwaki has the ability to host tournaments, as well as cash games all in the spacious event center. There's no jaunt back-and-forth to the poker room, it's a one-stop shop.
The Des Moines airport is beautiful and easy access, just a 50-minute drive to Tama. The most common cash game in the room is $1/2 no-limit hold'em, but the $5/10 Pot-Limit Omaha game gets going every time the MSPT rolls in. At one point during a prior event, there were so many cash game chips in play that the casino ran out.
For further information on all of the events, you can head over to the MSPT website.
Lead image courtesy of 500nations.com.
Follow the PokerNews MSPT on Twitter, like PokerNews MSPT on Facebook, and follow PokerNews on Twitter for up-to-the-minute news.