Meskwaki Casino and PokerNews MSPT Partner for $300,000 Guaranteed Main Event
Mid-States Poker Tour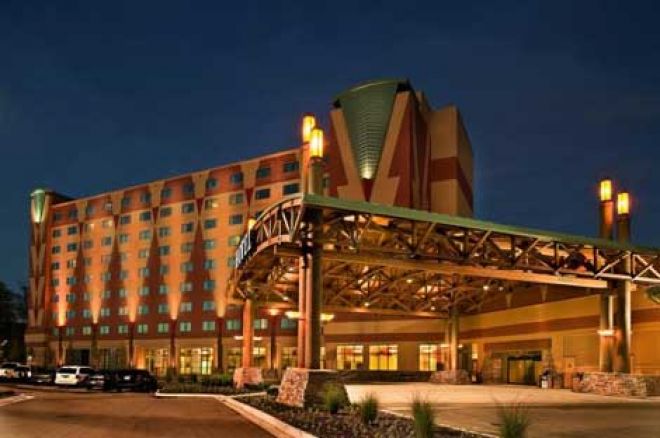 The Meskwaki Bingo Casino Hotel in Tama, Iowa, between Des Moines and Cedar Rapids on Highway 30, is a beautiful property that draws players from all over central Iowa. The PokerNews Mid-States Poker Tour events held there draw from a wide player base in the area. Meskwaki was the first venue to offer a $300,000 guarantee for an MSPT event, and it has paid off with huge fields. This time will be no different.
With a massive bingo hall, table games, active craps tables, great blackjack games and a large number of hotel rooms, it's hard to think of anything that Meskwaki doesn't offer. One of the great features of this MSPT stop is that Meskwaki has the ability to host tournaments, as well as cash games all in the spacious event center. There's no jaunt back-and-forth to the poker room — it's a one-stop shop.
The Des Moines airport is beautiful and allows easy access to the venue with onlyl a 50-minute drive to Tama. The most common cash game in the room is $1/$2 no-limit hold'em, but the $5/$10 pot-limit Omaha game gets going every time the MSPT rolls in. At one point during a previous event, the casino nearly ran out of chips for the cash games because there were so many games.
Meskwaki has hosted three MSPT events to date, creating prize pools totaling $950,000 in 2012. Players from three states earned a win and an RF Moeller diamond championship bracelet at Meskwaki last season including Muneer Ahmed of Dassel, Minnesota, Dan Sun of Cedar Rapids, Iowa, and Mike Reynolds of Chicago, Illinois. The three combined to earn $247,267.
This season, the PokerNews MSPT has already drawn big numbers across several states, and there's a good shot that this event could break the Meskwaki attendance record set by the MSPT at the same time last season. Most people expect the MSPT to crack the 400 barrier sometime this season, but will this be the one?
"The partnership with Meskwaki Casino in Season 3 and offering a $300,000 guaranteed prize pool is really what took the MSPT to the next level at a much quicker rate than we would have been able to otherwise," stated MSPT founder Bryan Mileski. "We had been building some great momentum prior to that, but word got out quickly in the Midwest when we teamed with Meskwaki to back the event with a $300,000 guarantee. Since then, we have generated a large following from players in several states and have set attendance records at several stops. We are really grateful for the opportunity to work with Meskwaki. Meskwaki's general manager is Dan Stromer who is an avid poker player and has played MSPT events in the past, as well as several other tournaments and tours across the nation, so he gets it. He shares the same vision as the MSPT on what we're trying to build."
The MSPT festivities kick off at Meskwaki on Saturday, March 30 and will run through Sunday, April 7. The $300,000 guaranteed $1,100 Main Event will begin on Friday, April 5 and feature two Day 1s.
For further information on all of the events, you can head over to the MSPT website.
Lead image courtesy of 500nations.com.
Follow the PokerNews MSPT on Twitter, like PokerNews MSPT on Facebook, and follow PokerNews on Twitter for up-to-the-minute news.