PokerNews Mid-States Poker Tour Expecting Big Things in Season 4
Mid-States Poker Tour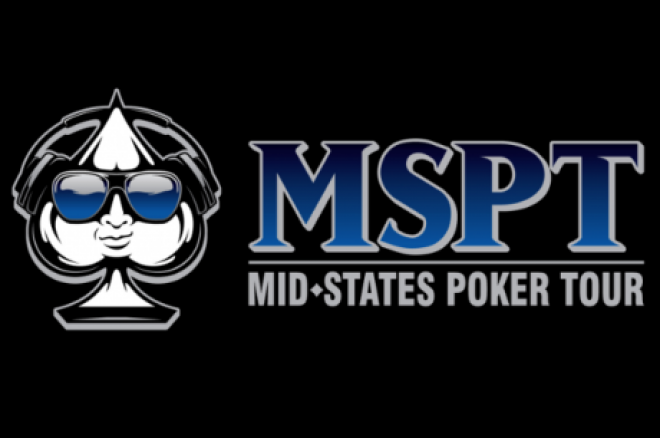 After a record-setting $375,800 prize pool for the final event of Season 3 at Canterbury Park, the PokerNews Mid-States Poker Tour will kick off Season 4 at Running Aces Harness Park in Minnesota. The first event of Season 4 runs from Feb. 9 through Feb. 17, 2013, and Running Aces expects a huge turnout.
The MSPT has grown quickly and has already awarded more than $4 million in its first three seasons. With 14 events in six states on the calendar (and several more potential stops in the works), and guarantees ranging from $100,000 to $300,000, the tour will likely give out more than $3 million in Season 4 alone. With multiple new venues, and the best venues from previous seasons, this looks like a great year for the tour to expand to new areas while maintaining a presence in places where it has already built a following.
"I'm excited to travel with the tour this year and see some new places," said MSPT ambassador Chris "Fox" Wallace about the upcoming season. "The MSPT brought great structures to Minnesota, and then on to Iowa and other states, and now we are bringing the same player friendly blind levels to new states. Having the MSPT in Minnesota changed everything here, and the local poker rooms all offer the great structures that players have come to expect after playing MSPT events, and I'm sure we can do the same thing for the new places we visit."
The tour will stop in Iowa, Michigan, Minnesota, Oklahoma, South Dakota, and Wisconsin, with eight different venues announced so far. Some of the finest poker rooms in the central U.S. are part of the tour.
Feb 9-17, 2013: Running Aces Harness Park in Forest Lake, Minnesota, will host the first event of the season, with an expected field of well over 300 and an excellent selection of cash games and an incredible staff.
March 3-10, 2013: The MSPT will visit FireKeepers Casino in Battle Creek, Michigan for the first time. Seating will be limited for this event, with three starting flights, so get your seat early to avoid being left out. Michigan is the former home of MSPT ambassador Chris "Fox" Wallace, who expects a strong field and a great event from the best poker room in the state.
March 7-17, 2013: Downstream Casino and Resort in Quapaw, Oklahoma, enjoyed great success in Season 3, and looks to be setting up as a permanent stop on the schedule. The beautiful casino hotel, professionally run poker room, and southern hospitality, make this a stop well worth the drive, with players coming in from all over the Midwest, as well as the west coast and the entire south.
March 16-24, 2013: Ho-Chunk Gaming in Baraboo, Wisconsin, had so much fun last year that it has signed on for two events this season! Located in the Wisconsin Dells, Ho-Chunk is fun for the whole family and offers a player-friendly environment. You won't find players who are more fun to play and have a drink with than Mark "PokerHo" Kroon and the always-entertaining Reggie Mims.
March 30 - April 7, 2013: The Meskwaki Bingo Casino Hotel in Tama, Iowa, is one of the biggest stops on the MSPT. This stop drove nearly $1 million in prize money during the 2012 season, with a $300,000 guaranteed prize pool at every MSPT Meskwaki event. This event is becoming known for its huge fields and soft players, though pros like Jamie Gold, Kevin "BelowAbove" Saul, Amanda Musumeci, and others were seen at Meskwaki last season.
April 20-28, 2013: The MSPT returns to Canterbury Park expecting a massive field after its record-setting event last season where retired truck driver James Gibson won over $95,000 after surviving a field of 376. This season's event at Canterbury is a chance for the tour to break 400 players, as well as the six-figure mark for first place. Players are expected to travel from around the Midwest to join the hunt for the bracelet and cash.
May 11-19, 2013: Northern Lights Casino in Walker, Minnesota, is the northernmost stop on the tour, and also a favorite among players who follow the tour. A beautiful resort town on a lake in May? With friendly staff and a relaxing lake shore atmosphere, many players see this event as a vacation where they can win thousands of dollars in between kicking back on the balcony and watching the waves.
July 20-28, 2013: After a summer break, the MSPT returns to Tama, Iowa, for another $300,000 guaranteed event at Meskwaki Bingo Casino Hotel.
August 10-18, 2013: The Grand Falls Casino Resort in Sioux Falls, South Dakota, welcomes the MSPT back after a fantastic inaugural event last season. Players loved this stop last year, with great staff, beautiful rooms, and a nice turnout, Grand Falls has everything a poker player could want, including an MSPT event.
August 17-25, 2013: By the time the MSPT rolls back into FireKeepers, the new event center will be finished and potential unlimited seating should mean a huge field. We'll see you in Battle Creek this summer.
Aug. 30 - Sept. 8, 2013:The MSPT is back at the Downstream Casino Resort in Quapaw, Oklahoma for another great event, the second of the season.
Oct. 26 - Nov. 3, 2013: The third visit to Meskwaki in Tama, Iowa, and the third $300,000 guarantee. The MSPT may give out a million dollars this year at a single venue!
Nov. 2-10, 2013: Back at Ho-Chunk in the Wisconsin Dells, the MSPT looks forward to a venue, and players, that can turn a poker tournament into a party.
Nov. 30 - Dec. 8, 2013: Once again Canterbury Park in Shakopee, Minnesota, hosts the final event of the season, and every MSPT season ends with a bang! The huge prize pool from Canterbury Park makes for a great holiday for a few skilled players.
About the PokerNews MSPT
The PokerNews Mid-States Poker Tour is the fastest growing poker tour in America, giving away more than $4 million in its first three years. Known for excellent structures, multiple starting days, and large numbers of qualifiers, these $1,100 buy-in events draw larger and larger fields at every stop. Players who visit an event quickly become loyal regulars and MSPT family, traveling to tour stops in other states. Many players credit the MSPT with bringing better structures to the Midwest and offering a player friendly tournament series with big prize pools.
For more information, and a complete schedule, visit MSPTPoker.com.
Follow the PokerNews MSPT on Twitter. Like PokerNews MSPT on Facebook.
Follow PokerNews on Twitter for up-to-the-minute news.