Six Premiere Poker Tournament Stops Remaining in 2012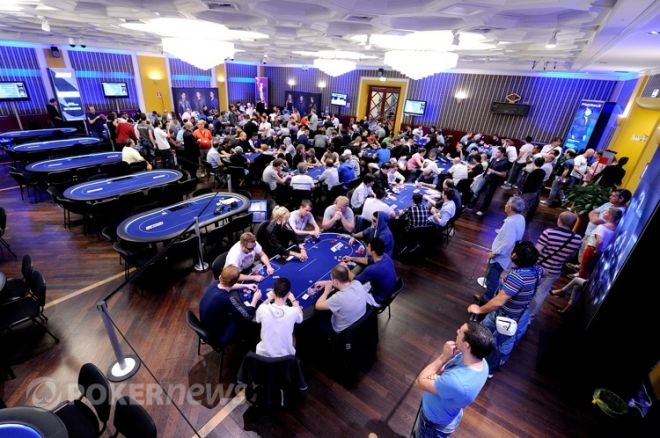 The 2012 World Series of Poker is officially over, and Greg Merson emerged victorious at what turned out to be a memorable final table. Despite a bittersweet ending to poker's premiere series, the year's great tournament offerings will continue. In fact, there are still six premiere stops remaining this year that PokerNews will cover.
These tournaments are not only taking place all across the United States, but in all corners of the world as well. You may not be able to travel to all the stops, but rest assured you can sweat all the action courtesy of the PokerNews Live Reporting Team. For those of you who plan on playing any of the upcoming tournaments, be sure to check out PokerNews Hotels for all your accommodation needs.
WSOP Circuit Harveys Lake Tahoe (Nov. 8-19, 2012)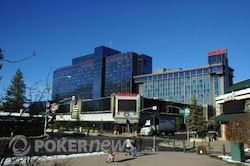 Address: 18 U.S. 50 Stateline, NV 89449
Phone: (775) 588-2411
Facebook: Harrahs Harveys Lake Tahoe's Facebook page
Twitter: @HarrahsTahoe
Website: WSOP.com
The sixth stop of the 2012-2013 World Series of Poker Circuit presented by Southern Comfort 100 Proof is already taking place at Harveys Lake Tahoe. It will culminate this weekend with the $1,675 Main Event. Scenic Lake Tahoe has proved a popular stop among poker player and offers plenty of poker action — 12 ring events to be exact. The majority of those events have ended, and Daniel Gilmer won two gold rings in four days to take a commanding lead in the Casino Championship race. Kevin Calenzo also captured his second career gold ring.
Follow the Harveys Lake Tahoe Action here.
2012 Australia New Zealand Poker Tour Auckland (Nov. 17-25, 2012)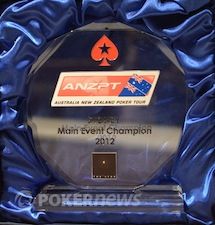 Casino: SKYCITY Auckland
Address: Cnr Victoria and Federal Streets, Auckland, New Zealand
Time: GMT+12.
Language: English and Maori.
Climate: The weather in Auckland is usually warm, although it will be cooler during the time of the event in October.
Currency: New Zealand dollar (NZD). Exchange rate approx. USD $1 = NZD 1.23 (approximately).
Phone: 0800 SKYCITY (0800 759 2489)
Facebook: ANZPT's Facebook page
Twitter: @PokerStarsANZPT
Website: ANZPT.com
The 2012 Australia New Zealand Poker Tour, on its second stop of the season, will visit Auckland, New Zealand, for the very first time Nov. 17 through 25, 2012. The stop will feature a week of poker tournaments, headlined by the $2,200 NZPT Main Event.
The largest city in New Zealand, Auckland is home to 1.3 million people and boasts shores on two oceans, so to say it's a waterfront city full of water-sport options would be an understatement. Top off the water sports with a great nightlife, upscale bars and restaurants, and nearby islands to explore, and you have one of the Southern Hemisphere's most enchanting poker locales.
The minimum age to play in New Zealand is 20 years old, so the younger crowd is expected to come out in full force. Moreover, New Zealand pros like Daniel Craker and Simon Watt, the man who won $614,248 and a bracelet in the 2012 World Series of Poker Event #11 $1,500 No-Limit Hold'em by defeating Tom "durrrr" Dwan in heads-up play (thus saving the high-stakes poker community a great deal of money in bracelet bets), are expected to attend.
Follow the ANZPT Auckland Main Event here.
WSOP Circuit Harrah's Atlantic City (Nov. 29 - Dec. 10, 2012)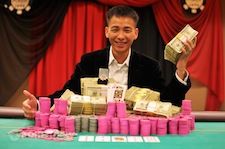 Address: 777 Huron Avenue, Atlantic City, New Jersey 08401
Phone: (609) 441-5000
Facebook: Harrah's Atlantic City's Facebook page
Twitter: @harrahsresort
Website: WSOP.com
Atlantic City was ravaged by Hurricane Sandy, but not even a hurricane can stop one of the East Coast's premiere poker tournaments—the WSOP Circuit at Harrah's Resort. Atlantic City has been on the WSOP Circuit schedule since the beginning (there's another stop there later in the season at Caesars), and typically the tournaments in AC always attract big fields.
Last year, an astounding 618 players entered the Main Event, shattering the former record of 352 players in 2010. After three days of intense play, Tuan Phan emerged victorious to win $188,830, the gold ring, and a seat in the WSOP National Championship.
The stop will feature 12 ring events and award two seats to the National Championship — one for the $1,675 Main Event winner and one for the Casino Champion.
Find out who thrives at Harrah's Atlantic City by following our live updates.
DeepStacks Poker Tour Mohegan Sun National Championship (Dec. 1-5, 2012)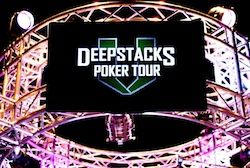 Address: 1 Mohegan Sun Boulevard, Montville, CT 06382
Phone: (888) 226-7711
Facebook: DeepStacks Live's Facebook page
Twitter: @LIVEdeepstacks
Website: DeepStacks.com
On Oct. 30, PokerNews was on hand at the Commerce Casino in Los Angeles for the DeepStacks Poker Tour Breeders' Cup Celebrity Charity Invitational Main Event, which was won by Thomas Quigley. We also covered the DeepStacks Poker Tour's inaugural event last February at Seneca Niagara where William Vogel best 216 others to win $71,827 and become the first DeepStacks Poker Tour champion.
Now, the DeepStacks Poker Tour is traveling to the popular Mohegan Sun Casino in Connecticut to cap the 2012 season with the DeepStacks Poker Tour Mohegan Sun National Championship. The $2,500 Main Event features a $500,000 guarantee and allows for reentries for the first three levels. The tournament is expected attract a number of notable players, including members of DeepStacks Pros Michael "The Grinder" Mizrachi, Tristan "Cr8ive" Wade, Mike "The Mouth" Matusow, and Randal "RandAllin" Flowers, just to name a few.
PokerNews is the official media partner of DeepStacks, so be assured we'll be in the thick of things to bring you all the action from the 2012 DeepStacks National Championship.
European Poker Tour Prague (Dec. 5-15, 2012)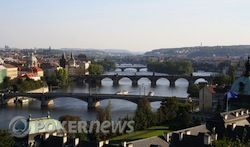 Casino: Golden Prague Poker, Hilton Prague Hotel
Address: Pobrenzi 1, Prague, Czech Republic 186 00
Time: Central European Time (CET)
Language: Czech
Currency: Czech koruna CZK
Phone: 0034 93 352 1010
Facebook: European Poker Tour's Facebook page
Twitter: @PokerStarsEPT
Website: EuropeanPokerTour.com
Season 9 of the European Poker Tour has already visited Barcelona, Spain, and San Remo, Italy, and now it's time to visit Prague, Czech Republic, for the sixth time in EPT history. Last year the tournament attracted 722 entrants and Germany's Martin Finger walked away with the trophy and €720,000 first-place prize. What's more, the final table was truly an international affair with seven countries represented by the final eight players — Germany, Netherlands, Ukraine, United States, Denmark, Spain and France.
From Dec. 5 to 15, a full festival of events will be taking place, overlapping the Eureka Poker Tour. With that said, the big attraction is still the €5,300 EPT Main Event, which is expected to be the biggest and best yet.
Prague boasts a population of 1.2 million and is known for its Yuletide markets and hot wine stalls, so there's no better time for the tournament than near the holiday season. Here's a little more information about the city as provided by the EPT: "With some 600 years of architecture virtually untouched by natural disaster or war, few other cities in Europe are as beautiful as Prague. Straddling the winding River Vltava, with a steep wooded hill to one side, the city retains much of its medieval layout. The left bank contains the most obvious sights - the castle or Hrad itself, the city's cathedral, and the old royal palace and gardens - as well as a host of museums and galleries. During the decades of Soviet rule, very few westerners visited Prague. However, since the 1990s, the city has become one of Europe's most popular tourist destinations. The country joined the European Union in 2004."
PokerNews will be providing live updates, videos and interviews from Prague, so join us in a few weeks for the third stop of the EPT Season 9.
Harrah's Rincon (Dec. 6-17, 2012)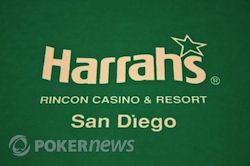 Address: 777 Harrah's Rincon Way, Valley Center, CA 92082
Phone: (760) 751-3100
Facebook: Harrah's Rincon's Facebook page
Twitter: @Harrahs_Rincon
Website: WSOP.com
The World Series of Poker Circuit has a few stops that tend to bring in the professionals, and Harrah's Rincon near San Diego is one of them — no doubt because the venue is close to Los Angeles and Las Vegas. It was there that Seneca Easley, now one of the WSOP Circuit's most famed regulars, made his name after winning the Main Event back in the 2010-2011 season to take home more than $70,000. It was also that year the stop featured a $10,000 Regional Championship, which was won by cash-game superstar Ali Eslami.
Last year, the tournament attracted 332 players and was won by Joe Kuether, who has been one of the hottest players in 2012. For his win, he took home $111,104 along with his first WSOP Circuit ring. "Having a ring is cool, a nice little accomplishment/trophy/memento I suppose; however, it was mainly about the money," Kuether told PokerNews in an interview after his big win.
Following the WSOP Circuit standard, the stop will offer 12 ring events culminating in the $1,675 Main Event. The winner of that tournament, as well as the stop's overall point leader — the Casino Championship — will be awarded seats in the season-ending National Championship. To view the schedule in its entirety, visit WSOP.com.
Follow updates from the WSOP Circuit Harrah's Rincon in PokerNews' Live Reporting Section.
Get all the latest PokerNews updates on your social media outlets. Follow us on Twitter and like us on Facebook now!