World Series of Poker Circuit Rincon Regional Championship Day 4: Ali Eslami Wins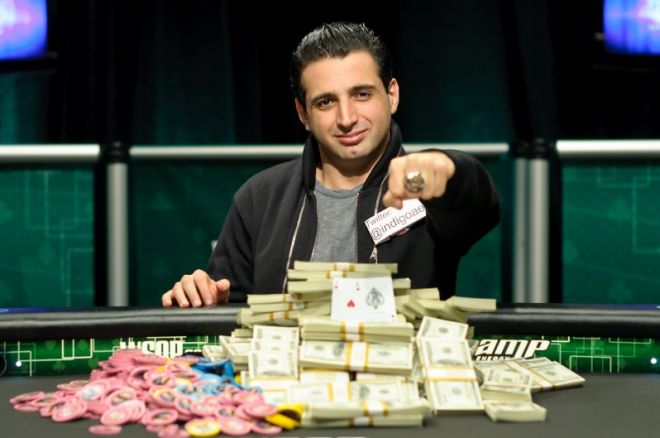 On Wednesday, the final nine players at the World Series of Poker Circuit Western Regional Championship set up shop under the bright lights of the Versus cameras to play down to a winner. It took about ten hours to meet that goal, and it was Ali Eslami left standing alone with all 2.94 million chips.
During the first full level of action, the nine-handed table was reduced by one with short stack Miller Dao the first to go under. Dao moved all in with
, but Dylan Wilkerson woke up with
in the big blind. When the board ran
, Miller was parted with the rest of his chips and was whisked away to the interview booth to tell everyone what happened. Dao's story was one of the most intriguing of the week in Rincon. The amateur turned an $80 satellite into a $10,000 entry and, eventually, a payday of $24,235. Even better, he'll continue the parlay in Las Vegas since this result was good enough to earn him one of the 100 seats in the WSOP-C National Championship in May.
Despite that knockout, Wilkerson was still short on chips — around the twenty-big-blind mark — and he was the next to fall, in eighth place. Wilkerson got it in with
, flipping for double or nothing against Dana Kellstrom's
. The
board failed to find Wilkerson's overcards, and he was out with more than $30,000 to show for his efforts this week. It was the second time in two days that Big Slick betrayed Wilkerson. Very late in Day 3, he lost a huge pot and the chip lead when his ace-king ran into Tim West's pocket aces.
About 90 minutes of seven-handed poker went by before another player dropped out of the mix. It was one of the favorites, too. Dwyte Pilgrim, one of the many huge success stories to come out of the WSOP's little-brother tour, is no stranger to Circuit wins. Pilgrim made another charge through the field at Harrah's Rincon (a building in which he's tasted victory before), but this time, his run came to an end in seventh place. On the turn of a
board, Pilgrim shoved his ten big blinds in with
. Chip leader Ali Eslami called with his
out in front, and Pilgrim could not find the card he needed, as the
river ushered him to the exit. If the table didn't know it then, they'd soon realize that they needed to get used to the sight of Eslami sending players home early.
Kellstrom, for one, was presented with that truth moments later when, in a cooler of a hand, he was eliminated in sixth place. It was Eslami in the pot again, and he called a continuation bet on the
flop. When the
hit fourth street, Eslami check-raised all-in, and Kellstrom quickly called with
for the wheel. As it turned out, he was already drawing dead to a chop. Eslami's
had made the bigger straight with that same turn card, and the river
was no help to Kellstrom. He'll be the first to tell you he's not as experienced as some of his table mates, but Kellstrom certainly held his own on the felt over the last four days. This cash moves him over $200,000 in tournament earnings as his 2011 has gotten off to a career-best start.
Eslami was well in control of the match by the time Kellstrom left, and he took care of the next elimination, too. Short-stack David Peters shoved with
, and Eslami's
was plenty good enough for him to call with. The
flop was a disaster for Peters, and it looked like he wouldn't even be able to manage a chop. The turn
was no help to him, and the
river was nothing but a needle in his side. Two pair was good but not good enough in that spot, and Peters hit the rail to leave four players on the felt. That number would shrink to three a couple of hands later.
Another of the pros, Full Tilt Poker Red Pro Steve Brecher, never once had a big stack to play with during this four-day event. Still, he played his middling chips with great precision, and he picked through a few all-ins on the final day to work his way to a fourth-place finish. There wasn't much he could do on the
flop, sitting with
in the hole and less than ten big blinds. His last 155,000 chips went all-in, and it was — you guessed it — Ali Eslami doing the deed with his superior
. The
turn teased Brecher with chop outs, but the river
was all she wrote.
When the players broke for dinner, Eslami had close to 60 percent of the chips in play, but West drew to within striking distance just minutes after their return to the table. The man stuck in the middle was D.J. Blanchard, starting the after-dinner session with just over twenty big blinds. He didn't waste much time getting those chips into the middle preflop, holding
, and it was West's three-bet with
that forced his hand. Off to the races they went, and West's horse ran faster on the
board. Blanchard was out in third place with a six-figure cash, and West and Eslami were heads up for the ring.
The battle figured to be a marathon with the stacks deep and the play particularly methodical. For about two hours, the two traded jabs as they bantered back and forth feeling each other out. The match was either going to end quickly in a cooler or wear on laboriously for six hours. It was a cooler.
At the 4,000/12,000/24,000 level, West opened to 62,000, and Eslami stuck in a rare three-bet to 138,000. After some consideration, West shoved all in for about a million chips, and Eslami couldn't have called more quickly. West was working with
, and he was in all kinds of trouble as the
rolled over on the other side of the felt. The at-risk West couldn't even find anything to sweat as the board ran
to put the final punctuation on the third Regional Championship of the 2010-2011 WSOP Circuit season.
In his interviews with the television crew, Eslami was very gracious in victory. He chose his words carefully so as not to sound arrogant and over-confident while he explained that even as early as Day 1, he knew he'd be in this spot come Wednesday. He thanked Jerry Buss, owner of the Los Angeles Lakers, and Chad Brown, his poker mentor, for the encouragement and motivation he needed to make it to this point. The victory comes as a double celebration; Eslami celebrated his birthday this week in Rincon.
Even with all his confidence, he probably didn't expect to get a diamond ring for his birthday, but this is one present Ali Eslami won't soon forget.
Final Table Payouts

| Place | Player | Prize |
| --- | --- | --- |
| 1 | Ali Eslami | $282,242 |
| 2 | Tim West | $174,443 |
| 3 | D.J. Blanchard | $124,204 |
| 4 | Steve Brecher | $90,223 |
| 5 | David Peters | $68,834 |
| 6 | Dana Kellstrom | $50,445 |
| 7 | Dwyte Pilgrim | $38,808 |
| 8 | Dylan Wilkerson | $30,397 |
| 9 | Miller Dao | $24,235 |
That's all from Harrah's Rincon, but the WSOP-C keeps on rollin', and so do we. We're heading to St. Louis next, and in the meantime, you should follow us on Twitter and like us on Facebook to keep tabs on bits of poker news from all the world around.