$50,000 Controversy at the 3rd Annual Chicago Poker Classic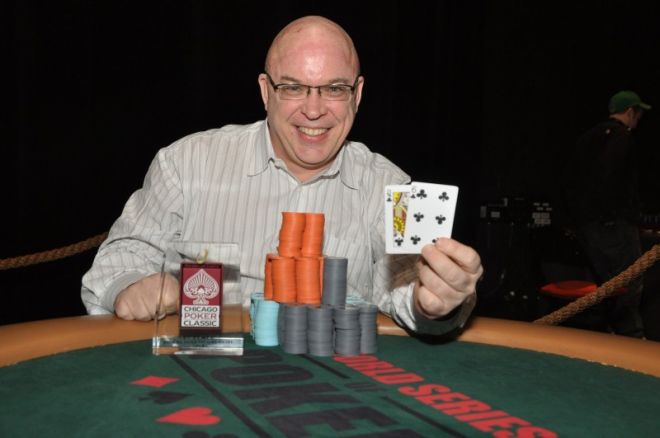 On Monday, controversy developed concerning the Third Annual Chicago Poker Classic (CPC), which took place at the Horseshoe Hammond over the past two weeks. The tournament series, which ran from Feb. 23 through March 5, featured a full slate of events. The series also included a $50,000 prize to whoever finished with the overall points lead, and now that the CPC has concluded, the overall point earner has been called into question.
The controversy erupted on TwoPlusTwo when Shane Sigisbee, who posts under the handle "imawhale26" explained the situation. His friend, Paul Gibbons, who won the opening event, as well as one of the turbo no-limit hold'em events, was involved in the controversy. According to Sigisbee's post:
"A good friend of mine (and a player I have a % of) William Gibbons has been playing in the Chicago Poker Classic. He won event 1, besting a field of 2600 players. He was awarded 25 points for winning this tournament. In addition, he made it to the round of 32 in the heads up tournament which awarded 5 points. The Chicago Poker Classic is attempting to say that he does not receive those points because that was not a cash . . .

It clearly states that by finishing in 17th thru 32nd place players will earn 5 points in the heads up event. There is literally nothing in the rules stating that you have to cash to earn the points. They are now trying to say after the fact that you need to have cashed to earn the points and are not honoring the rules they put into place themselves. William and I all along have been planning out his schedule for this series based on the fact that he would be awarded these 5 points.

William Gibbons won the turbo tournament tonight for an additional 12.5 points. According to their initial rules he should have 42.5 points total and be in the lead for the Points Race which pays $50,000 to the winner, but due to them adjusting the rules mid tournament series they are now trying to say he has 37.5 points, one point behind the leader going into the final event, tomorrow at Noon.

I sincerely hope the Chicago Poker Classic will make this situation right as quickly as possible."
Gibbons brought the matter to the attention of a tournament floor but was told that "everyone knows that if you don't cash in a tournament, you don't get the points." While that is certainly the industry standard, the fact that the CPC failed to include that on the Overall Points Leader information sheet has caused the debate.
Despite his pleas, tournament officials officially awarded the $50,000 prize to Ryan Leng, who recorded three final tables including a turbo series victory. Not only that, but Leng topped the Turbo Series Points Leader for an additional $30,000.
Here's a look at the CPC Overall Points standings:
CPC Overall Point Standings Top Ten
| Player | Points |
| --- | --- |
| Ryan Leng | 38.5 |
| Jose Serratos | 37.5 |
| Paul Gibbons | 37.5 |
| Christopher Campbell | 36 |
| Paul Han | 36 |
| Nick Jivkov | 34 |
| Pawel Andrzejewski | 34 |
| Michael "Carwash" Schneider | 33.75 |
| Matthew Rosen | 32 |
| Niel Mittelman | 32 |
PokerNews recently spoke with Gibbons to get his perspective on the situation.
When did you first become aware of this situation?
The penultimate day [Sunday] of the series, I won the Nightly Turbo, which gave me 42.5 points total according to the point scale listed in the rules. That point scale awarded me 25 for winning Event #1, five for placing 17-32nd in the heads-up event, and 12.5 for winning Sunday's event.
42.5 points was four points ahead of second place, five points ahead of third, and five and a half points ahead of fourth. Any of 20 people could have overtaken me on the final day, but the closest contenders would have to do much better than just min-cash, so I was way ahead. In the event, on the final day, nobody even overtook Ryan Leng (second in points) who had 38.5.
I knew that the results of the heads-up, which finished Friday, had not been posted to my score by Sunday. Naturally I assumed a clerical error, and could not imagine that the rules were false and misleading. I saw no point in bothering a tournament director to rectify the situation before I played an event unless it were to become material. After all, 30 points was not going to win it.
Once I asked a TD to correct that, I was told that in addition to placing 17-32 you also had to cash. When I asked why the rules said otherwise, I was told 'everybody knows that you only get points for cashing.'
When you found out, what did you do? Can you take us through the progression of who you spoke with and what you were told?
I then spoke to a senior tournament [floor]. . . who accused me of 'angle-shooting,' 'lying.' When I asked how I could possibly know of the rule change, he shouted further at me and asked me to leave the tournament area hurling insults while doing so.
Do you feel the situation is being handled properly?
The next day, Jason Newman, who runs the Horseshoe Poker room and the CPC tournament, was more polite. He apologized for [the tournament floor's] conduct and rudeness, but said 'we have never awarded places to people who don't cash.' When asked how I was to know that, he gave no answer. He apologized for the error in the rules — saying it was an oversight on their part. He said also his hands were tied, that he had to stick to the unpublished rules. I suggested he delay awarding the $50K until the situation could be properly evaluated, but he declined.
Did your assumption that you earned those five points influence how many tournaments you played and your schedule?
The heads-up had a very attractive payout schedule. I felt I could easily win three or four matches. Day 2 was at the same time as the PLO, in which I had a substantial edge. Had I cashed in the PLO, I would have tied in points for first and won because of tiebreak rules [because] I had the most wins. Being the point leader throughout since the beginning meant I played a very exhausting and expensive schedule.
Have you spoken with either Ryan Leng or Jose Serratos, the former ahead of you in points while the latter tied? If so, what did they say?
I spoke to both, and both were sympathetic. One said he would have made the same mistake and felt terrible that I had been misled this way.
What is the general consensus among the players? Do you feel they support your position?
Ninety percent of poker players have said that points should be awarded according to published rules. The rules are the rules, it is the organizer's responsibility to maintain accurate rules. The points payouts are on a simple sheet which could have been updated as a result of the change, which they presumably knew about five days before I found out about it. Are players expected to each day verify that the published rules are accurate? Do they have to approach TDs and say 'are you sure these are correct? 25 points for a win, five points for 17-32nd in the heads up? Are you sure? That would be completely absurd.
About half of players also say that even though [the tournament officials] made a grotesque error, I have zero chance of changing their mind. That poker authorities care little for the views and feelings of players in this situation. Most players advocate legal action, and most think I have a clear win. One or two players have posted that they have been deceived in this manner before.
If you aren't awarded the points and it ultimately costs you the $50,000 prize, will you be pursuing legal action?
Before pursuing legal action, we are going to write to the casino and ask them to rectify this. We then will write to the Indiana licensing authority, and finally seek redress through the courts.
On the final day, I secretly wished that one player would score 25 points or enough to pass me in the results. I could cheerfully say 'GG, WP' knowing that a fair result — and a result obtained by following the rules — had been obtained. I dislike the acrimony, and dislike the fact that legal action may be necessary. However, I feel strongly that the rules should be followed — the rules as written, published on their website. Had the situation been reversed, I would feel the casino was justified in sticking to the written rules.
For them to fall back on 'everybody knows' is A) untrue — many players are unaware of this and several have pointed to times when it hasn't been true, B) misleading and deceitful, and C) there is no reason why a tournament should not pay a large cash prize for a very few places, and points for more.
PokerNews reached out to CPC officials and were informed that they have no comment at this time.
What are your thoughts on this situation? Let us know in the comments section below. In the meantime, stay up to date on all the latest news by following us on Twitter and liking us on Facebook.